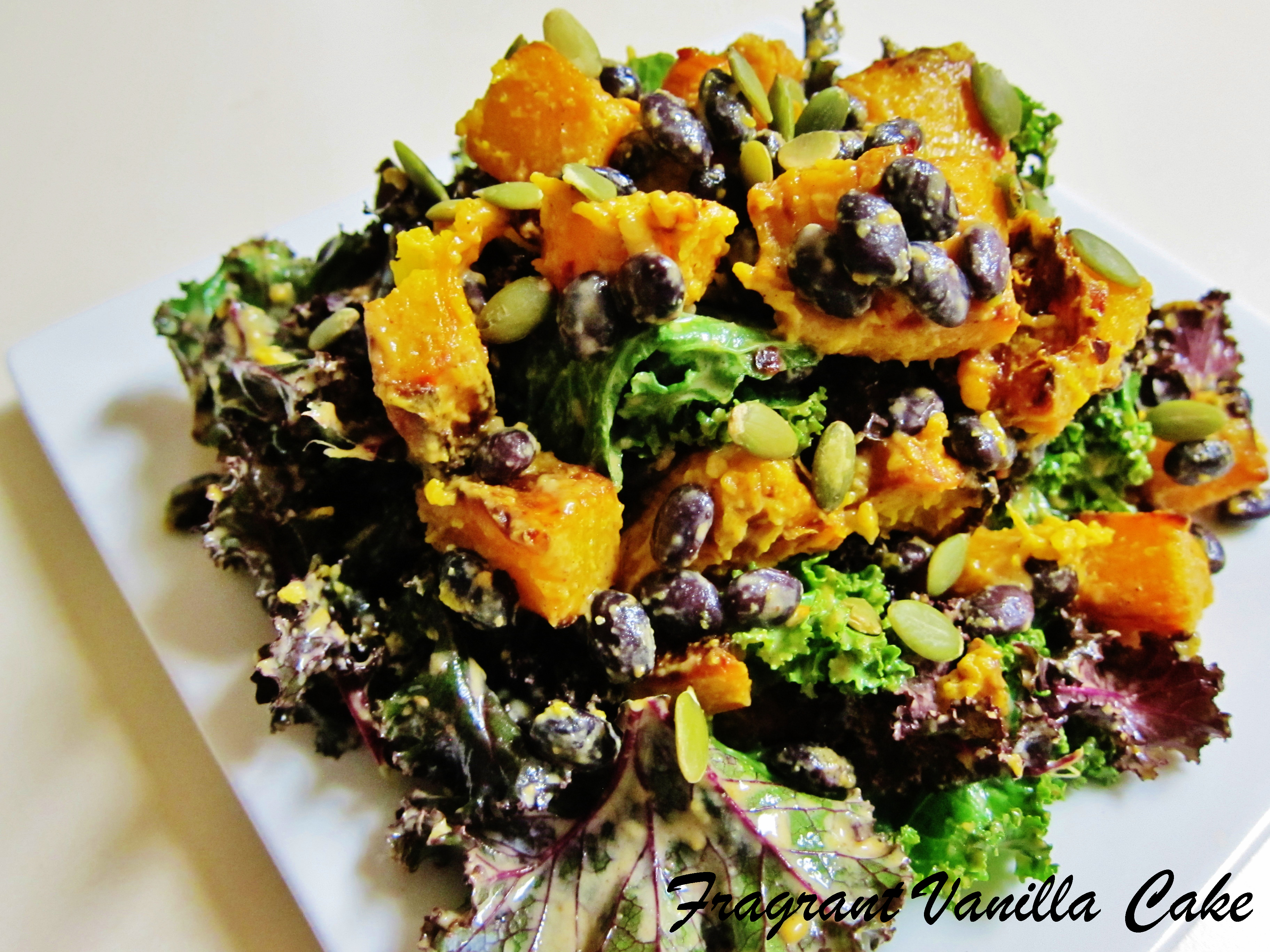 Roasted Pumpkin and Black Bean Salad with Groundnut Dressing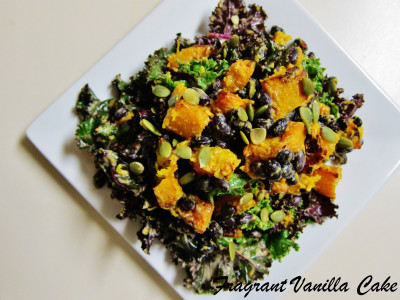 When I was out for my run this morning, I noticed a few people have set out pumpkins on their steps as decoration.  Not surprising, official pumpkin season is officially here!  I even got one in my CSA box this time.  Although it was pretty, and I thought I might want to just display it, I decided to eat it instead.  That is so me.  Nothing is ever too pretty to eat if it is tasty and edible.  I decided to roast the pumpkin into little cubes of deliciousness, and combine them with black beans and kale in a salad.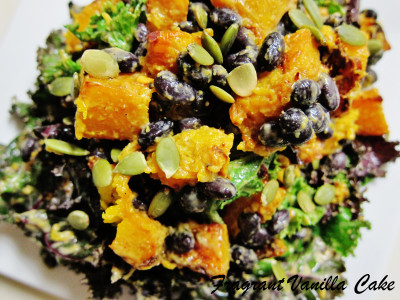 This became dinner for me and Eric.  I tossed it all in a groundnut dressing.  If I am confusing you by saying groundnut, it is the same as peanut.  I used to make this really good groundnut spiced stew with garam masala (an indian spice blend) that was so good, I drew inspiration from it for this salad.  I knew the pumpkin, black beans and kale would be perfect with the dressing.  The roasting of the pumpkin is really the only thing about this recipe that takes a little time, the rest comes together in a breeze if you have cooked beans on hand already.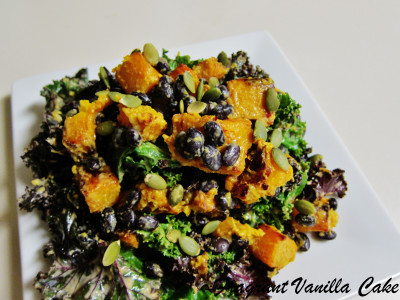 Roasted Pumpkin and Black Bean Salad with Groundnut Dressing
Serves 2-4
1 medium pumpkin, seeds removed, skin removed, and cut into cubes
olive oil
sea salt
2 cups cooked black beans
1 bunch kale, washed and torn into bite sized pieces
1/2 cup pumpkin seeds
Dressing:
1/2 cup smooth organic natural peanut butter
1/2 cup filtered water
2 Tbsp cider vinegar
1 Tbsp maple syrup (optional)
2 tsp garam masala
1 garlic clove, minced
1 tsp red pepper flakes
sea salt to taste
To prepare the pumpkin, pre heat the oven to 400F degrees, and oil a sheet pan.  Toss the pumpkin with just enough oil to coat and spread out on the pan.  Sprinkle with sea salt. Roast until the pumpkin is tender and starting to brown at the edges, about 30-45 minutes.  Let cool until just warm.
Place the kale, beans,  seeds, and pumpkin in a large bowl.
Whisk together the dressing ingredients in a medium bowl, then toss with the ingredients in the other bowl until coated.  Serve!