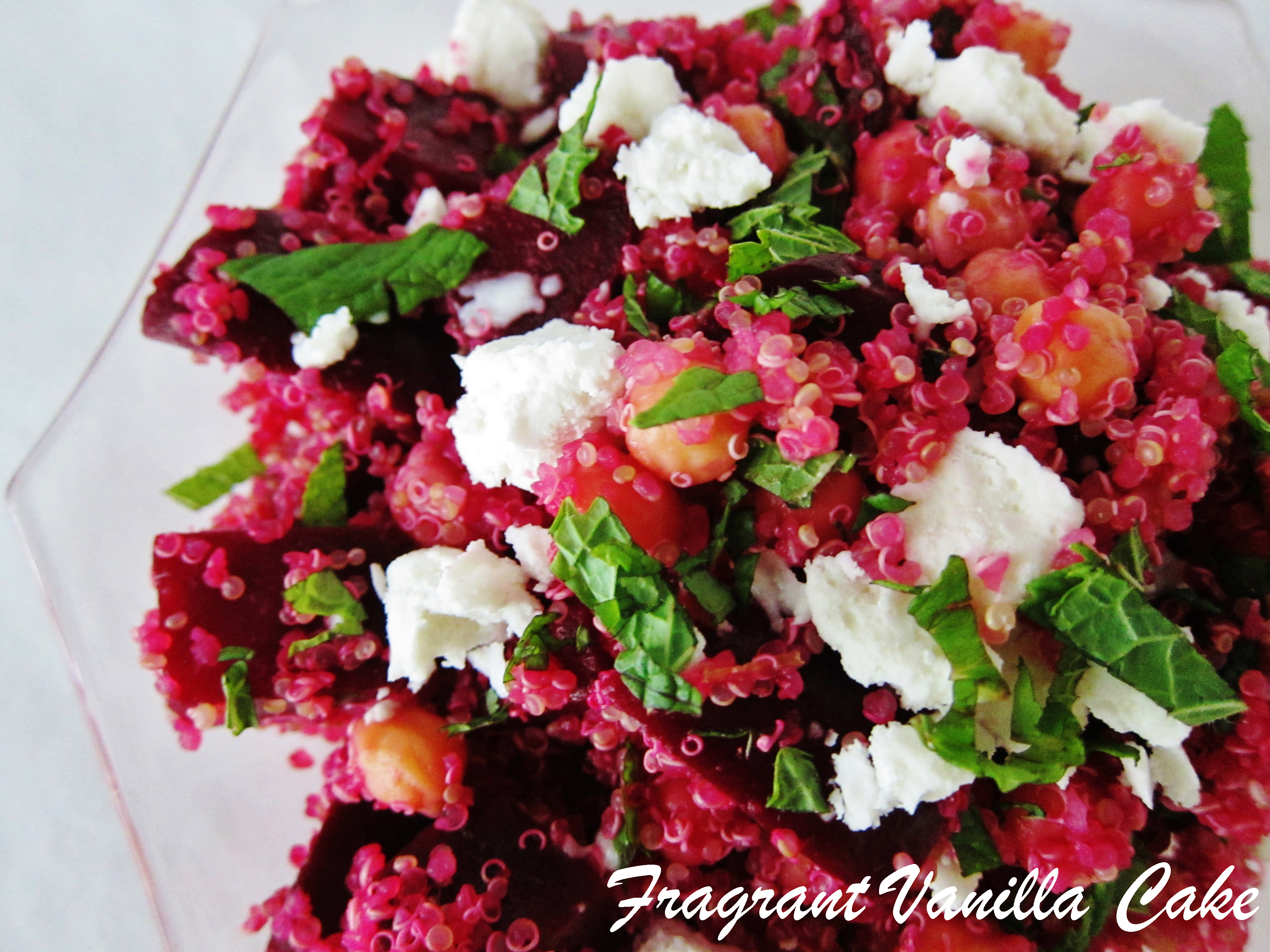 Roasted Beet and Quinoa Salad with Chickpeas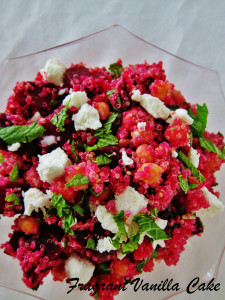 Sometimes I just make things on the fly when I get home for dinner, and sometimes I spend my day at work thinking about them.  The salad I am sharing with you today was the latter.  Truth is I made 2 beet salads, at work, spent a chunk of my day working with beets, tasted a few and decided that was what I wanted for dinner.  Although I could eat a big pile of just plain beets, I thought a substantial salad with plenty of protein would do the trick.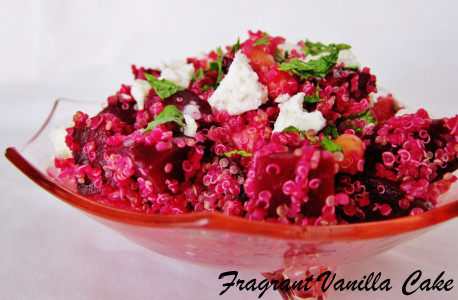 I was quite hungry after a busy day so I needed that.  The first thing that came to mind to pair the beets with was quinoa.  I had enjoyed a quinoa salad with beets once and it was amazing. I was going to make something even better.  I also added in chickpeas because I love them and because they are awesome with quinoa.  It needed some other flavors too, so I tossed it with lemon and fresh mint.  Simple, but so good.  All that it needed.  But I added a bit of coconut chevre I had on hand just because and it was over the top wonderful!  I shared some with Eric and it was the perfect size meal for two hungry adults.  The best part about this salad besides it tasting wonderful?  The beautiful pink color.  I love it.
Roasted Beet and Quinoa Salad with Chickpeas
Serves 2
Coconut Chevre:
1 1/4 cups young coconut meat*
1/3 cup coconut water*
1/2 cup plus 2 Tbsp coconut butter (not oil), warmed to liquid
1/8 tsp sea salt
1 tsp powdered probiotics
4 medium sized red beets
1 cup quinoa, rinsed
2 cups filtered water
1 1/2 cups cooked chickpeas
1/4 cup lemon juice
1 Tbsp lemon zest
sea salt to taste
1/2 cup chopped fresh mint
For the chevre, combine the coconut meat, milk, sea salt, coconut butter, and probiotics in a high speed blender and blend until smooth.
Pour into a container with a lid, and set in a warm place overnight.
Once it has become tangy in flavor, place in the refrigerator to chill completely.
To roast the beets, wrap them in foil, and roast them in a 400F degree oven for about an hour to an hour and a half depending on how big they are until they are tender when pierced with a knife.  Once roasted, allow to cool, peel and cut into large dice. Meanwhile, to prepare the quinoa, place quinoa and water in a medium saucepan and bring to a boil. Reduce to a simmer, cover and cook until all the water is absorbed about 15 minutes, or when all the grains have turned from white to transparent, and the spiral-like germ has separated. Drain, and set aside.
To assemble the salad, combine all ingredients in a bowl except the chevre, and toss together until well combined.  When ready to serve, sprinkle with the chevre (you will have more left over for another use).
*If you do not have access to young coconut meat, you may used a can of full fat coconut milk in this recipe in place of the coconut meat and water.
(Visited 96 times, 1 visits today)