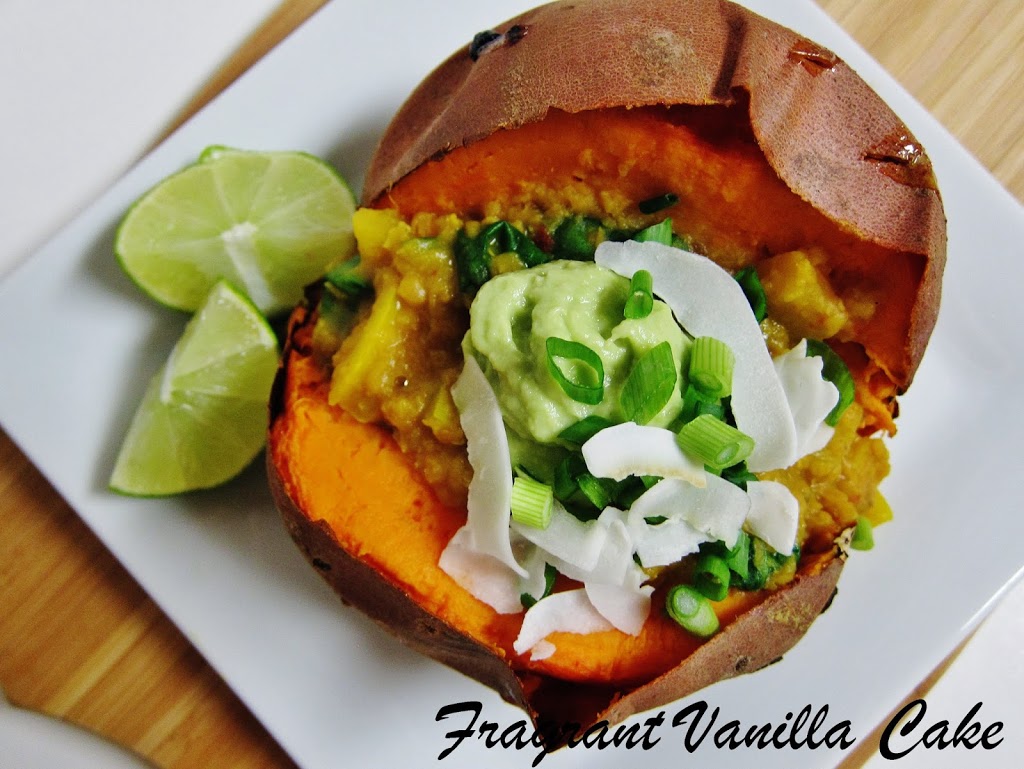 Red Lentil Dal Stuffed Yams with Avocado Lime Cream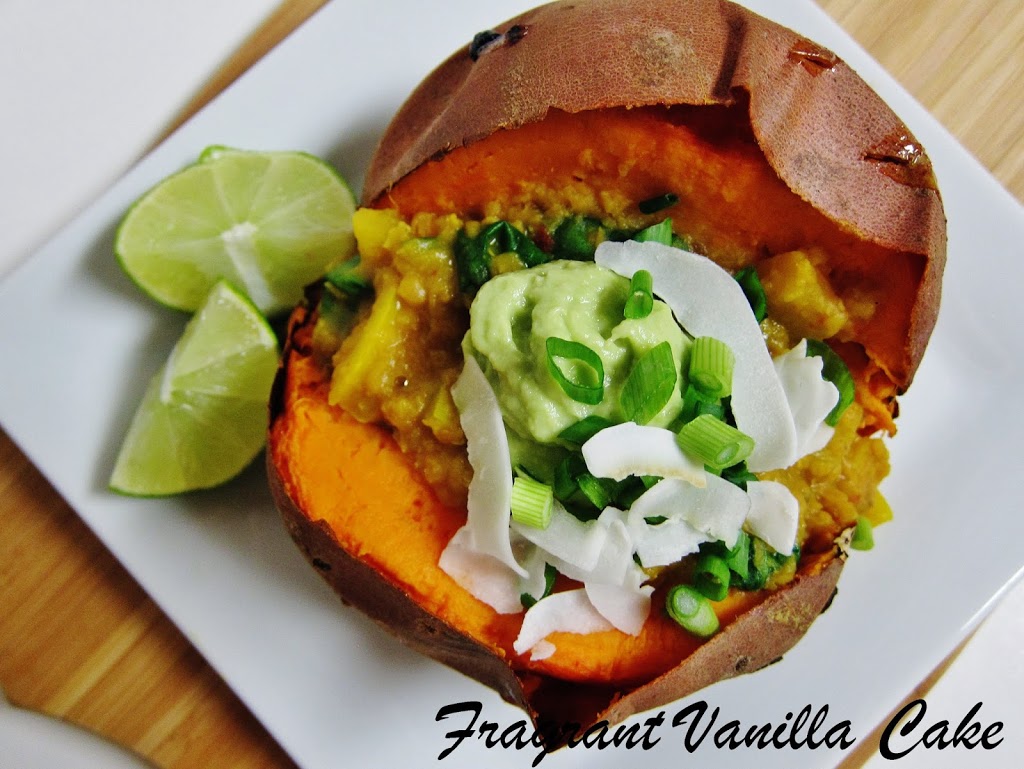 After a very active day, I want nothing more than to indulge in a humongous roasted yam filled with some sort of hearty filling.  Running 8+ miles in the morning then working all day will leave me pretty hungry and although I eat throughout the day, I don't get time to have a relaxing sit down and enjoy meal until dinner usually (at least not during the week).  So when I do get to sit down, I want something satisfying and good.  Lately it has been the yams.  Yams are a wonderful food for recovery of muscles and I always feel good after enjoying them.  I used to simply eat them as a side dish with a splash of lime and sea salt, but lately I have been stuffing them with things like black beans, or lentils.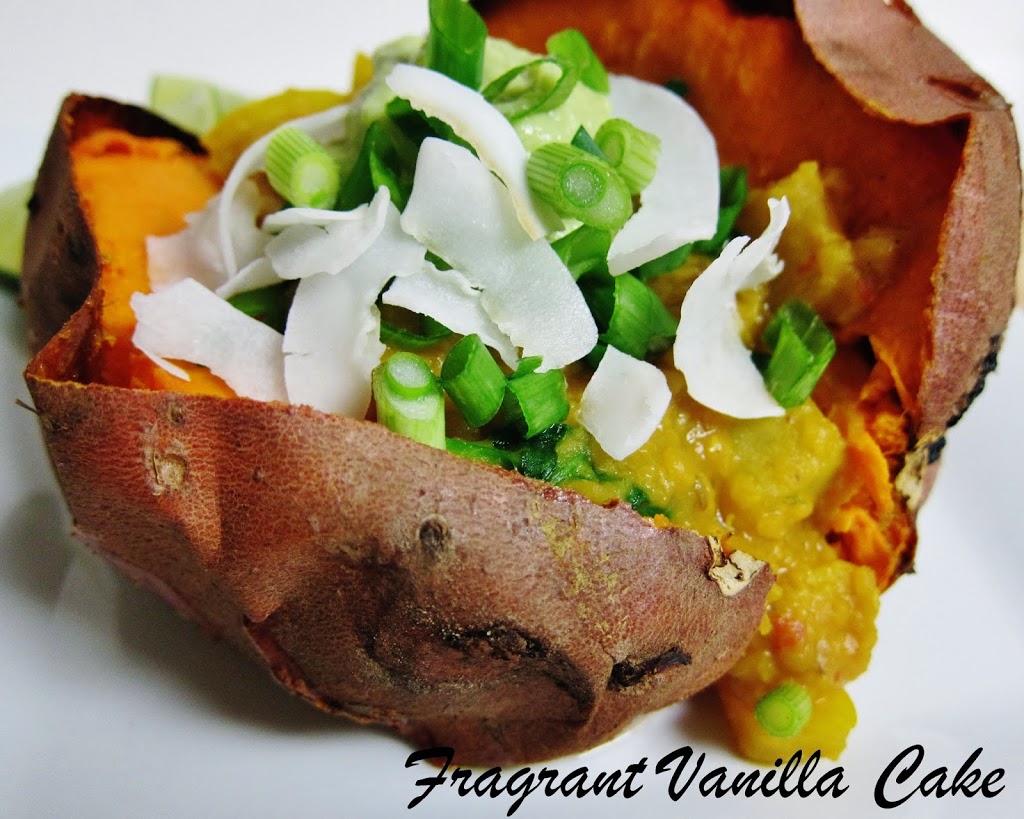 I have made red lentil dal stuffed yams a few times this week already, and I figured I should share the recipe with you all because it was so tasty.  I made a simple red lentil dal with greens and a bit of coconut milk for sweetness, stuffed it into sweet yams roasted to perfection, and topped it off with a cool lime cream.  It was heavenly.  Yes, I call savory food heavenly too. Trust me you need this in your life! In case you were wondering why I have been sharing more cooked things lately on my blog, it is because I have found that I feel more balanced when I enjoy both cooked and raw foods.  I still eat a large amount of raw, but I mix in some nutrient dense vegan cooked foods like these yams into my diet as well.  I think listening to your own body is always the key when it comes to what you need.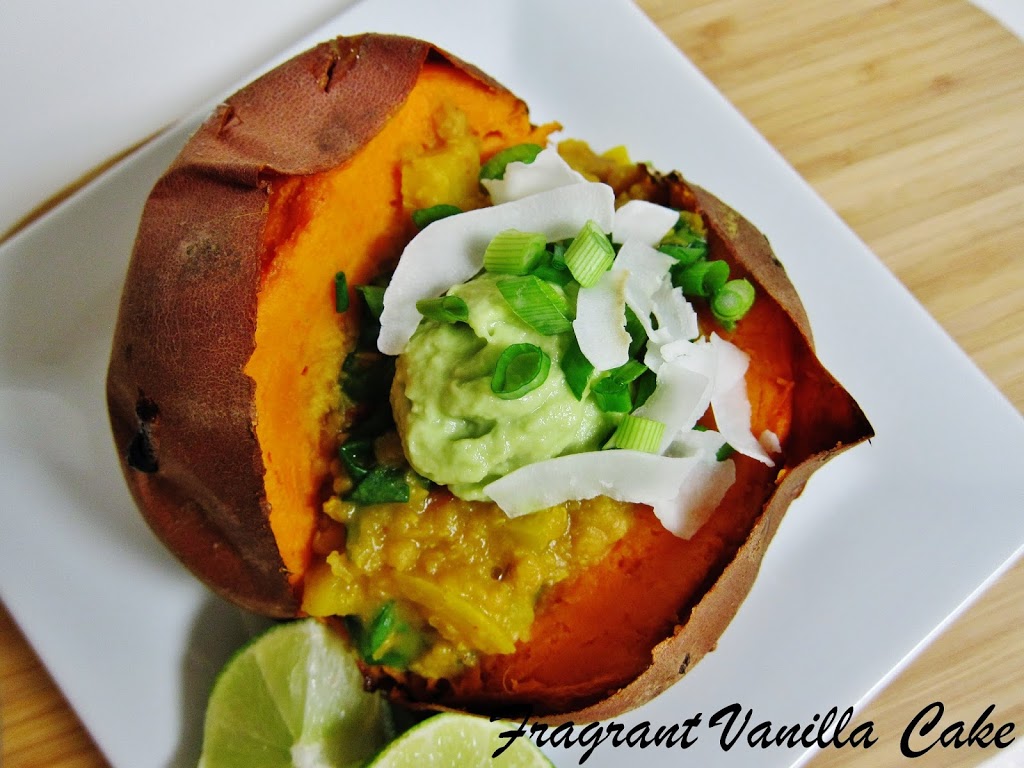 Red Lentil Dal Stuffed Yams with Avocado Lime Cream
Serves 2 generously
2 large garnet yams
Dal:
2 tsp coconut oil
2 garlic cloves
1 tsp ground cumin
1 tsp ground turmeric
1/2 tsp whole coriander seeds and cumin seeds
a large pinch red pepper flakes
sea salt to taste
1/2 cup red lentils
1/4 cup coconut milk
1 1/2 cups filtered water (or as needed)
1 yellow bell pepper, diced
2 handfuls spinach
Avocado Lime Cream:
1 large avocado, diced
juice of one large lime
sea salt to taste
Large flake coconut and scallions to top
To make the yams, pre-heat the oven to 425F degrees.  Prick the yams all over with a fork, and place them on a baking sheet.  Roast for about an hour until tender.
Meanwhile, to make the dal, heat the coconut oil in a medium saucepan, and add the garlic and spices.  Cook for about 1-2 minutes until the spices are fragrant and toasted.  Add the sea salt, lentils, coconut milk,1 1/2 cups filtered water and bell peppers.
Cook over medium heat, stirring often until the lentils are tender and have soaked up most of the liquid so they are somewhat thick (you may need to add an additional 1/4 cup water if they are not done and drying out).
Once the lentils are done cooking, stir in the spinach to wilt it.  Keep warm.
To make the lime cream, place all ingredients in a food processor and process until smooth.
To serve, cut the yams in half lengthwise, place on a plate or in a bowl, and spoon the lentils over them.  Top with the lime cream, coconut, and scallions, and serve warm.
(Visited 49 times, 1 visits today)