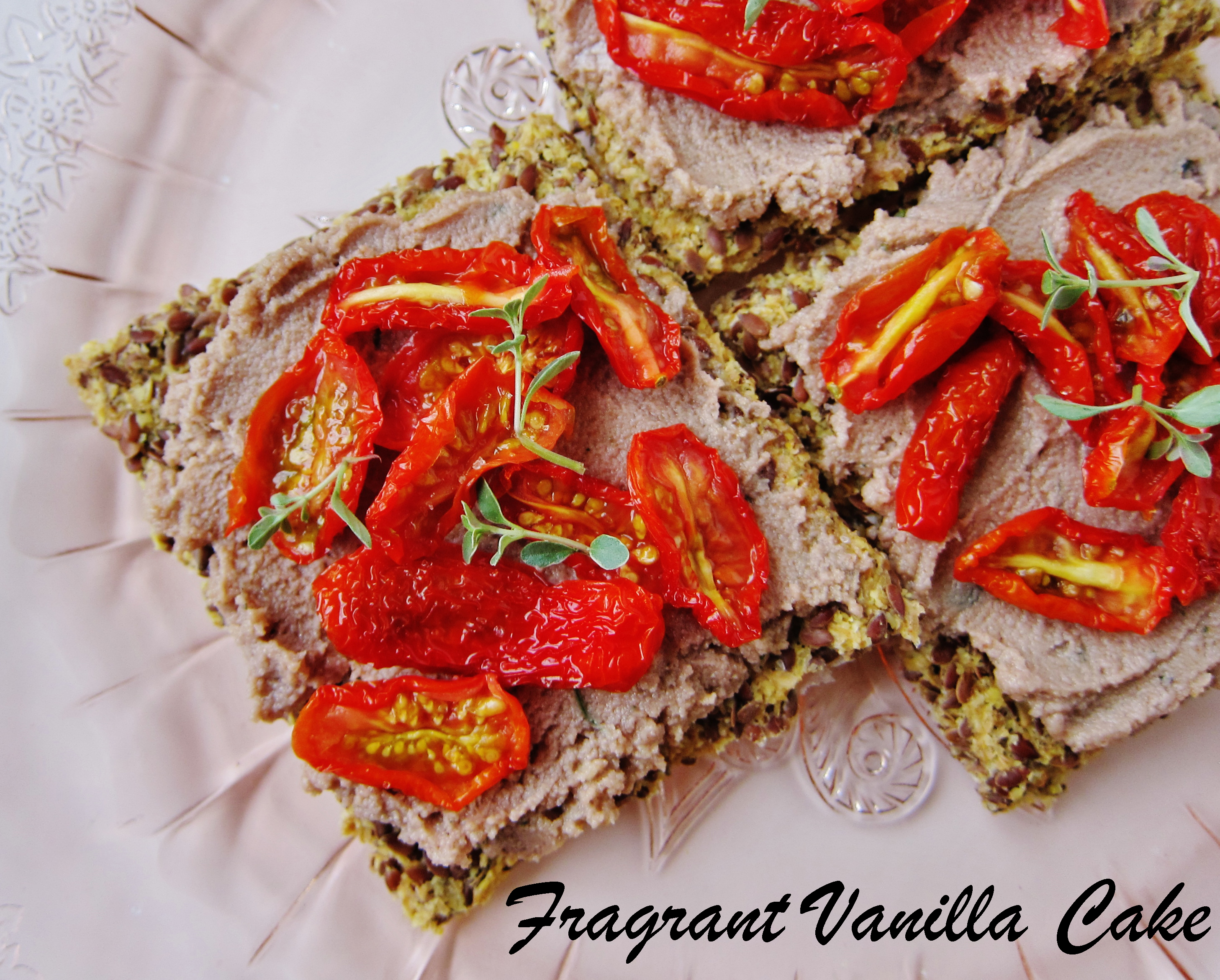 Raw Walnut Thyme Cheese Flatbreads with Sun Dried Tomatoes
I love nut cheeses, they always turn out delicious and in my opinion better than real cheese.  Plus my stomach is happier than if I had eaten the traditional. But I tend to make the same ones every time, either macadamia nut or cashew.  Which are amazing.  But since I am one that likes variety I decided that I needed to change it up and make one with another type of nut.  I know other people use almonds, but I love walnuts since they have a high ratio of omega 3 to omega 6 oils and they are so buttery and rich tasting.  So I decided to try them in a cheese. My Mom had just given me a pot of herbs for Easter, since she knows me better than anyone, and she knows that I love receiving a bouquet of herbs more than flowers...so I thought I would use some in the cheese and make it herbed with thyme. 
It turned out wonderful!  The color was a little like pate or something, but don't let that keep you from trying it out, it tasted amazing. I added in a little garlic as well, and probiotics as I often do in cheeses to give them the tang of traditional goat cheese.  It is wonderful on crackers, but I made little flatbreads with it (using my cracker recipe), topping them with the cheese, some sun dried tomatoes and fresh thyme.  It was altogether delicious!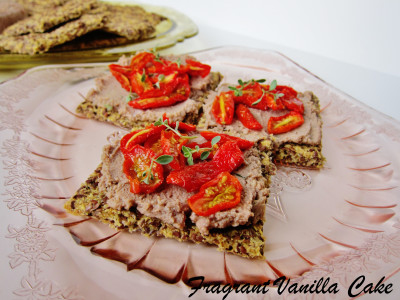 Raw Walnut Thyme Cheese Flatbreads with Sun Dried Tomatoes
Makes 12
Walnut Thyme Cheese:
2 1/2 cups raw walnuts, soaked for 4 hours and drained
1 garlic clove
1 Tbsp fresh thyme
1/8 tsp sea salt
1 tsp powdered probiotics
Crust/Crakers:
1 cup ground flaxseeds
3/4 cup whole flaxseeds
4 scoops Sprout Living Simple Signature Pumpkin Seed Protein Powder
1/2 tsp sea salt
1 3/4 cups filtered water
1 cup sun dried tomatoes, rehydrated
2 tsp olive oil
1 Tbsp lemon juice
zest of one large organic lemon
pinch sea salt
fresh thyme leaves
For the chevre, combine all ingredients in a high speed blender and blend until smooth.
Pour into a container with a lid, and set in a warm place overnight.
Once it has become tangy in flavor, place in the refrigerator to chill completely.
For the crust, whisk together all ingredients in a large bowl until well blended, then spread out on a lined dehydrator tray in a big square about 1/8 inch thick.
Dehydrate at 115F for 2 hours, then score into 12 squares with a knife.  Continue to dehydrate until completely dry, about 22 more hours.
Toss tomatoes in a bowl with the olive oil, lemon juice and zest and a little sea salt.
To assemble the flatbreads, spread some of the chevre onto each flatbread,
Top with the tomatoes, making sure they are drained well, then top with a little of the fresh thyme.
Serve immediately!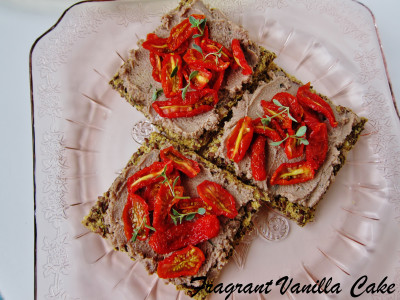 (Visited 60 times, 1 visits today)