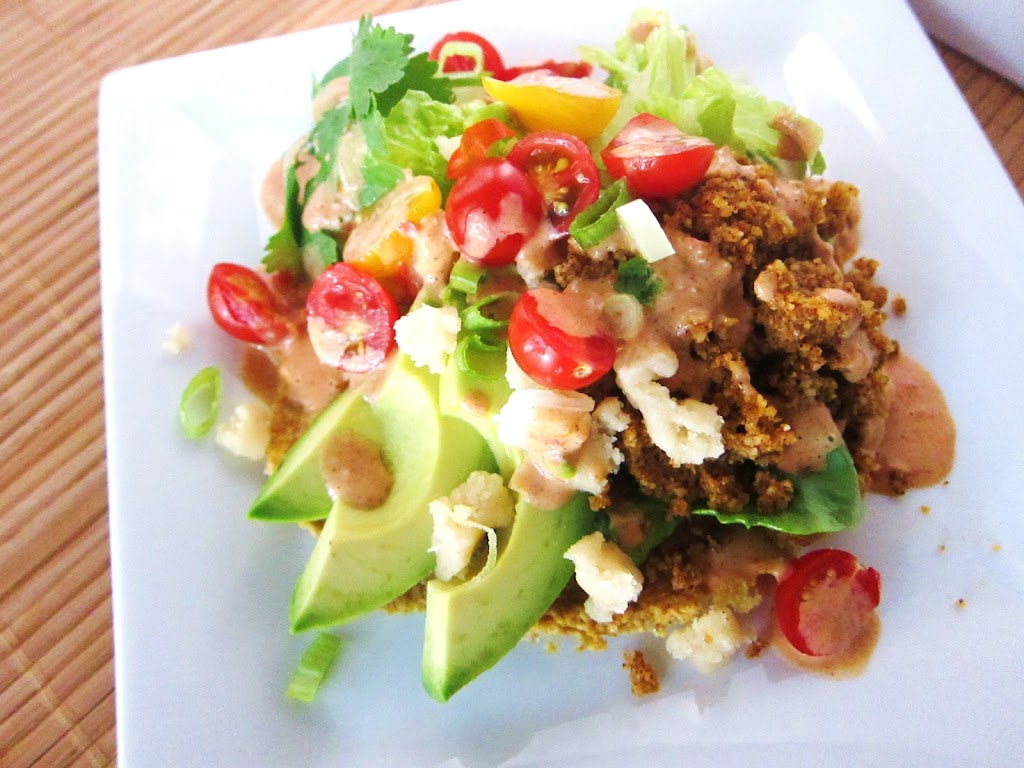 Raw Tostadas
I have been eating a lot of Mexican food lately. Tacos, fajitas, and especially tostadas! I love tostadas...loading them up with lots of flavorful, fresh goodness and a bit of spice in the form of home made delicious hot sauce! I decided last weekend that it was about time I tried making raw tostadas, since I had some fresh sweet corn that I knew would make fabulous tortillas.


The best part was, the tortillas didn't need to be fried or baked (I don't usually fry them anyhow), simply dehydrated! They were like crunchy chips, but better. I opted not to go the bean route with toppings this time, as I did not have time to soak and sprout, but insted made raw taco "meat" from walnuts I had on hand.
There needed to be lots of veggies and produce on this as well, so I included tomatoes from my Dad's garden, fresh romaine, bell pepper, scallions, cilantro, and rich avocado. The avocado was a must, as it is something I crave!
Lastly, I made some almond queso fresco and some silky spicy chili almond sauce to drizzle over the whole thing. Lets not forget the hot sauce as well! They were lovely with the beautifully colored veg...almost too pretty to eat, but let's be honest, I was starving and I dove right in! They may not have been traditional, but they were so freaking good!
Raw Tostadas
Makes 6
Corn Tortillas:
2 cups fresh corn kernals
1 cup flax seed
1 tsp sea salt
juice of one lime
coconut oil, warmed to liquid
sea salt
Taco "meat":
2 cups walnuts, soaked and dehydrated
1 cup nutritional yeast
2 garlic cloves
1 Tbsp cumin
1 Tbsp chili powder
1/4 tsp chipotle powder
1/2 tsp sea salt
Almond "queso fresco":
1 1/2 cup almonds, soaked at least 6 hours and drained
juice of 1 lemon
1/2 tsp sea salt or to taste
filtered water
Chili almond sauce:
1/2 cup almond butter
1 small dried chipotle chili, soaked for 1/2 hour and drained, seeds removed
1 date, pitted
1 clove garlic
1/3 cup filtered water
2 Tbsp lime juice
2 sundried tomatoes
1/4 tsp sea salt or to taste
Toppings:
1 head romaine lettuce, chopped
about 30 cherry tomatoes, halved
1 bell pepper, diced small
1/2 cup chopped cilantro
1 bunch scallions, sliced
2 avocadoes, sliced
hot sauce* to serve
To make tortillas, combine the corn, flaxseed, lime juice and sea salt in the food processor and process until smooth. Add a little filtered water if needed (if not blending because it is too thick). Divide the corn dough into 6 balls, and flatten each out into circles onto a teflex lined dehydrator sheet, about 1/8 inch thick. Dehydrate for about 20-24 hours or until crunchy. Brush with coconut oil, and sprinkle with sea salt.
For the taco meat, combine the walnuts, garlic, spices, yeast, and sea salt in a food processor and process until finely ground. Add a little water (1 Tbsp at a time) and pulse until the mixture comes together and resembles ground beef but is not too wet. Remove from the food procesor and set aside.
For the almond queso fresco, place the almonds, lemon juice and sea salt in the processor and process until smooth. Add a little water (1 Tbsp at a time) as needed until it reaches the consistency of goat cheese. Remove from the processor and set aside in the fridge.
To make the almond chili sauce, combine all ingredients in the food processor and process until smooth.
To assemble, place a tortilla on a plate. Top with some lettuce, some taco meat, some cherry tomatoes, cilantro, scallions, and a few slices avocado. Sprinkle with queso fresco, and drizzle with chili almond sauce. Repeat with other 6 tortillas, and serve!
*I used Bon Appetit's hot sauce recipe, using half habanero, half anaheim chilies. You can find it here:
(Visited 113 times, 1 visits today)