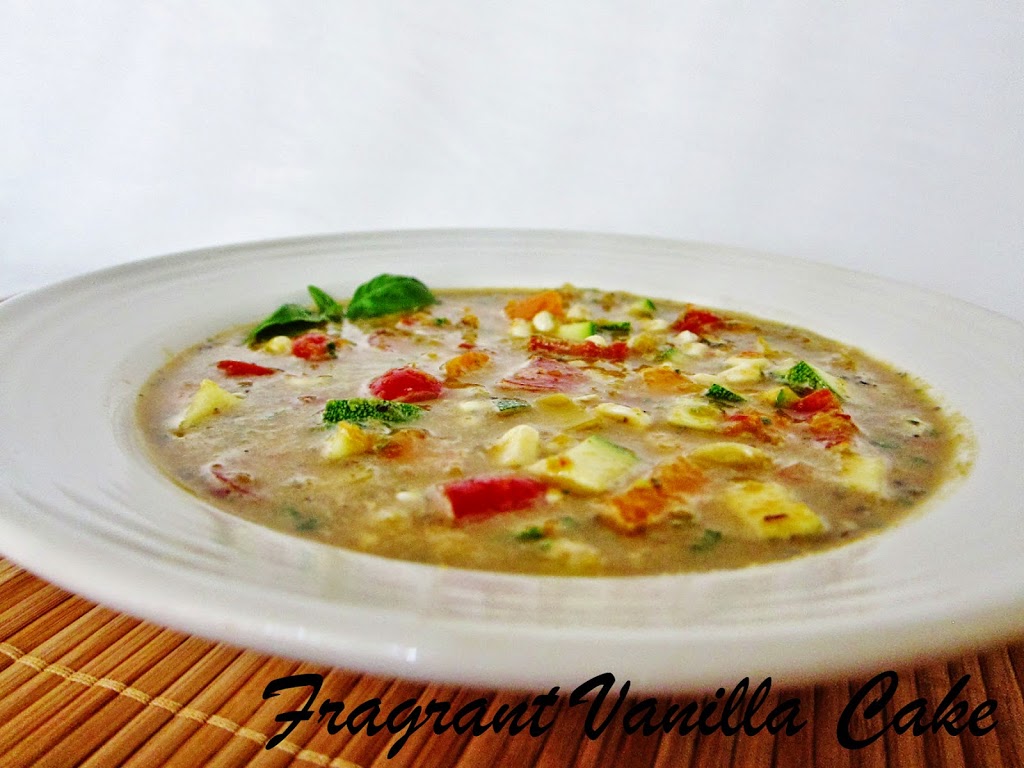 Raw Summer Vegetable Soup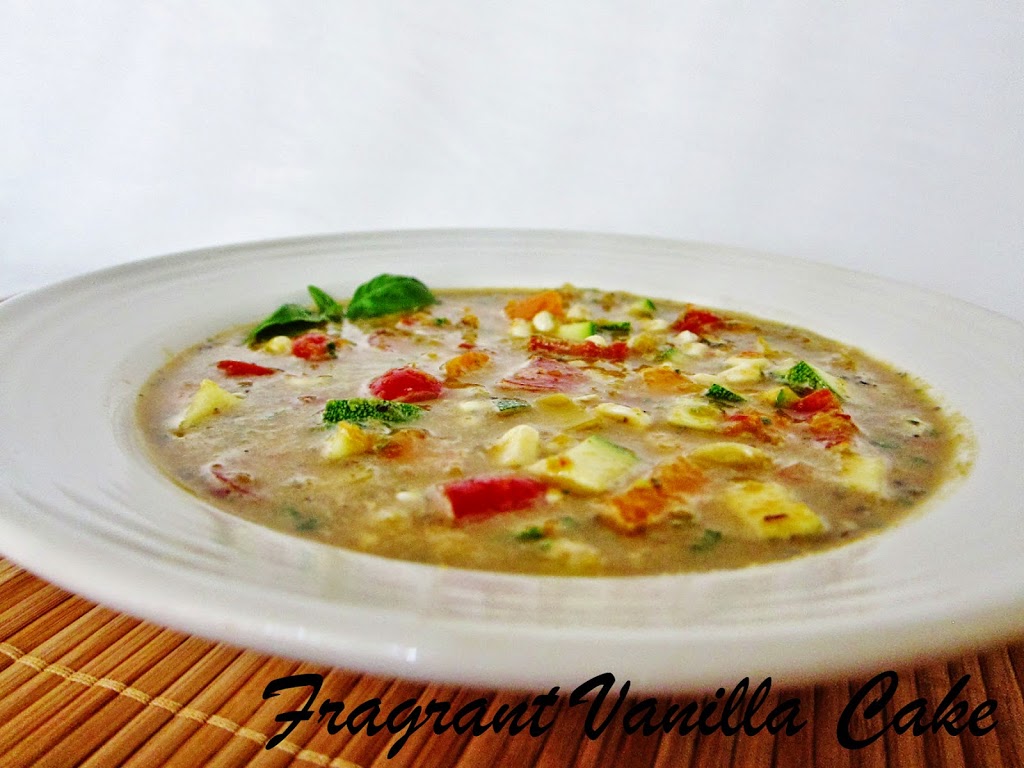 I admit, I am questioning why anyone would want to eat hot soup in the summer.  Yet, I see a lot of people doing so.  I guess maybe some people are addicted to a steaming bowl of soup.  There is nothing wrong with that, I just wonder why they wouldn't instead have a bowl of chilled cooling soup on a 90 degree day.  I love a bowl of good chilled soup in the summer.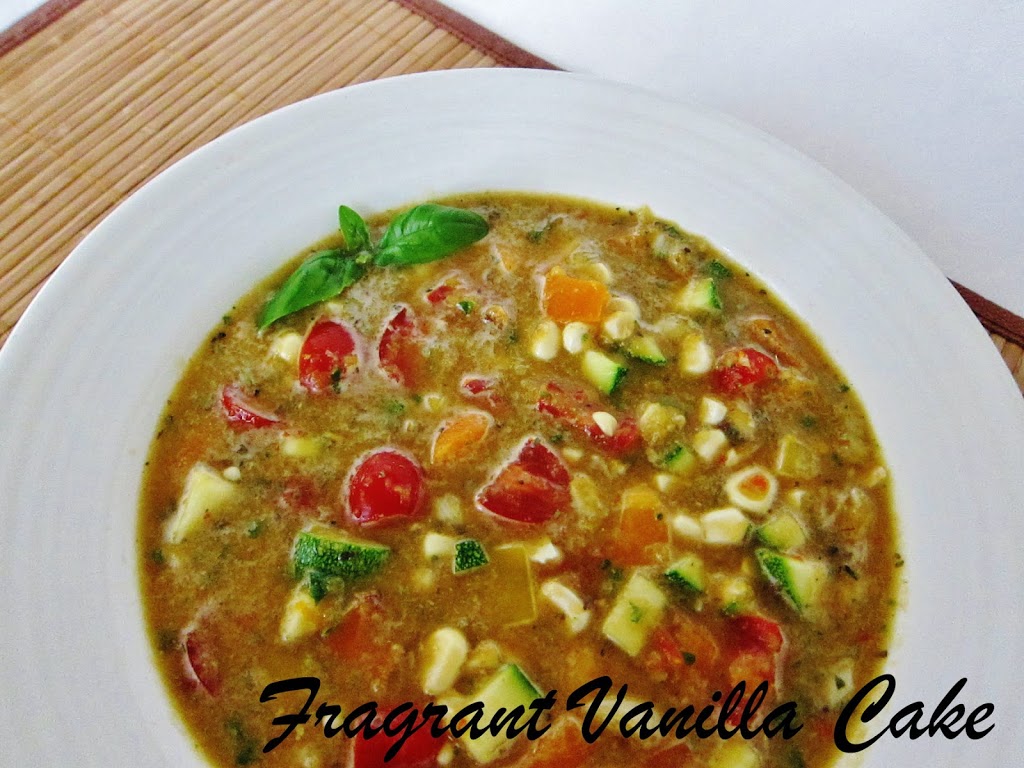 It started with my Mom blending up tomatoes and cucumbers to a smooth liquid consistency and giving it to me in a mug as a child, calling it gazpacho.  Now, I know that gazpacho usually has more ingredients like peppers and garlic at least, and an acid like vinegar, but my Mom kept it simple.  The surprising thing is it was so good, just those two ingredients and a little sea salt. She told me that she got the idea from my Grandma who made something similar. What made the soup so good was the produce. Tomatoes and cucumbers from my Grandpa's garden.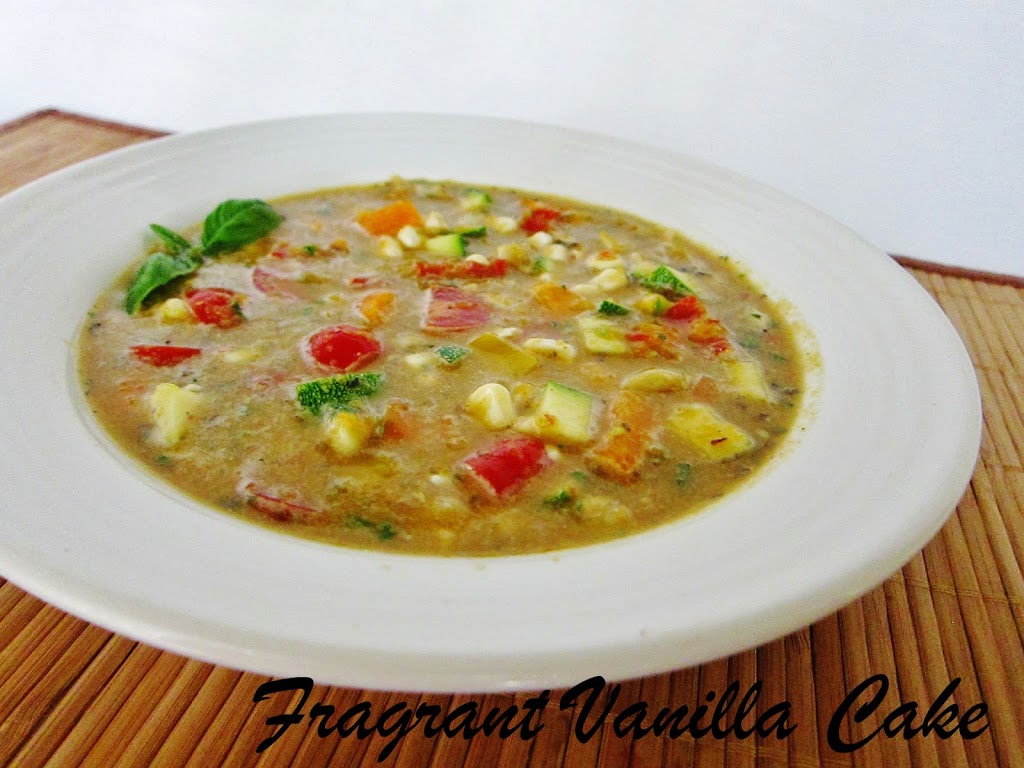 When I make my own chilled soup now, sometimes I keep it simple like Mom, but other times, I add the whole garden.  Like in this Raw Summer vegetable soup. I had a bunch of fresh veggies, many of them local, and all so flavorful so I couldn't resist.  This is like having salad in soup form, so good on a hot night!
Raw Summer Vegetable Soup
Serves 2
2 cup fresh organic corn kernals
2 bell peppers, diced
1 medium zucchini, diced
2 cup cherry tomatoes, quartered
4 scallions, sliced
1/4 cup chopped fresh basil
2 cups filtered water, or as needed
1 Tbsp apple cider vinegar
1 garlic clove, minced
1/4 tsp red pepper flakes
a couple sun dried tomatoes
1 date, pitted
2 Tbsp nutritional yeast
1 Tbsp miso
sea salt to taste
In a large bowl, combine the corn, peppers, zucchini, tomatoes, basil and scallions.  Remove 1/3 of the mixture and add to a blender with the remaining ingredients.  Blend until smooth, and add back to the bowl with the veggies.  Let sit a few hours in the fridge to allow the flavors to develop before serving.
(Visited 151 times, 1 visits today)