Raw Spicy Holiday Cheeseball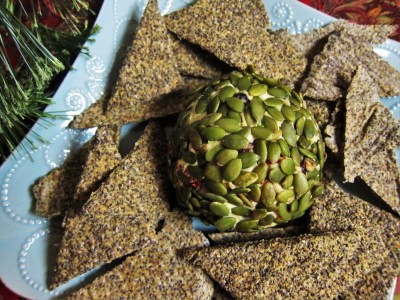 After I made a successful cheese log last week, I decided that I wanted to make a cheese ball as well.  But this one was going to have a lot more zip and pizazz to it. I had a jalapeno, and I wanted to use that in there.  After all, jalapenos and cheese are a match made in heaven.  This was a use what I had on hand kind of a thing, but it turned out so good.  It had beautiful flecks of color on the inside, and green pumpkin seeds on the outside.  It was rather festive looking once cut into.  For the cheese I used a mixture of cashew butter and coconut because that has been my favorite base when it comes to soft cheese as of lately, and instead of just my usual lemon juice I added lime as well.  I did not use probiotics this time, because I wanted it to be ready the same day, but I gave it a cheesy flavor with some nutritional yeast.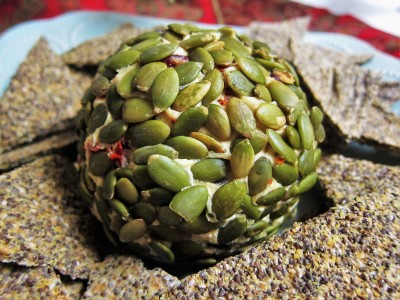 It ended up tasting almost like cheddar.  I added jalapeno for a kick, scallions, garlic and sun dried tomatoes for a savory flavor, and cranberries for a little sweetness.  I rolled it in pumpkin seeds, because I thought they would be prettier than nuts.  It ended up being so good!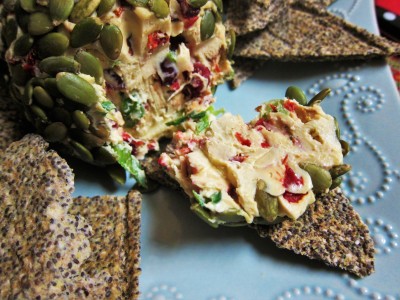 Raw Spicy Holiday Cheeseball
Serves 6-8
1/2 cup young coconut meat, packed (or 1/2 cup soaked cashews or macadamia nuts if coconut unavailable)
1/2 cup raw cashew butter or macadamia nut butter
1/4 tsp sea salt
juice of one large lemon
juice of one large lime
1/4 cup nutritional yeast
1 garlic clove
1 jalapeno, seeded, and minced
1/2 cup sun dried tomatoes, chopped
1/4 cup dried cranberries
3/4 cup raw pumpkin seeds
In a food processor or high speed blender, combine the coconut meat, cashew butter, sea salt, lemon and lime juice, nutritional yeast and garlic, and blend until smooth.  Scoop into a bowl, stir in all remaining ingredients except the pumpkin seeds and cover.  Let sit in the refrigerator until chilled. Once chilled, scoop onto a sheet of plastic wrap, and use it to shape into a ball (kind of rolling it on the inside of the plastic).  Spread out pumpkin seeds on a plate, and then roll the cheese ball in it using the plastic to assist you so it does not stick to your hands.  Place in the refrigerator for a few hours to firm up before serving. Keeps for about 1 week in the refrigerator.
(Visited 123 times, 1 visits today)