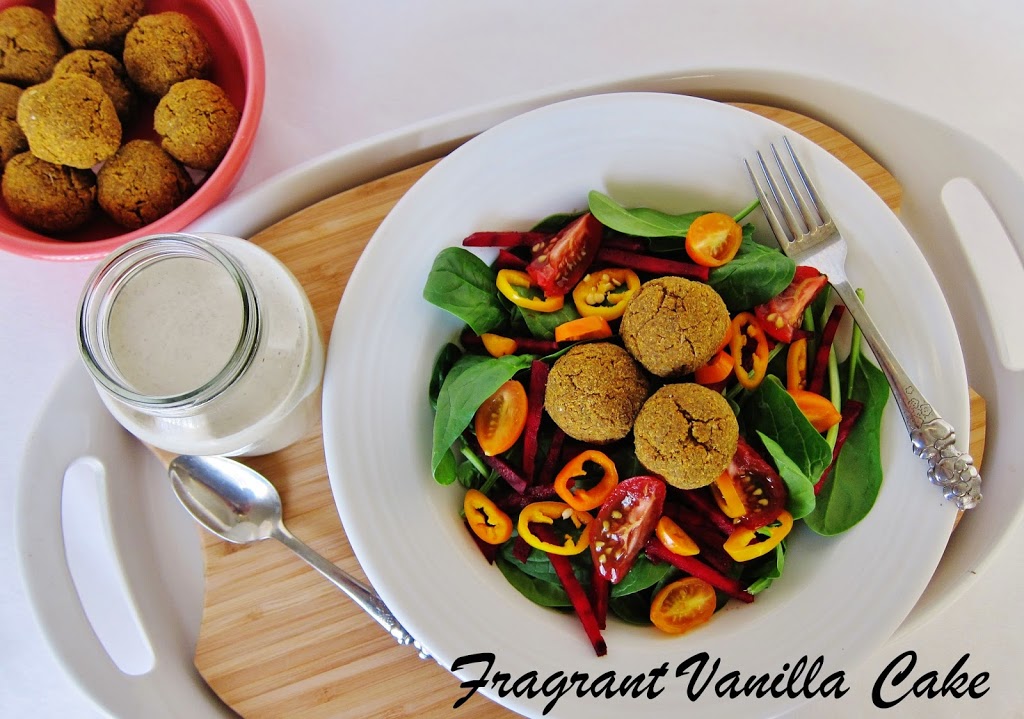 Raw Pumpkin Seed Falafels
Sprout Living was kind enough to send me some of their products to sample, and one of them was their Simple Signature Pumpkin Seed Protein Powder.  I love the idea of this protein powder because it is super simple and contains only one ingredient: pumpkin seeds. Pumpkin seeds are packed with nutrients, and I have been using them in some of my other recipes, so I was excited about this.  The first thing that came to mind, was using them in a savory recipe since the powder is pretty neutral and I felt it would add protein to a recipe without flavoring it.
I was craving some raw falafels so that is what I decided to make.  I love having a quick source of protein for lunch that I can throw on my salad (because I usually eat a pile of veggies with some type of protein every day).  So, I  made a batch of these and they lasted me 3 days which made me happy.  I used my carrot pulp leftover from juicing along with the protein powder and some spices to make the falafel base, dehydrated them for a short time until the outside was a little crisp, and voila!  Falafel deliciousness! I am a big fan of traditional falafel so it makes me happy that I can have these to satisfy my craving for them without all of the deep frying.  I threw them on my salad, and drizzled it all with some pumpkin seed dressing which can also double as just a dipping sauce for these babies.
The pumpkin seed protein powder was perfect in these, and it kept the recipe simple.  I wish I had had some last time I made falafels!  I have used the pumpkin seed protein in a few smoothies as well and it is nice and neutral blending into the other flavors, but keeping me full and energized.  If you would like to buy some for yourself, you can find it on the Sprout Living Website HERE.
Raw Pumpkin Seed Falafels
Makes 12
2 cups carrot pulp (leftover from juicing)
1 garlic clove
1/4 tsp sea salt (or to taste)
1/4 tsp chipotle powder
1 tsp ground cumin seed
6 scoops Sprout Living Signature Simple Pumpkin Seed Protein Powder
In a food processor, combine all ingredients and pulse until well blended and starting to hold together when squeezed.  Roll into 12 balls, and place on a lined dehydrator tray.  Dehydrate for about an hour until warm and crispy on the outside. Serve with Pumpkin Seed Butter Dipping Sauce (recipe follows) or on a salad with the sauce drizzled over.
Pumpkin seed butter dip/dressing:
Makes 1/2 cup
1/4 cup raw pumpkin seed butter
2 Tbsp lemon juice
2 Tbsp filtered water
sea salt to taste
1/2 tsp ground cumin
pinch of ground chipotle powder
1 small garlic clove, minced
Whisk together all ingredients until smooth (if you would like it thinner, add a little more water).  Serve with the falafel for dipping or as a dressing on a salad with the falafel.
(Visited 118 times, 1 visits today)