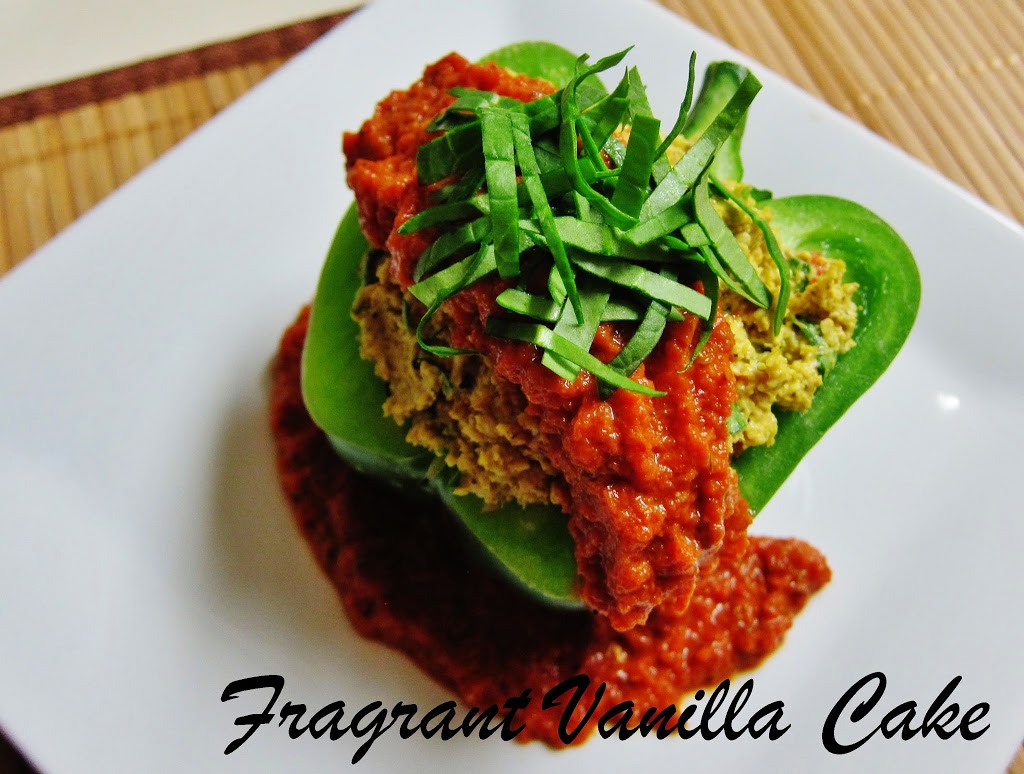 Raw Polenta Stuffed Bell Peppers
Just when I thought maybe spring was coming last week (it had warmed up to 40 degrees and the snow was melting), it decided to blizzard here. I drove into work and the roads were all clear, but by the time I walked out it was a blizzard, and my car was covered in what looked like a foot of snow. I cleared off my car, wondering to myself why I lived in Minnesota and drove all the way home white knuckles (I get super scared of slippery snow on the roads after being in an accident where a truck merged onto me and I was ran off the road). By the time I got there, I decided that I needed some comfort food for dinner.
I had lots of Italian ingredients, so Italian food it was! Not pasta though, polenta sounded amazing, and I had never attempted to make a raw version so I gave it a go! For the base, I used organic frozen corn (I would have loved fresh, but hey, it is Minnesota and I had the frozen in my freezer from last summer waiting to be used) and sprouted oat groats for the base (since I had sprouted a bunch for another recipe) I was thinking the oats would make it a little more grainy like the real thing, and they did! I added a bit of walnuts for richness and protein, fresh herbs and garlic to make it more savory and it was delicious! I usually don't sit and keep tasting savory items like I do sweet but this one I did, it was so good! I stuffed the mixture into bell peppers.
Next, for the sauce I used red bell pepper with sun dried tomatoes for a slightly sweet savory sauce that was perfect with the polenta.
Once it was all warmed in the dehydrator it was pretty damn delicious comfort food! Who says raw food can't be warming and hearty?! Probably those who haven't tried mine! Now I seriously hope the snow melts soon, but until then, at least I can make delicious dinners to warm me up!
Raw Polenta Stuffed Bell Peppers
Serves 2
2 cups fresh (or frozen) organic corn
1 cup raw sprouted oat groats*
1/3 cup raw walnuts
1 garlic clove
1 Tbsp each fresh basil and oregano (or 1 tsp each dried)
1 Tbsp nutritional yeast (optional)
sea salt to taste
1/2 red bell pepper, diced
1/4 cup spinach, chopped
1 large green bell pepper, halved, and seeds removed
Sauce:
1 large red bell pepper, seeded and chopped
1/4 cup diced sun dried tomatoes (soaked in water until soft, and drained well)
1 tsp each dried basil and oregano
1/4 tsp red pepper flakes
1 garlic clove
1 Tbsp olive oil (optional)
1 Tbsp cider vinegar
sea salt to taste
filtered water as needed
Fresh basil for garnish
For the polenta, combine the corn, oat groats, walnuts, garlic, basil, oregano, yeast, and sea salt in a food processor and process until smooth, and the consistency of polenta.
Mix in the red bell pepper and spinach, and stuff into the green bell pepper halves. Place in the dehydrator for about 4 hours at 115F until warmed and softened.
To make the sauce, combine all ingredients in the food processor and process until smooth (adding a little filtered water if you would like it thinner). Place in a bowl, and the final 30 minutes of dehydrating the pepper, place in the dehydrator to warm as well. To serve, spoon some of the sauce onto a plate, top with a bell pepper halve, then more sauce. Garnish with fresh basil if desired.
*For sprouted oats, soak raw oat groats for 8 hours, then rinse and drain well and place in a large glass jar covered with mesh or cheesecloth (to allow the oats to breath). Place in a lit area (but not in direct sunlight) and allow oats to sprout for 2-3 days, rinsing and draining well twice a day.
(Visited 73 times, 1 visits today)