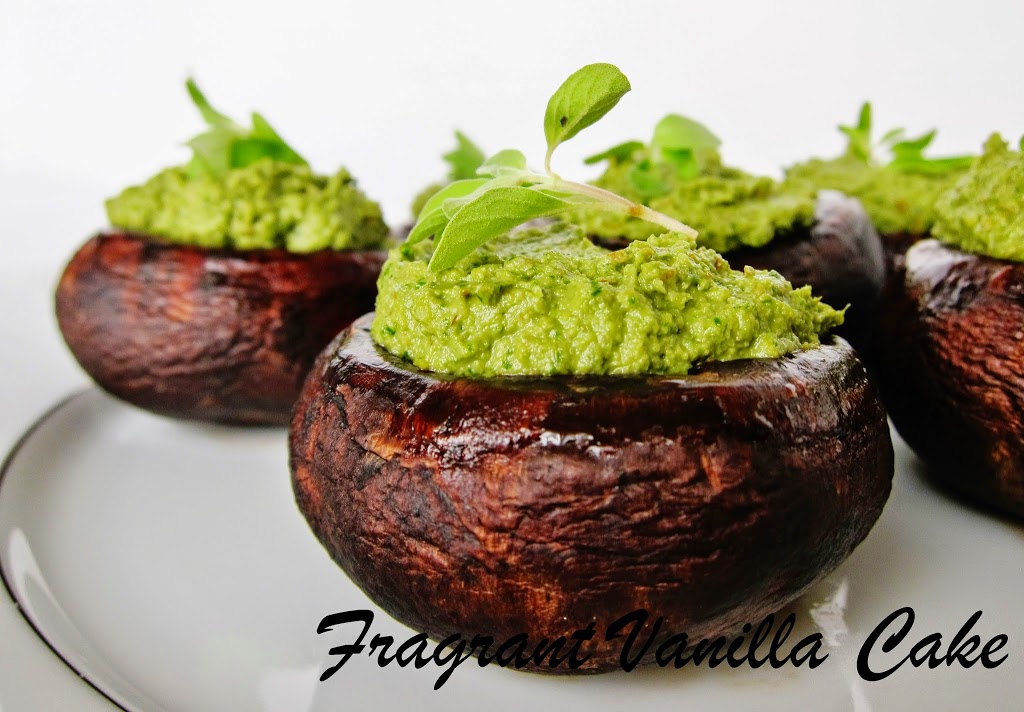 Raw Pesto Stuffed "Roasted" Mushrooms
My Mom brought me some mushrooms and basil last week and asked me if I would make her some stuffed mushrooms.  I was not going to say no after all, they sounded delicious!  I decided to make a rich pesto stuffing with the basil.  The mushrooms were perfect little gems, and I tossed them with a marinade and "roasted" them in the dehydrator to perfection for a few hours.  Seriously, you would have thought they had been in a real oven they were that tender.  For the pesto, I made it nut free with avocado and hemp seeds in place of the usual nuts. I also added a bit of marjoram and lemon to make it extra good!
These stuffed mushrooms would make the perfect appetizer or small plate, and they were so good!  My Mom and boyfriend loved them too!  These would be wonderful year round, but since the farmer's markets are opening up and basil will be abundant, I will have to make them again soon!
Raw Pesto Stuffed "Roasted" Mushrooms
Makes 10-12
10-12 large crimini mushrooms
2 Tbsp nama shoyu
2 Tbsp lemon juice
2 Tbsp olive oil
Pesto:
1 ripe avocado
1/3 cup raw shelled hemp seeds
1 bunch fresh basil
1/4 cup fresh marjoram
a few large kale leaves
1 garlic clove
juice of one lemon
sea salt to taste
To make the mushrooms, remove the stems.  Combine the nama shoyu, lemon juice, and olive oil in a bowl and then toss the mushrooms in it.  Spread out on a lined dehydrator tray and dehydrate for 3-4 hours until softened and they look "roasted". Meanwhile, to make the pesto, combine all ingredients in a food processor and process until smooth. Spoon the pesto into the mushrooms when they come out of the dehydrator and serve!
(Visited 63 times, 1 visits today)