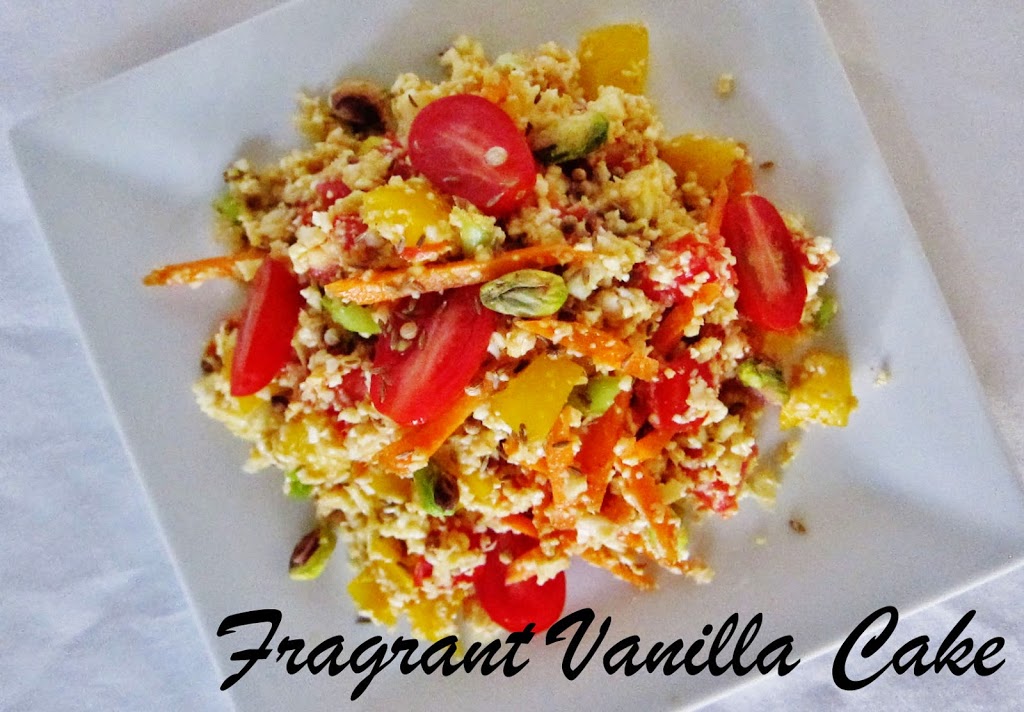 Raw Moroccan Spiced "Couscous"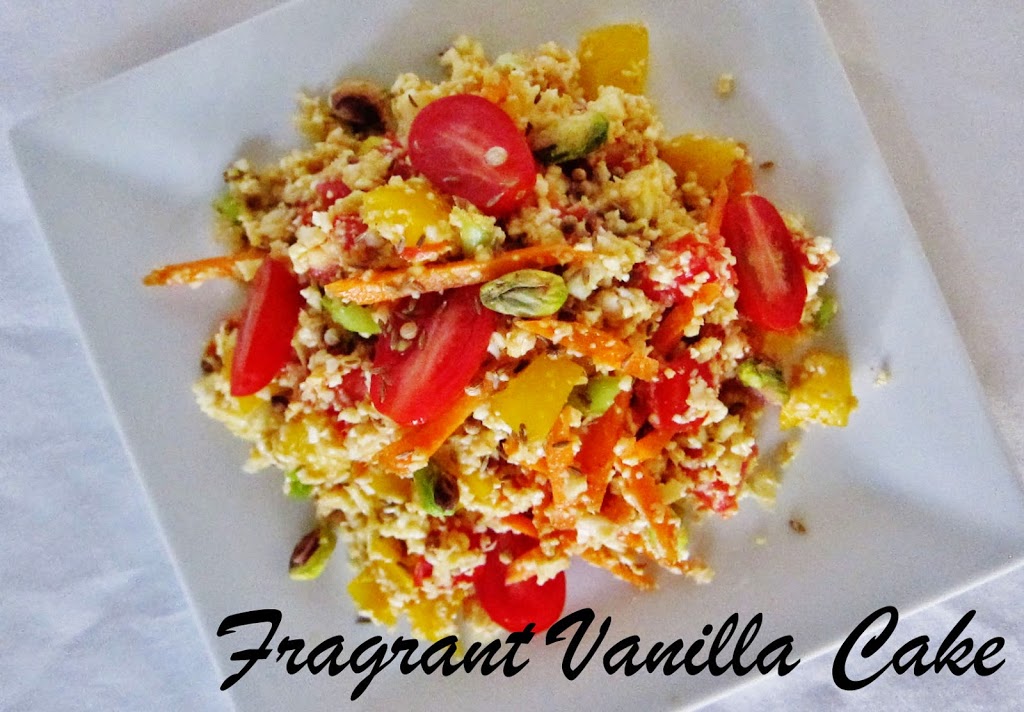 I arrived home very hungry after work as usual, and I wanted something hearty for dinner. The first thing that popped into my mind was the large celeriac I had in my fridge. Some sort of celeriac "grain". I decided to make a Moroccan spiced couscous out of it because I was craving something with that flavor profile. In my opinion, celeriac is the best veggie for making a rice or a couscous because it has a delicious flavor and is a little drier in texture than the other veggies commonly used. It went very well with the Moroccan spices I used this time...cumin, chilies, cinnamon, coriander, lemon. It was wonderful, especially with all of the colorful veggies added in! I also added some hemp seeds for protein and an extra boost of omega 3 oils. I actually ate the whole batch of this, I was that hungry. It was so good. I never feel as if I am missing out on anything with raw foods!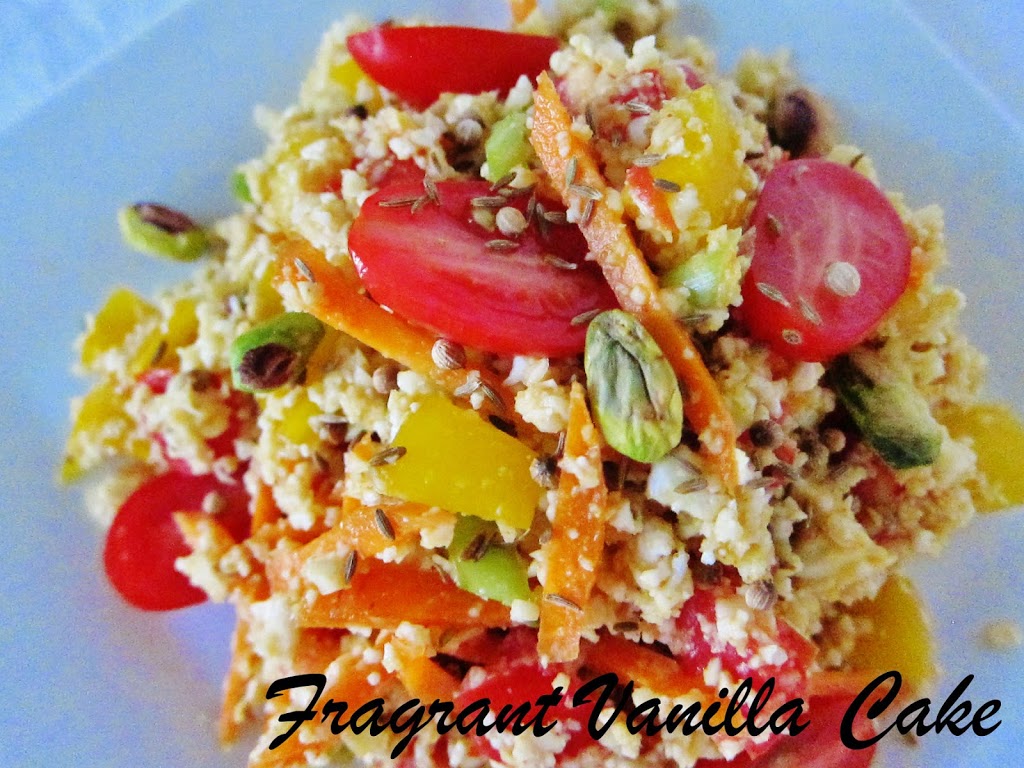 Raw Moroccan Spiced Couscous
Serves 2
4 cups celeriac, chopped
1 bunch scallions, sliced
1 carrots, cut julienne
1 yellow or red bell pepper, cut julienne
1 small tomato, diced
juice and zest of one large lemon
1 garlic clove, minced
1/4 tsp ground chipotle pepper or cayenne
1 tsp cinnamon
1 tsp cumin
1 tsp chili powder
1 tsp coriander seeds
1 tsp cumin seeds
1 Tbsp nutritional yeast (optional)
3 Tbsp raw shelled hemp seeds
1/4 tsp himalayan or sea salt or to taste
1/4 cup pistachios
Place the celeriac in a food processor and pulse until very small pieces like couscous (but do not over process or it will be mushy. In a large bowl, place the celeriac, and mix with all other ingredients until well incorporated and serve at room temperature or warmed a little in the dehydrator.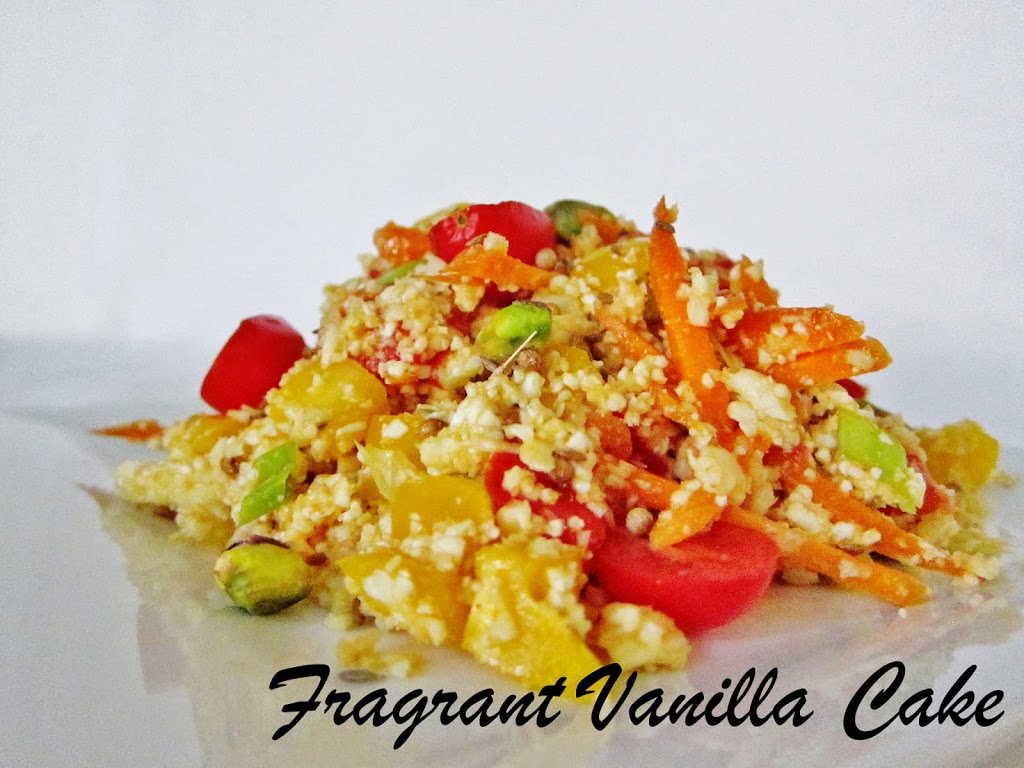 (Visited 24 times, 1 visits today)