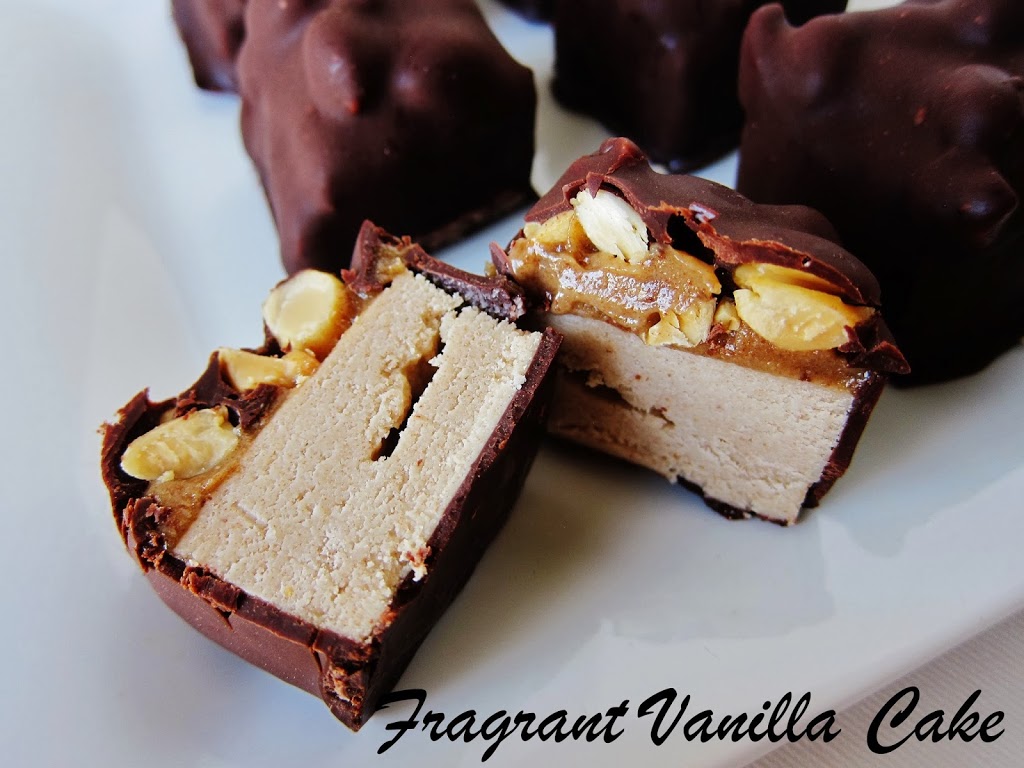 Raw Mini Snickers Bars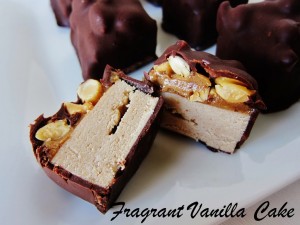 When I was young enough to go trick or treating for Halloween it usually went like this: I dressed up as a black cat, since I was not too creative in the costume department, I wore a big puffy coat since I do live in Minnesota (where it is always so cold for Halloween you usually can not show off your costume while trick or treating anyhow).  I would enjoy seeking out the best candy, and then when I got home I would dump it all out and sit on the carpet with my friends to see what all was there.  There was some trading going on, but of course all we wanted was the chocolate so there was always a pile of the other "gross" candy left over.  My favorites were always the peanut butter cups, the snickers, the milky ways or anything involving chocolate and something gooey inside.
Although I am really no longer into going out for Halloween as an adult (really, it has turned into so many sexy whatever costumes and lots of drinking for adults and not so much good old fashioned fun which is sad), and I don't get any kids trick or treating in my neighborhood, I still decided that making Halloween candy would be fun.  Because candy is the best part of the holiday anyway right?!  So I made
raw twix
last week, and this week it is raw snickers. Stay tuned, my next blog post will be a delicious raw candy bar cheesecake, including the both of them!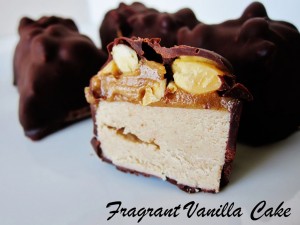 Raw Mini Snickers Bars
Makes about 12
Filling:
2 cups finely shredded raw coconut
8 soft medjool dates, pitted
2 Tbsp maca powder (optional)
1/2 cup water
1/4 tsp sea salt
1 tsp pure vanilla extract
2 Tbsp coconut butter, warmed to liquid
Caramel:
1 cup soft medjool dates, pitted (soaked in water for 30 minutes if not soft and drained well)
3 Tbsp raw coconut butter
3 Tbsp maple syrup or raw coconut nectar
1/4 tsp sea salt
1 tsp vanilla extract
1 tsp maple extract
1-2 Tbsp filtered water as needed
1 cup raw peanuts*
Raw Chocolate Coating:
1/2 cup raw cacao powder
1/2 cup raw coconut oil
1/4 cup raw coconut nectar or maple syrup
In a high speed blender, combine all the filling ingredients and process until very smooth.  Remove from the blender and scoop onto a foil lined sheet, then spread out into a 1 inch thick square using an offset spatula.  Place in the freezer while you prepare the caramel.
To make the caramel, combine all ingredients except water in a food processor and process until smooth (adding the water only if the mixture is too thick). Spread over the base mixture, sprinkle with the peanuts, pressing them in so they stick, and place back in the freezer for an hour.
Meanwhile, whisk together the chocolate ingredients in a small bowl.  Once the filling has firmed up, cut into 12 squares.  To dip, set on a fork and dip into the chocolate, let the excess drain off, then place back on the foil.  Repeat with remaining candies, then place them all in the freezer for 5 minutes to set the chocolate.  Store extra in the fridge.
*If you want these to be nut free, simply leave out the peanuts and make Raw Milky Way bars.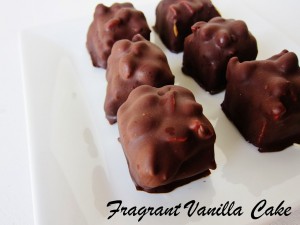 (Visited 464 times, 1 visits today)