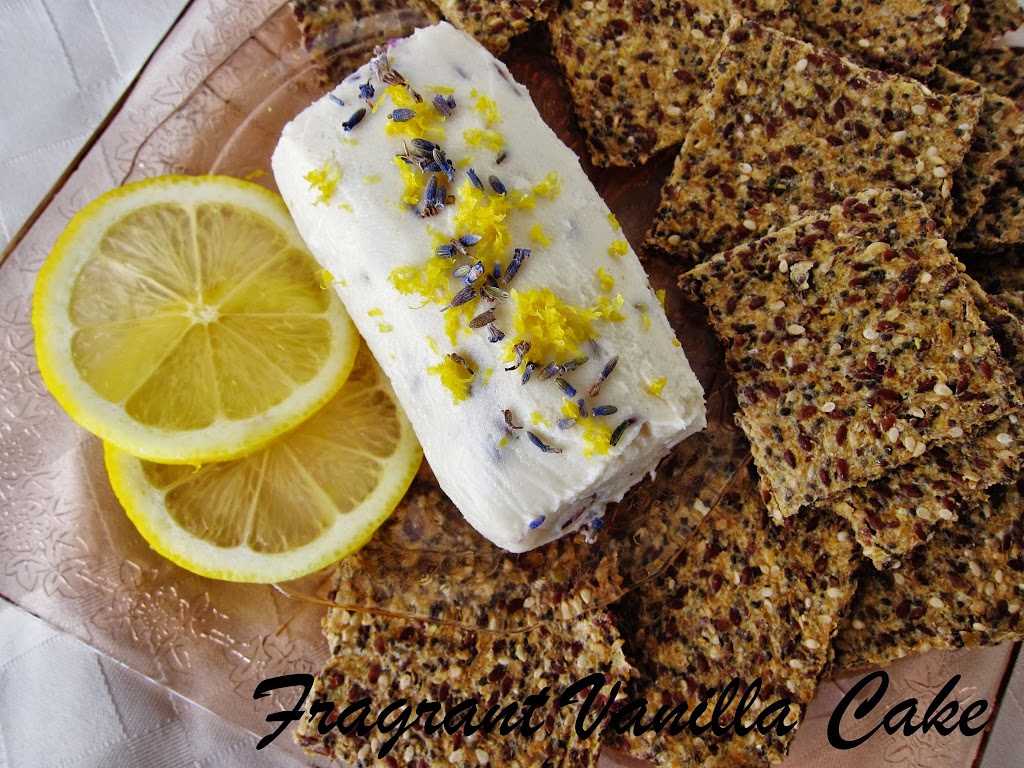 Raw Lavender Lemon Chevre
I used to be a big chevre lover.  Probably to a point where I was eating too much of the cheese I loved it so much.  I would buy a locally produced brand by the lb, then eat it for dessert every night with fruit.  It was so good...the slightly tart tangy cheese with the creamy mouth feel with sweet fruit.  I loved it with berries the most.  I often times used it in desserts as well, it gave a wonderful flavor to cheesecakes.  When I went raw I was thinking I was going to miss my beloved chevre and I was a bit sad about it.  Not for long though when I discovered you can make even better chevre from creamy white nuts such as macadamias, pine nuts and cashews.
It is one of my favorite indulgences.  I don't eat it every night of course since these nuts are spendy but for a special occasion I will splurge.  Recently I made a flavored chevre that was so delicious I just had to share it with you all. Lavender lemon.  Accented with a bit of maple syrup it was the most heavenly chevre ever!  Served with raw crackers, or crumbled over fresh local strawberries this stuff is good, and worth the splurge.  It would be perfect to serve to guests but if you don't want to share, I understand!
Raw Lavender Lemon Chevre
Serves 8
Cheese:
2 cups raw cashews, pine nuts or macadamia nuts, soaked in filtered water for 4 hours and drained
juice of one lemon (1/4 cup)
1 Tbsp lemon zest
1/2 tsp sea salt or himalayan salt
2 Tbsp maple syrup
2 Tbsp dried lavender
In a high speed blender combine all the cheese ingredients (except lavender) and blend until smooth and creamy.  Stir in the lavender until well combined.  Place in a piece of cheesecloth and roll up into a log a couple inches around.  Place in the fridge overnight to chill before serving.
(Visited 934 times, 1 visits today)