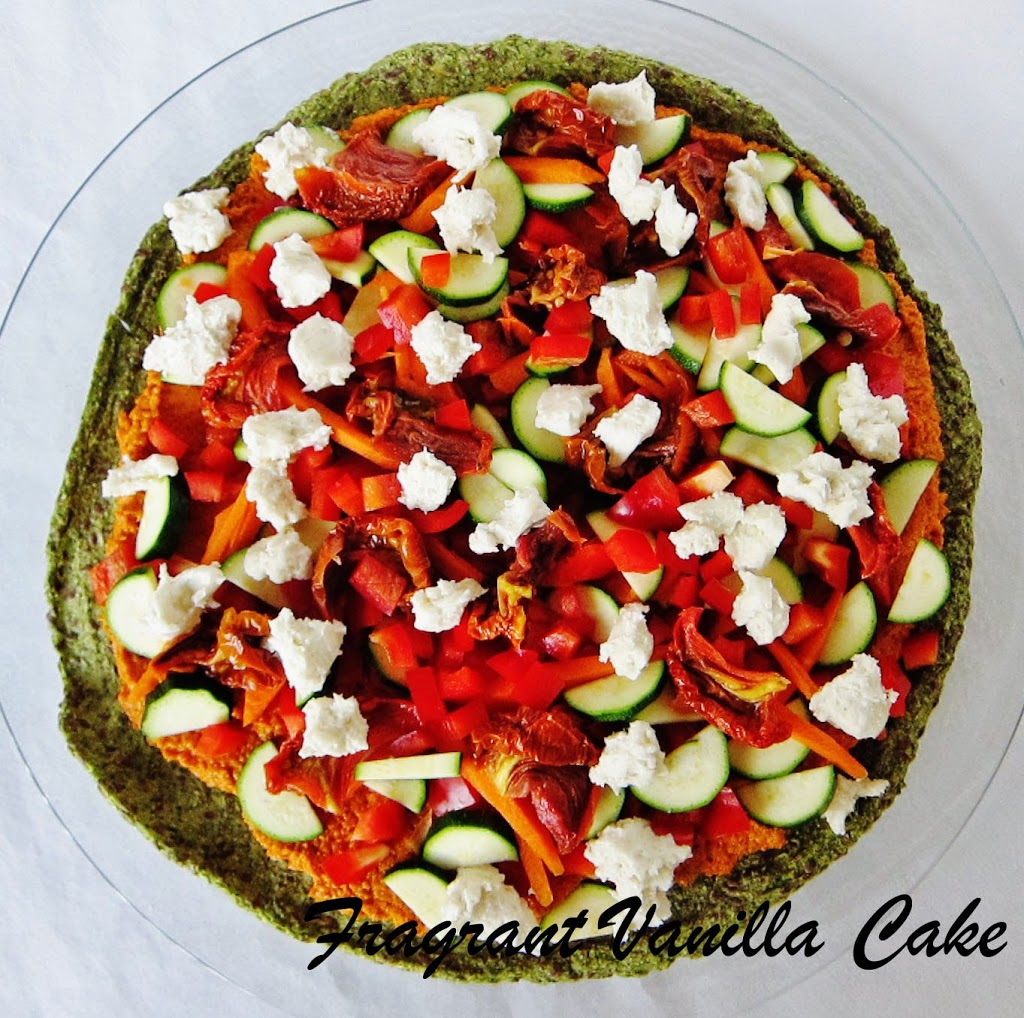 Raw Confetti Vegetable Pizzas
I decided last week, that I was going to make some raw pizza, since it had been far too long since I had done so. But I also decided that I was not going to buy any ingredients to make them, simply use what I already had in my fridge. This is usually the way I operate, since I am not made of money and I can not stand to waste things. I had a mish mash of veggies, and some macadamia nuts I had been waiting to make something special with, so I decided to include all the veggies and top off the pizza with a macadamia nut chevre.
For the crust, I made what I usually make, zucchini with herbs and flax, because it is light and easy. Although it requires dehydration overnight, it can be made ahead of time and stored in an airtight container like crackers are. I topped it off with a sweet potato hummus, since I had sweet potatoes on hand and I love hummus on a pizza instead of sauce.
For the veggies, I used a mix of zucchini, carrots, bell peppers, and some sun dried tomatoes left over from the summer. I topped it all off with some macadamia chevre, and it was so pretty. Like confetti! Hence the name I decided to call it. Almost too pretty to eat, but that never stops me!
Raw Confetti Vegetable Pizzas
Makes 2


Crusts:
4 medium zucchini
1/2 cup ground flaxseed
1/2 cup whole flaxseeds
1/2 tsp sea salt
1 tsp dried thyme
1 tsp dried rosemary
1 garlic clove


Macadamia Nut Cheese:
1 cup macadamia nuts, soaked in filtered water for at least 4 hours, drained
filtered water as needed
1 Tbsp lemon juice
1/4 tsp sea salt

Sweet Potato Hummus:
2 cups peeled diced sweet potato
1 cup raw walnuts
1 tsp thyme
2 garlic cloves
filtered water as needed


Toppings:
1 1/2 cups red bell pepper, diced
1 1/2 cups zucchini, cut into half moons
1 cup carrots, sliced
2 cups sun dried tomatoes, rehydrated
For the crusts, combine all ingredients in the food processor and process until smooth. Spread out onto 2 lined dehydrator sheets in circles (but not too thin) and dry for about 16 hours until crisp (flipping once).
For the cheese, combine all ingredients in a high speed blender and blend until smooth (adding a little more water if necessary). Refrigerate overnight until firm.
Meanwhile, to make the hummus, combine all ingredients in the food processor and process until smooth, adding water if necessary to create a hummus consistency.
To assemble the pizzas, spread the hummus over both the crusts, then top with all the veggies and crumble the cheese over it and serve!


(Visited 79 times, 1 visits today)