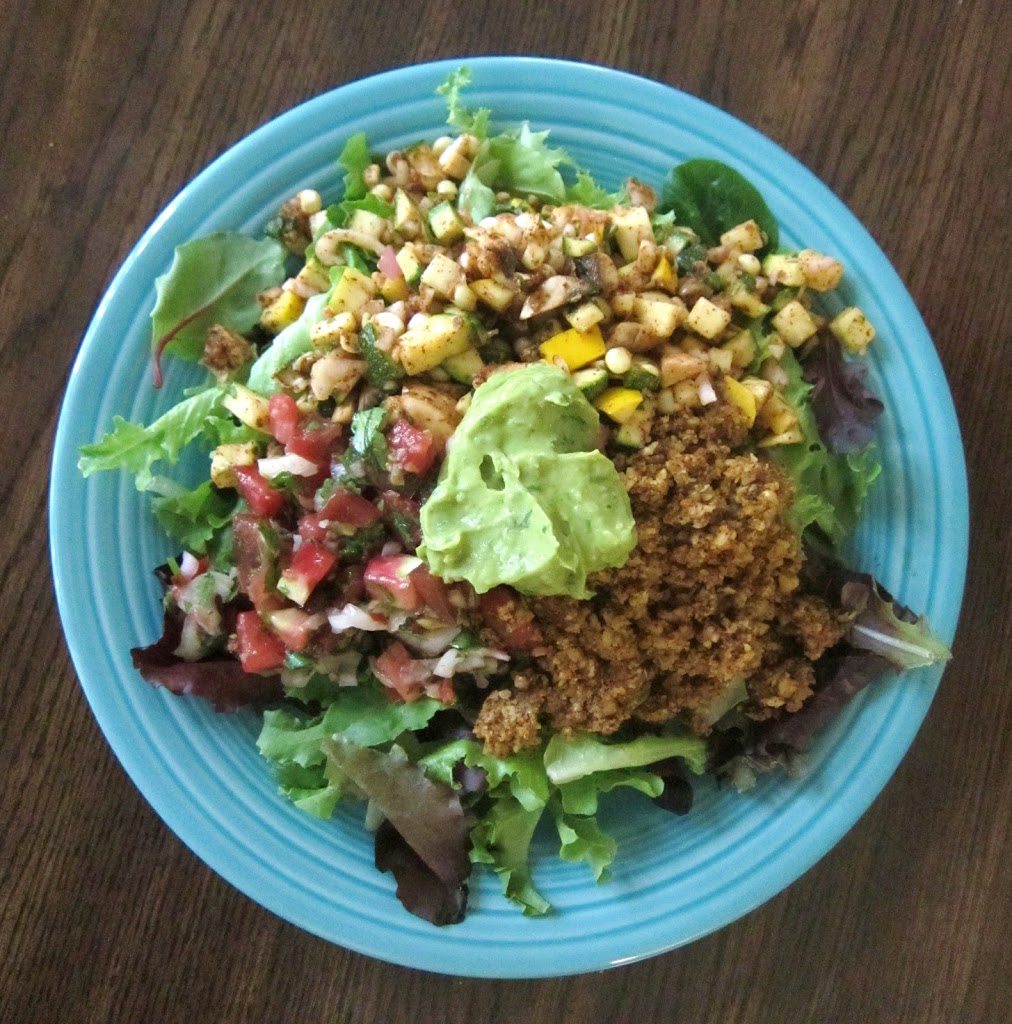 Raw Chopped Taco Salad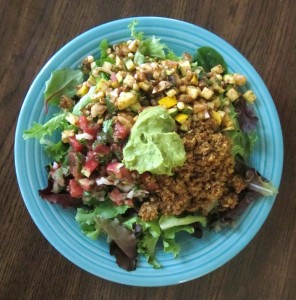 I am still on a kick where I don't care to use the oven or stove. I mean it was over 100 degrees on Monday! Plus, I work in a hot kitchen all day with a hot chefs coat, so cooking food is not appealing when I get home for dinner. But, I still want to eat good food, and I don't want to have to eat out all the time. So...raw food is becoming more of a frequent thing in my kitchen. A few nights ago, I wanted taco salad. However, I did not want to cook beans or turn on the oven to crisp tortillas. So, I decided to make a salad plate with the flavors of a taco salad with fresh raw ingredients.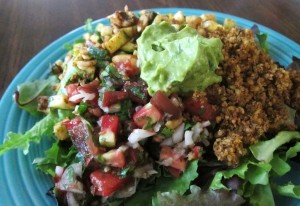 I had bought some local corn and zucchinis and I thought they would be delicious chopped up with a bell pepper, some shallots, and a chili lime dressing. I also made some taco "meat" instead of having beans out of walnuts seasoned with nutritional yeast and taco spices. It was so delicious I could have eaten it on its own, but I knew it would be a perfect component to my salad. To finish it off I made some fresh salsa from some heirloom tomatoes I had bought as well and guacamole as they are both a must when Mexican food is served at my house! Once I threw it all on top of a bed of greens, it was quite delicious! As I was enjoying the last morsel, I was glad I hadn't caved and turned my oven on or bought take out.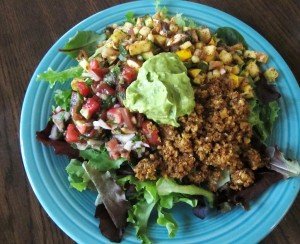 Raw Chopped Taco Salad:
serves 3-4
Salsa:
1 jalapeno, minced (seeded if desired)
2 medium organic heirloom tomatoes, diced
1/4 cup packed fresh organic cilantro, chopped
2 shallots, minced
2 garlic cloves, minced
juice of one lime
sea salt to taste
Guacamole:
3 medium organic avocados
1 garlic clove, minced
1/4 cup chopped organic cilantro
juice of one large lime
sea salt to taste
Taco "meat":
1 cup walnuts
1/4 cup plus 2 Tbsp nutritional yeast
2 tsp ground cumin
2 tsp chili powder
1/8 tsp chipotle powder, or to taste
1 garlic clove
sea salt to taste
2-3 Tbsp filtered water (or as needed)
Salad:
2 ears of fresh organic corn
1 organic yellow zucchini, cut into small dice
1 organic green zucchini, cut into small dice
1 yellow or red bell pepper, cut into small dice
1 large shallot, minced
2 garlic cloves, minced
1 Tbsp ground cumin
1 Tbsp chili powder
1/8 tsp chipotle powder or to taste
juice of 2 large limes
1 Tbsp olive oil
sea salt to taste
Lettuce of your choice to serve
hot sauce to serve (optional)
To make salsa, combine all ingredients in a bowl and set aside.
To make guac, with an immersion blender in a tall measuring cup, puree until smooth (or if you like chunky, mash in a bowl). Set aside.
To make taco meat, combine all ingredients in a food processor (except water) and process until well chopped, but still chunky. Add a little water at a time until the mixture starts to clump together. Set aside.
To make salad, remove kernals of corn from the cobs and add to a large bowl, along with all other ingredients. Toss until well combined.
To assemble, place some lettuce on each plate, then top each with some salad, salsa, taco meat, and guacamole. Drizzle with hot sauce if desired, and serve!
(Visited 40 times, 1 visits today)