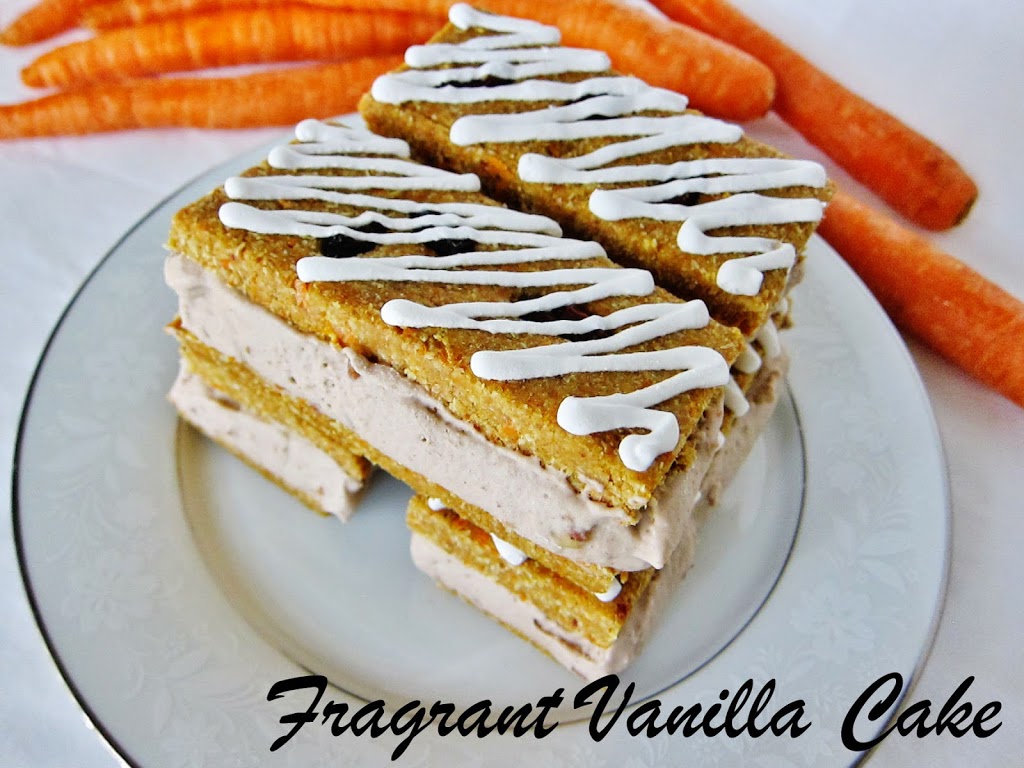 Raw Carrot Cake Ice Cream Sandwiches with Caramel Pecan Ice Cream
I thought about making a plain vanilla ice cream for the filling, or a carrot cake filling too, but instead decided on a Caramel Pecan Ice Cream. I knew that would be wonderful with carrot cake. Caramel because it contained dates, lucuma, and maple which give things a natural caramel flavor. Pecans were added in both the form of butter and crunchy chopped...and let me tell you it was freaking amazing!
The best part about the ice cream too is it is quick to make and no ice cream maker is needed, just a little chilling time. Once the sandwiches were assembled, I drizzled the sandwiches with a bit of coconut "cream cheese" glaze, and they were simply yummalicious! Carrot cake being married to an ice cream sandwich is awesome, especially with caramel pecan ice cream. Trust me, you need these in your life!
Raw Carrot Cake Ice Cream Sandwiches with Caramel Pecan Ice Cream
Makes 4
Carrot cake cookies:
2 cups ground flaxseed
2 cups finely shredded dried coconut
1 cup packed soft medjool dates, pitted (if not soft, soak them in filtered water 30 minutes and drain well before using)
1/4 tsp sea salt
1 Tbsp cinnamon
1 tsp cardamom
1 Tbsp fresh chopped ginger
1/4 tsp nutmeg
2 tsp pure vanilla extract
2 cups grated raw carrot
1 cup finely shredded coconut
1 cup raisins
Caramel Pecan Ice Cream:
4 frozen bananas, cut into pieces
6 medjool dates
1 Tbsp lucuma powder
1/4 cup pecan butter
pinch of sea salt
1 tsp pure vanilla extract
1 tsp maple extract
1 cup chopped pecans
"Cream Cheese" glaze
2 Tbsp cup raw coconut butter (not oil), warmed to liquid
1/2 tsp pure vanilla extract
1/2 tsp cider vinegar
1 Tbsp raw coconut nectar or maple syrup or your choice of liquid raw sweetener
a pinch sea salt
2-3 Tbsp filtered water or as needed

In a food processor, combine the ground flax seed, 4 cups shredded coconut, dates, sea salt, spices and vanilla and process until finely ground. Add one cup of the carrots and process until starting to hold together. Add the remaining cup of carrots and 1 cup coconut and pulse until well distributed (or you can knead it in alternatively). Knead in the raisins. Place on a sheet of parchment and roll out 1/4 inch thick. Cut into 8 rectangles and place in the freezer to harden.
To make the ice cream, combine all ingredients (except chopped pecans) in a high speed blender and blend until smooth using the tamper to push down the mixture into the blades (but not too long or it will be too liquid). Alternatively you can use a food processor but keep in mind it will take longer and you will need to stop and scrape down the sides of the processor a few times. Stir in the chopped pecans. Put the ice cream in a bowl in the freezer (if the ice cream is too soft, it is important to chill it until it is not runny so that it is easier to spread) until the cookies are hard.
Once the cookies are hard, spread the ice cream over half the cookies about an inch thick, then top with another cookie. Place back in the freezer and let freeze until firm.
When ready, make the glaze, whisk together all ingredients until smooth (it may clump up at first, but it will smooth out) adding more water 1 Tbsp at a time until a glaze consistency is reached (you want to be able to drizzle it but not too runny). Drizzle over the tops of the sandwiches, then place in the freezer for a few minutes to set the chocolate. Enjoy!



(Visited 162 times, 1 visits today)