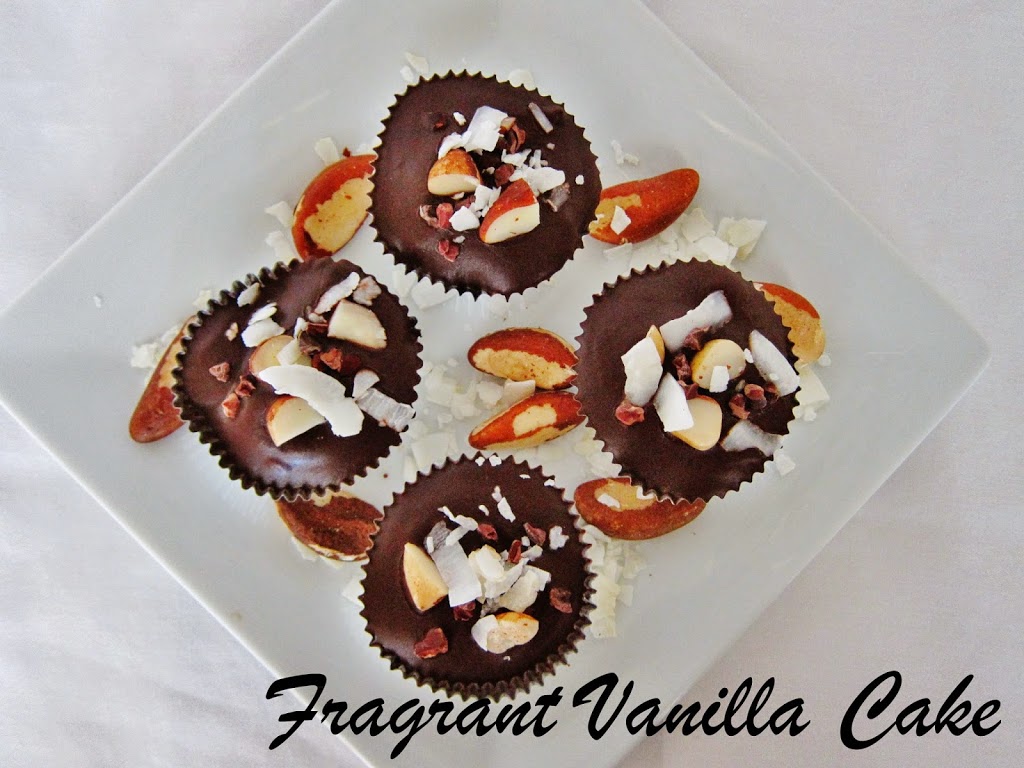 Raw Brazil Nut Coconut Cacao Cups
I recently made some raw Brazil nut butter. It is delicious in savory recipes to create a smooth texture in things like dressing, but I also love it in sweet things. Like some Raw Brazil Nut Bliss Brownies I recently made. They are sooo good with chocolate! Which is why I came up with this confectionery concoction...Raw Brazil Nut Coconut Cacao Cups!
I thought about simply mixing the brazil nut butter and coconut butter together for a filling with chocolate on top of and under it, but then I decided it would be even more delicious and visually interesting if I created a layer of coconut cream flecked with crunchy coconut, then a layer of brazil nut butter, then chocolate. Topped off with crunchy little bits of cacao nibs, nuts, and coconut.
OMG...these were freaking delicious! About 4 bites of heaven. I always thought peanut butter cups were the best when I was younger, but now that I experiment with other nut butters I think they are all delicious!
If you are wondering how I made my brazil nut butter, it is simple. Just place about 3 cups of them in a high speed blender with about 1/4 tsp sea salt and blend until smooth, using the tamper to push the mixture into the blades. If you want it a little sweeter and less runny you can use an additional half a cup finely shredded dried coconut along with that (which is what I usually do). If you do not have a high speed blender, you can use a food processor, but keep in mind it will take longer and you will need to stop and scrape down the sides a few times. I hope you try these little gems of nut and chocolate deliciousness, you will thank yourself if you do!
Raw Brazil Nut Coconut Cacao Cups
Makes 12
Coconut Cream Layer:
3/4 cup raw coconut butter (not oil) warmed to liquid
2 Tbsp raw coconut nectar
1/3 cup filtered water
1 tsp pure vanilla extract
pinch sea salt
1/4 cup large flake dried coconut
Brazil Nut Butter:
1/3 cup raw brazil nut butter
2 Tbsp raw coconut butter (not oil) warmed to liquid
1 Tbsp raw coconut nectar
Chocolate layer:
1/2 cup raw coconut oil, warmed to liquid
3/4 cup raw cacao powder
1/4 cup raw coconut nectar or your choice liquid raw sweetener
a pinch sea salt
Chopped raw brazil nuts, large flake coconut, cacao nibs
For the coconut layer, whisk together all ingredients until smooth and spoon into 12 foil tins. Place in the freezer to harden for about 5 minutes. Mix together the brazil nut butter filling ingredients. Spoon about 1 tsp of brazil nut butter over that, and press down slightly so it will not stick out when you add the chocolate layer. Whisk together all chocolate ingredients until smooth, and spoon over the brazil nut butter. Sprinkle with raw cacao nibs, chopped brazil nuts, and coconut and place in the freezer to harden, about 15 minutes. Store in the fridge.
(Visited 53 times, 1 visits today)