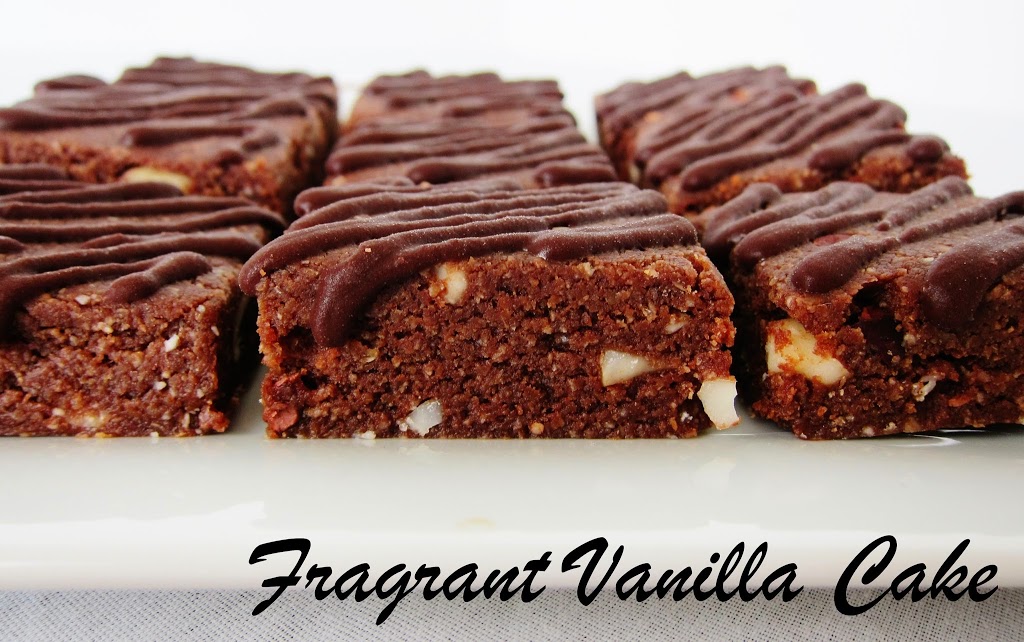 Brazil Nut Bliss Brownies
I have always thought brazil nuts were delicious. Ever since my Grandmother served mixed nuts in a bowl as a snack whenever she had company over and I would pick out the giant nuts along with the cashews, my other favorite at the time. Once in a while I will use them in salads for a nice crunch and different flavor from my usual walnuts, but I got to thinking...what would brazil nut butter be like? I have used them for a nut cheese before, but never butter. So I decided that I needed to make some. It was silky and yummy and I decided that it needed to be used in some sort of delicious dessert. That is how these brownies came to be.
At first I thought about making brazil nut butter cookies, but then I decided that adding chocolate and making brownies would be better. Brownies studded with even more chopped brazil nuts and some raw cacao nibs stirred into the buttery fudgy dough. The dough was so good by the way that I could not stop snacking on it even before I had shaped the brownies. This was really an instantly gratifying dessert to make though, because no chilling time or dehydration time were required, so I could enjoy the deliciousness right away!
Brazil Nut Bliss Brownies
Makes 12
Dough:
2 1/2 cups raw coconut flour (home made is preferred)
1 1/4 cups ground flaxseed
1/2 cup soft medjool dates, pitted
1/4 tsp sea salt
1 tsp pure vanilla extract
3/4 cup brazil nut butter*
1/2 cup mashed banana
1/2 cup raw cacao powder
1/2 cup chopped brazil nuts
1/2 cup raw cacao nibs
1/2 cup chopped raw dark chocolate or chunks
For the dough, in a food processor, combine the coconut flour, flaxseed, dates and salt, and process until the dates are very finely chopped and it is all well combined. Add the vanilla, brazil nut butter, banana, and cacao powder and process until smooth like dough. Mix in the chopped brazil nuts and cacao nibs by kneading it by hand. Shape into a square 3/4 inch thick (I used a rolling pin and bench scrapers to shape it). Cut into 12 squares and set aside. Melt the chopped chocolate (I simply put mine in the dehydrator in a bowl and allow it to melt that way), then drizzle it over the brownies and put in the freezer for about 2-5 minutes to set the chocolate (or if you want it still melted by all means dig right in). Store in the fridge.
*To make brazil nut butter, place 3 cups brazil nuts in a high speed blender with a little salt if desired (like 1/4-1/2 tsp) and blend until smooth, using the tamper to push the brazil nuts down into the blade. Store in the fridge.
(Visited 134 times, 1 visits today)