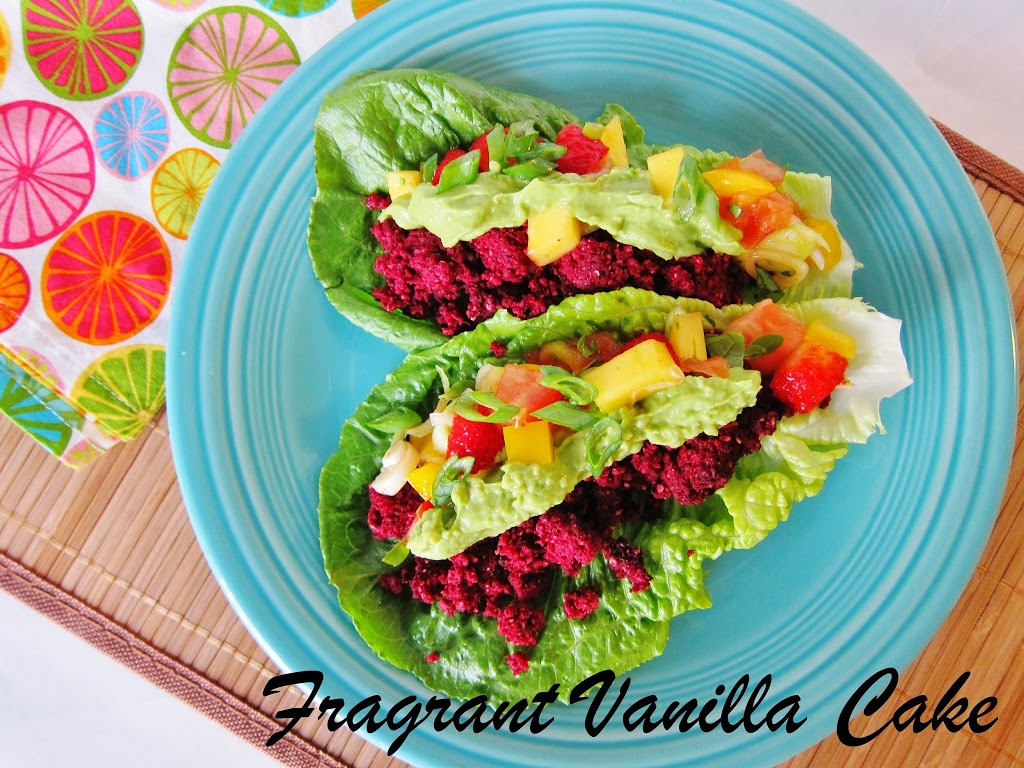 Raw Beet Tacos with Strawberry Mango Salsa
Since I juice a lot of veggies...I have a lot of pulp leftover. I have just been throwing it out, thinking it was a shame to waste it.  Until now.  I decided that I needed to start using it for other things.  After all, it is good fiber, and it tastes good. Well to me at least, I tasted the beet pulp that I ended up using for this recipe, and my first thought was that it would be marvelous in a red velvet cake, since it was so soft and fluffy. I didn't make a cake though, because it was time to be thinking about dinner, not sweets so it ended up being taco meat.  I was in a tacos for dinner sort of mood.  I combined the pulp with taco spices, hempseeds and walnuts for protein and it was delicious! All it needed was a little dehydration to get the texture right (although, this could be served without dehydrating and still be good for those who do not own dehydrators).
I made a mango strawberry salsa to go alongside it with some not so traditional herbs thrown in, marjoram and basil.  It was absolutely delicious though!  Yes, I make some random pairings sometimes because I love using what I have on hand but they usually turn out awesome.  The salsa was perfect with the beet taco meat, and I served it with some simple guacamole in a lettuce leaf.  I prefer lettuce leaves to taco shells most of the time because I am too lazy to make them, and I like my meals a little lighter.  These tacos were damn good though, and if you juice a lot, you should give them a go!
Raw Beet Tacos with Strawberry Mango Salsa
Serves 2
Beet taco "meat"
1 1/2 cups beet pulp
2 sun dried tomatoes, soaked until rehydrated and drained
1/4 cup raw, shelled hempseeds
1/4 cup raw walnuts
1/2 tsp cumin
2 tsp chili powder
1/4 tsp chipotle powder
sea salt to taste
Salsa:
1 mango, diced
1 tomato, diced
1/2 red or yellow bell pepper, diced
1/2 cup strawberries, diced
1 garlic clove, minced
1/2 jalapeno, seeded and minced
juice of one lime
sea salt
1 Tbsp chopped basil
1 Tbsp chopped marjoram
Guacamole:
1 avocado
1 garlic clove
2 Tbsp lime juice
sea salt to taste
6 romaine lettuce leaves, or butter lettuce leaves
For the beet taco meat, combine all ingredients in a food processor and pulse until blended and chopped.  Place in the dehydrator and dry for about 2-3 hours or until it is the consistency you like (if you wish not to dehydrate it and want it softer that is ok too).
Meanwhile, to make the salsa, combine all ingredients in a bowl and mix together well.
To make the guacamole, mash or puree all ingredients together.
To serve, place some of the taco meat in each lettuce leaf, then top with the salsa and guacamole.  Enjoy!
(Visited 216 times, 1 visits today)