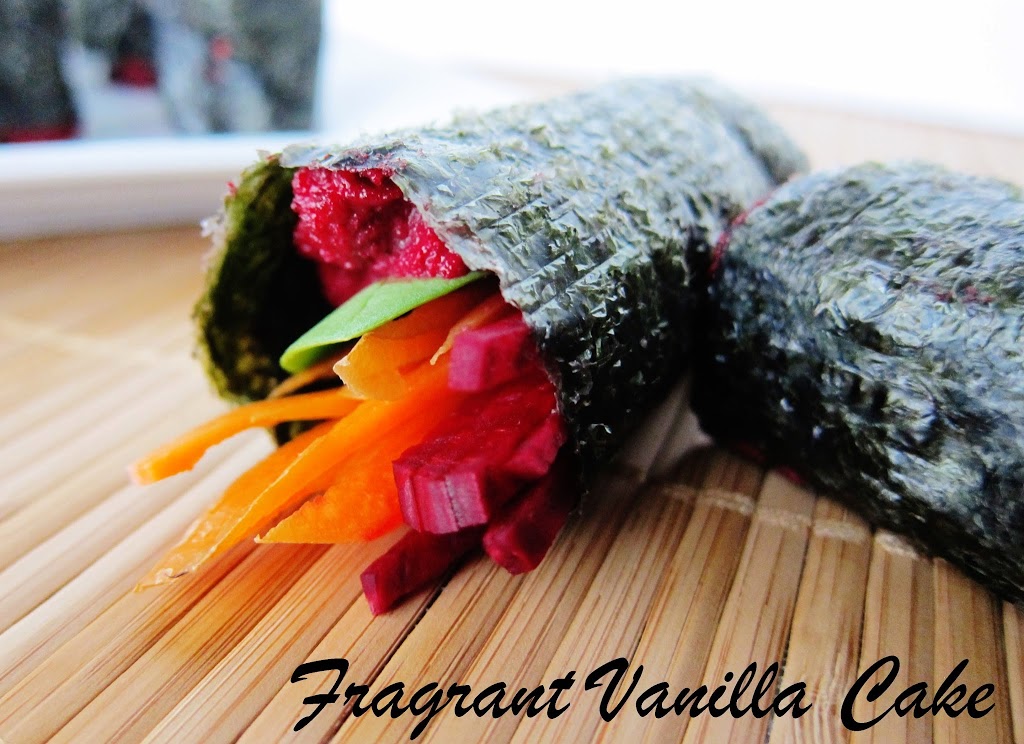 Raw Beautiful Beet Vegetable Rolls
Beets are my all time favorite vegetable.  I am addicted to them in juices and salads, and my boyfriend Eric, who works for an organic produce distributor recently bought a 40 lb bag of them.  Needless to say, we have been enjoying a lot of beets lately...and I love it!
I decided that they would be delicious in vegetable rolls sushi style.  I don't know if you can call it sushi, because this is not in any way Asian or traditional. You see, if I were not lazy, I suppose I could have made actual dehydrated wraps for the outside, but I would rather enjoy my day so nori and sushi style worked perfectly!
For the filling, I made a beet raw beet hummus, lightly spiced with coriander and cumin that was so addictive I scraped the bowl of the food processor clean and enjoyed the extra.   I piled carrots, more beets, greens and scallions on top of it for a simple but completely delicious combination!
I shared them with Eric, because he keeps my beet habit going, and I like to keep him happy and well fed with raw food.  He loved them as well.  If you are looking for a simple light dinner, or even a lunch to bring along to work these are perfect!
Raw Beautiful Beet Vegetable Rolls
Serves 4
Raw beet "hummus":
1 cup raw beets
1/4 cup raw walnut or almond butter
1/3 cup shelled hempseeds
1 garlic clove
1 tsp coriander seeds
1 tsp cumin seeds
1/4 tsp red pepper flakes
sea salt
1 cup carrot, cut julienne
1 cup red beet, cut julienne
spinach leaves
1/2 cup sliced scallions
4 sheets untoasted nori
For the hummus, combine all ingredients in the food processor and process until smooth.  Set aside.
To assemble the sushi, lay out a sheet of nori, and spread about 2-3 Tbsp along the top of the sheet in a line.  Lay some of the julienned carrot, then the beet and spinach over that, then sprinkle with a few scallions.  Roll up, from the top down, then moisten the bottom edge of the nori so it sticks.  Repeat with the other nori sheets.  Slice them into 2 inch rounds and serve!
(Visited 51 times, 1 visits today)