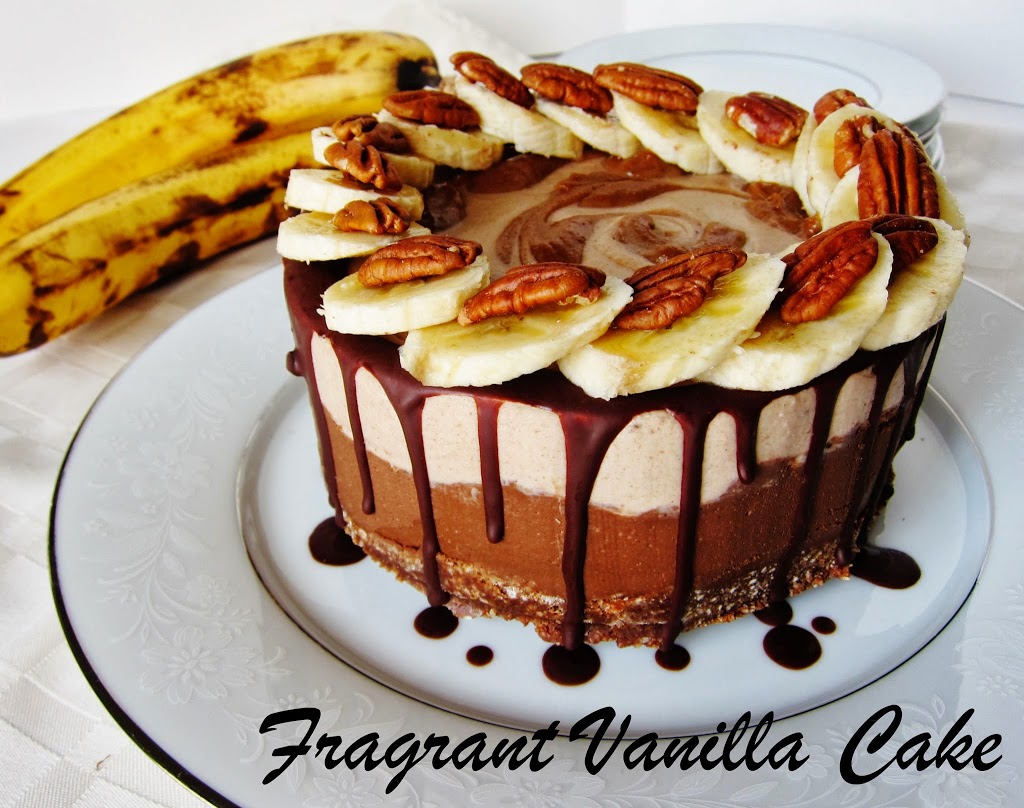 Raw Banana Turtle Mousse Cake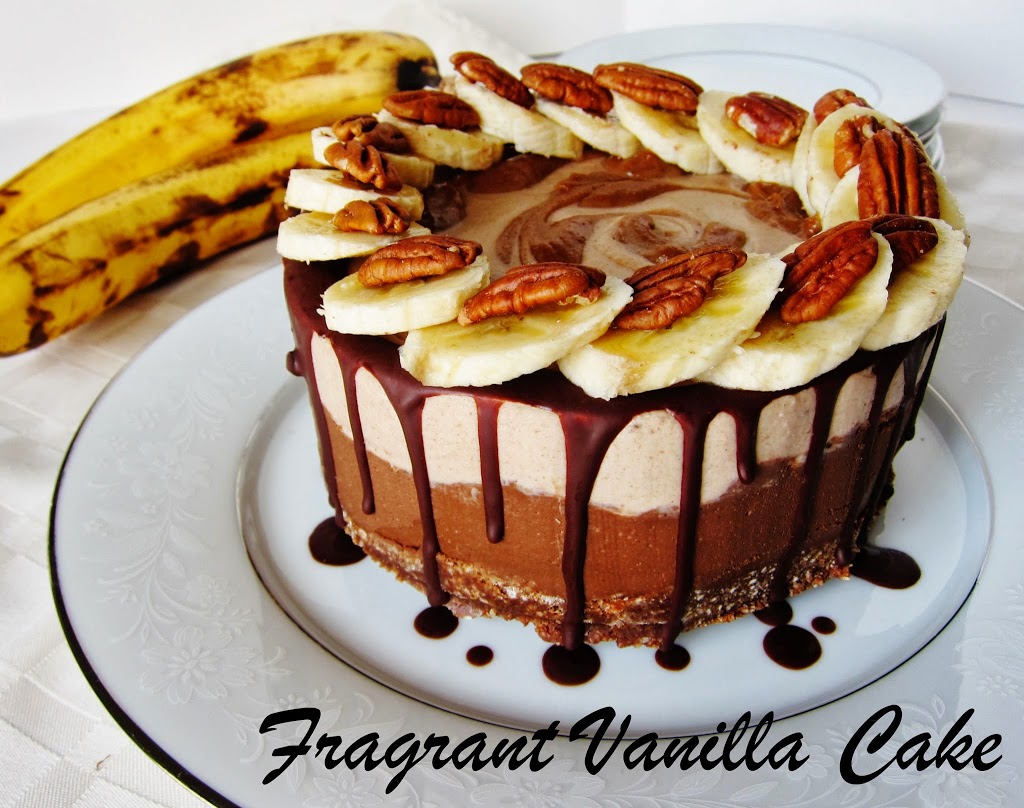 Tell pretty much anyone you are making a turtle dessert (chocolate, caramel and pecan for those of you that are not from a region that calls the combo turtle), and they will come running over to your house to enjoy the deliciousness.  I can't blame them though, I have always loved the combination too.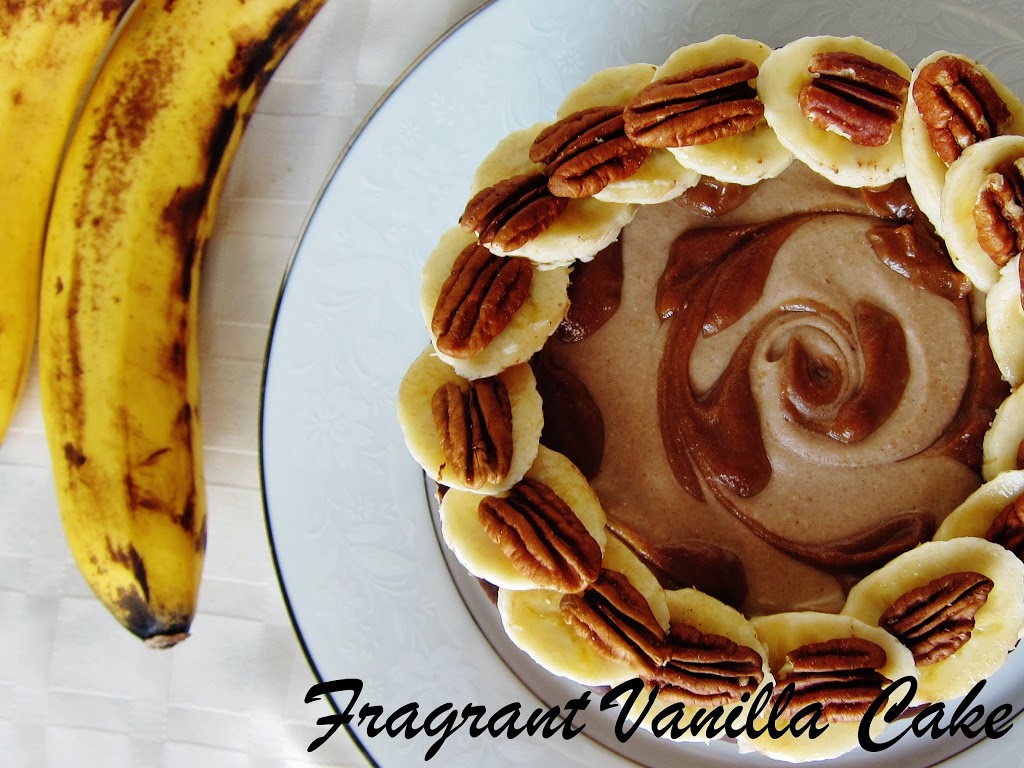 My first experience with turtle I can remember was eating the candy version of the treat at my Grandparent's house on Easter.  I had gotten some wrapped turtle candies in my basket.  They were so good.  I have never minded nuts luckilly unlike some children so I have always scarfed down treats including them.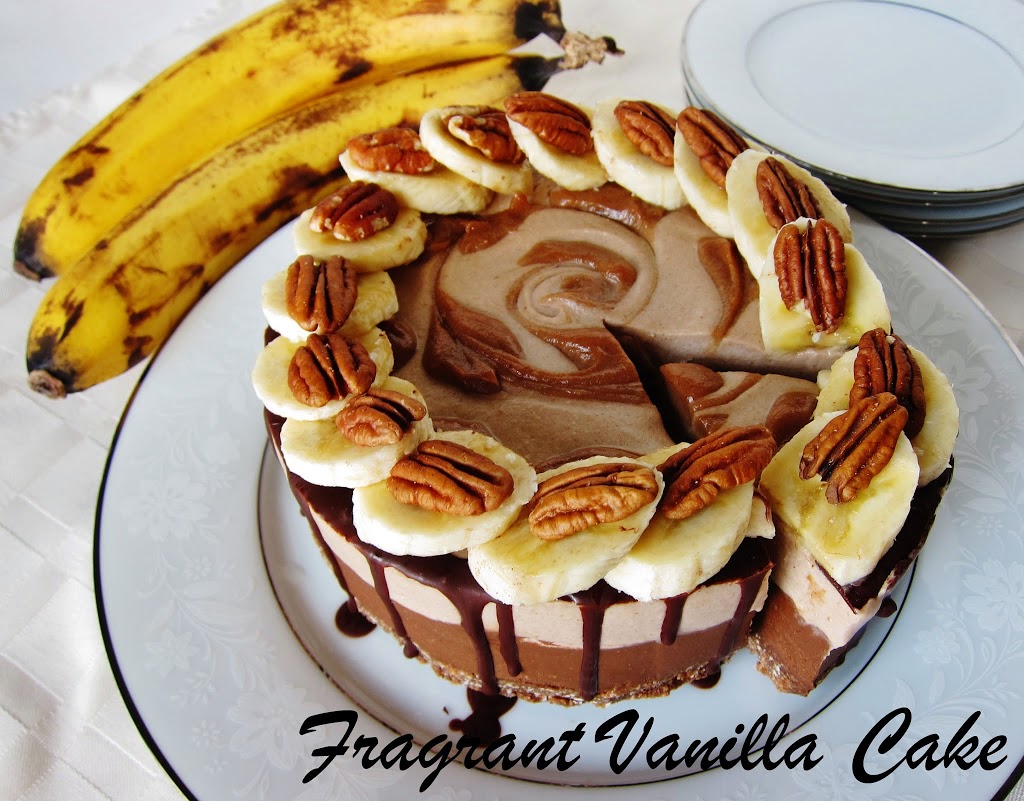 My other memorable experience with Turtle was when my Mom and I used to go to
Cafe Latte in St. Paul
and have their Turtle Cake.  It was so decadent and sinful...and I didn't care, because I was a kid and I think I would have eaten the whole cake if given the opportunity.  A few years back I created
my own version of that cake
before I was raw and it was just as good.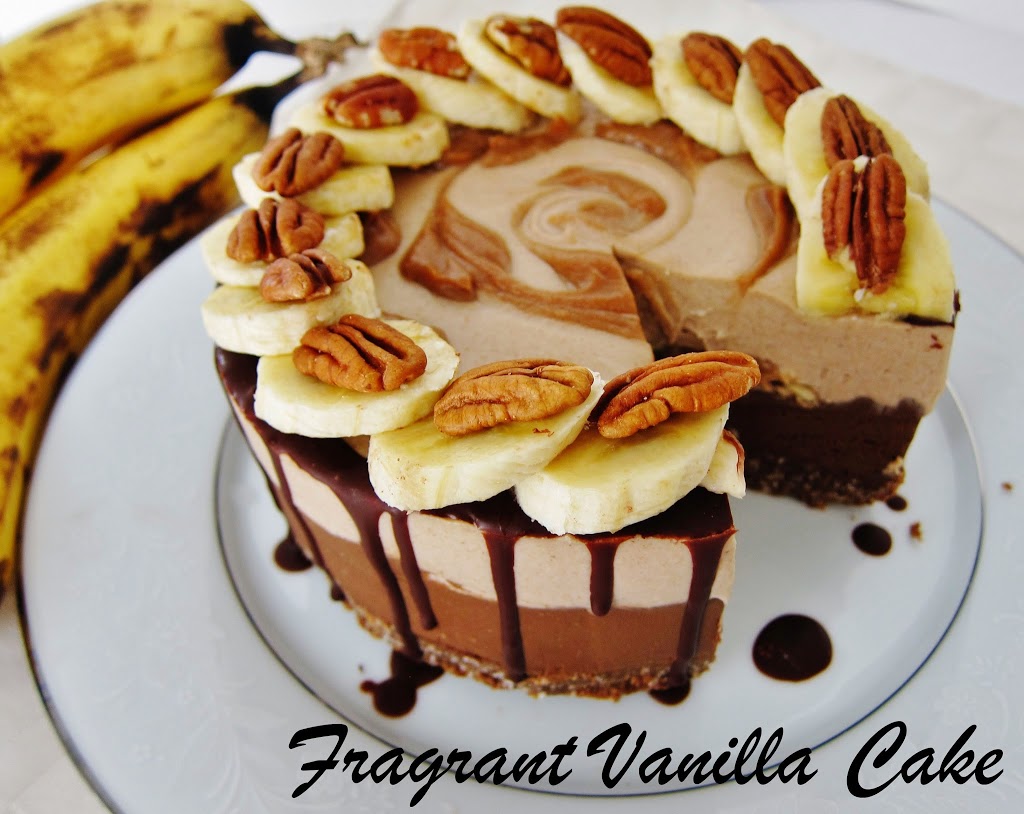 For some reason, I had Turtle Cake on the brain again this past weekend and I was not going to forget it...so out of that thought came Raw Banana Turtle Mousse Cake.  I didn't want a cakey cake (you know one that had to be dehydrated and whatnot) I wanted a creamy cake like a cheesecake or a mousse cake, which is why I decided to include the banana element as well.  I imagined 2 layers of mousse, banana caramel and chocolate with swirls of raw caramel, crunchy pecans and banana on top of a crunchy chocolate crust.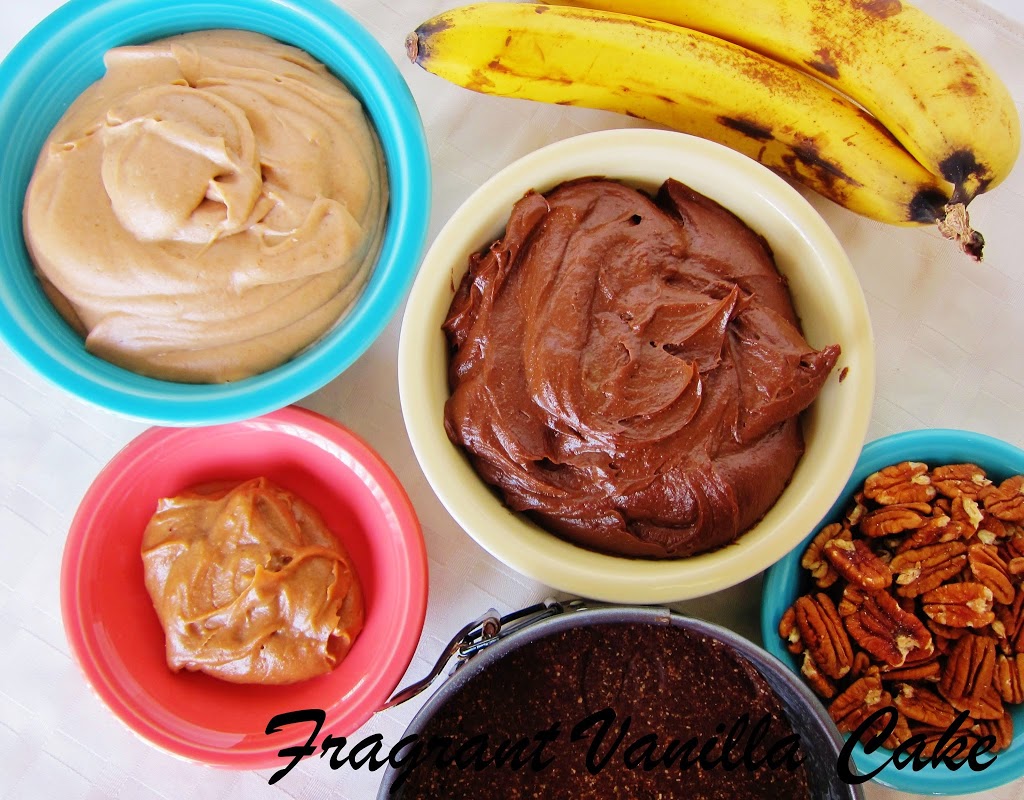 All of the components separate were delicious as I tasted them to make sure they were just right before assembly...my favorite part of the process besides sitting down with loved ones to eat the cake.  The dessert maker is always the lucky one who gets to lick the bowl clean unashamed (or at least I think so). Let me tell you I finished ever trace of extra filling in the bowls with this cake.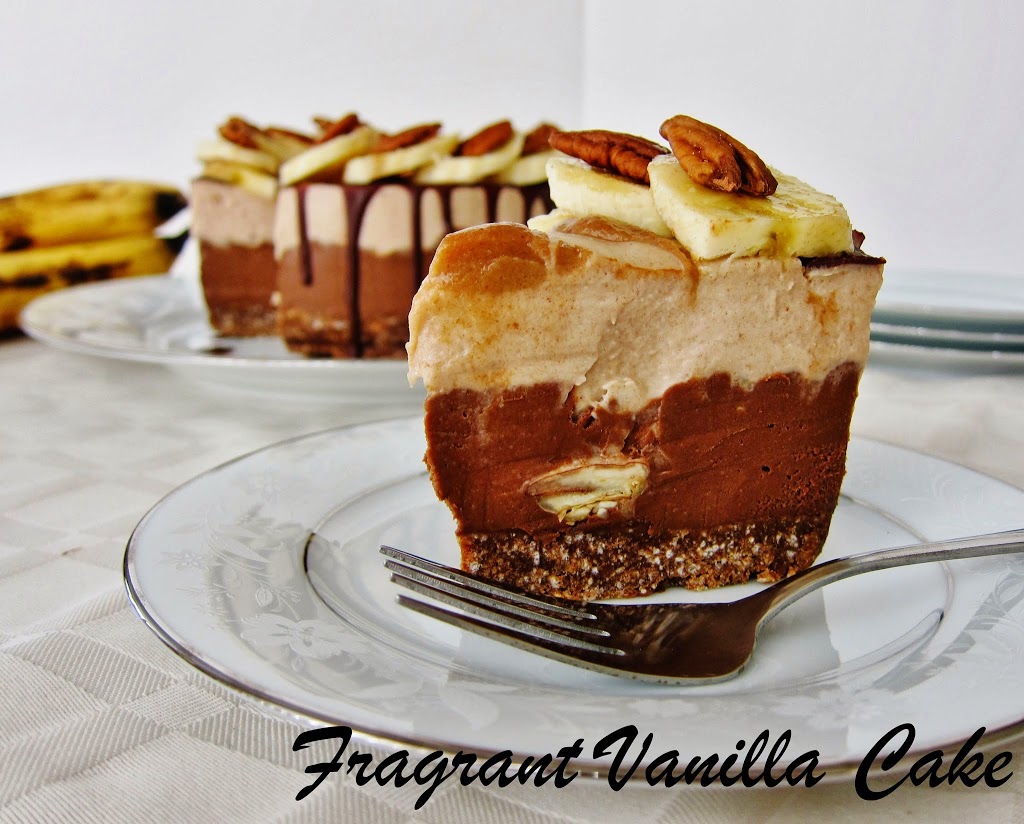 Once assembled, it was a beauty to behold.  Begging to be eaten.  A bite of this cake was pure joy!  Can you smile with your mouth full?  Well, my heart was smiling at least, and I was definitely in my happy place as I indulged.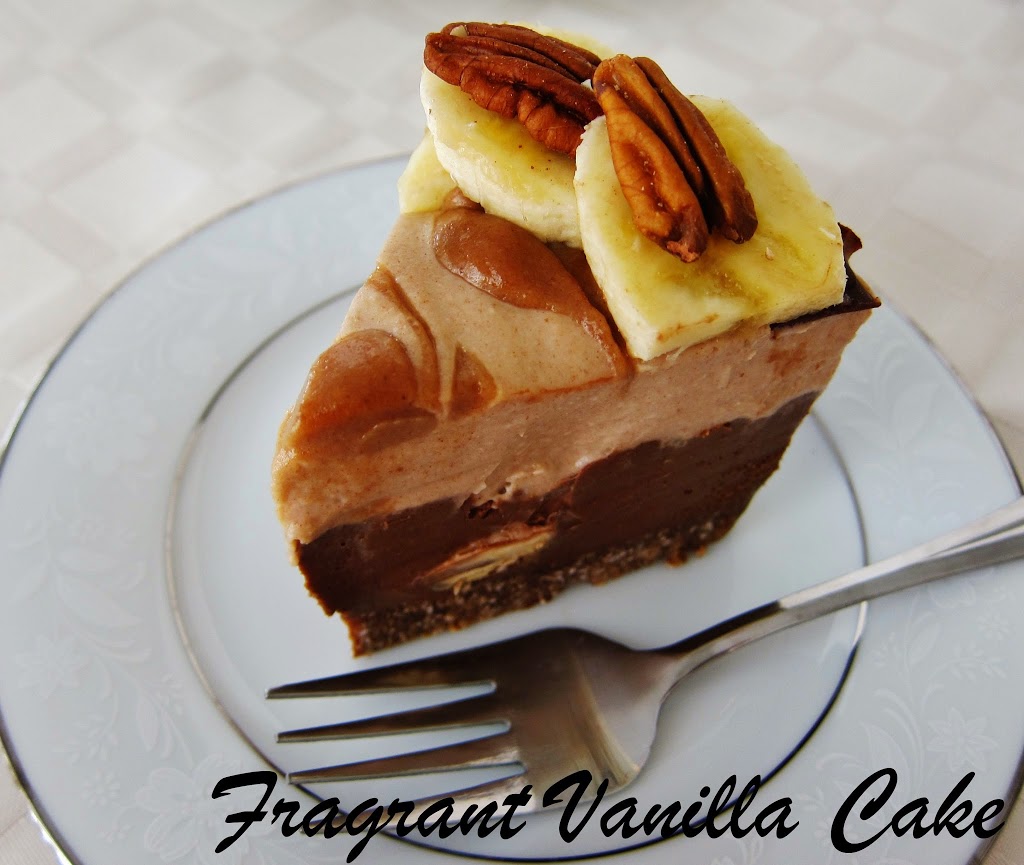 Raw Banana Turtle Mousse Cake
Makes one 6 inch cake
Crust:
2/3 cup sprouted buckwheat, dried in the dehydrator (or additional shredded coconut)
1/3 cup ground flaxseed
3/4 cup dried finely shredded coconut
1/8 teaspoon sea salt
3/4 cup soft medjool dates, pitted and chopped
3 Tbsp raw cacao powder
Raw Caramel:
1 1/2 cups soft medjool dates (packed), pitted (soaked in water for 30 minutes if not soft and drained well)
3 Tbsp raw coconut butter
1/4 cup lucuma powder
3 Tbsp maple syrup or raw coconut nectar
1/4 tsp sea salt
1 tsp vanilla extract
1 tsp maple extract
3/4 cup filtered water
Chocolate Mousse Filling:
2 cups diced ripe avocados (about 3 medium)1/4 cup plus 1 Tbsp raw coconut nectar, or your choice of raw liquid sweetener
1/4 tsp sea salt
1/2 Tbsp pure vanilla extract
1/2 cup  plus 2 Tbsp raw cacao powder
3 Tbsp coconut butter, liquefied
Banana Caramel Mousse Filling:
2 cups young coconut meat*
3/4 cup bananas, sliced
3/4 cup caramel mixture
1/4  teaspoon sea salt
1 Tbsp pure vanilla extract and seeds from half a vanilla bean
1/4 cup plus 2 Tbsp raw coconut butter (warmed to liquid)
1/2 cup raw pecans, coarsely chopped
1/4 cup chopped raw chocolate
sliced fresh bananas and pecans for garnish
Lightly coat a 6 inch spring form removable bottom pans with coconut oil. To prepare the crust, process flax, coconut, buckwheat and sea salt in a food processor until fine crumbs, then add the dates and cacao powder and process until the mixture holds together when squeezed between your fingers (if not holding together, add more dates). Firmly press crust into the bottom of the prepared pan, and set aside.
To make the caramel, in a high speed blender, combine all ingredients and blend until smooth.  Set aside.
To make the chocolate filling, combine all ingredients in a high speed blender or food processor and process until smooth.  Set aside.
To make the banana filling, in a high speed blender or food processor, combine coconut meat, bananas, caramel, sea salt, and vanilla in a food processor and blend until smooth and creamy. With the processor running, add the coconut butter, and process for a minute until blended.  Set aside.
To assemble cheesecake, pour the chocolate filling over the crust, then drop some of the caramel over it by the tsp, then swirl it with a knife. Scatter some pecans over that.  Then pour over the banana caramel layer, then drop more of the swirl by the tsp over that and swirl with a knife. Place in the freezer for about 4 hours to firm up.
When the cake is ready, melt the raw chocolate, and drizzle it around the edge of the cake so it drips down the sides. Garnish the top of the cake with banana slices and pecans before serving.
*If you do not have access to young coconut meat, you can substitute 2 cups raw cashews soaked for 4 hours and drained.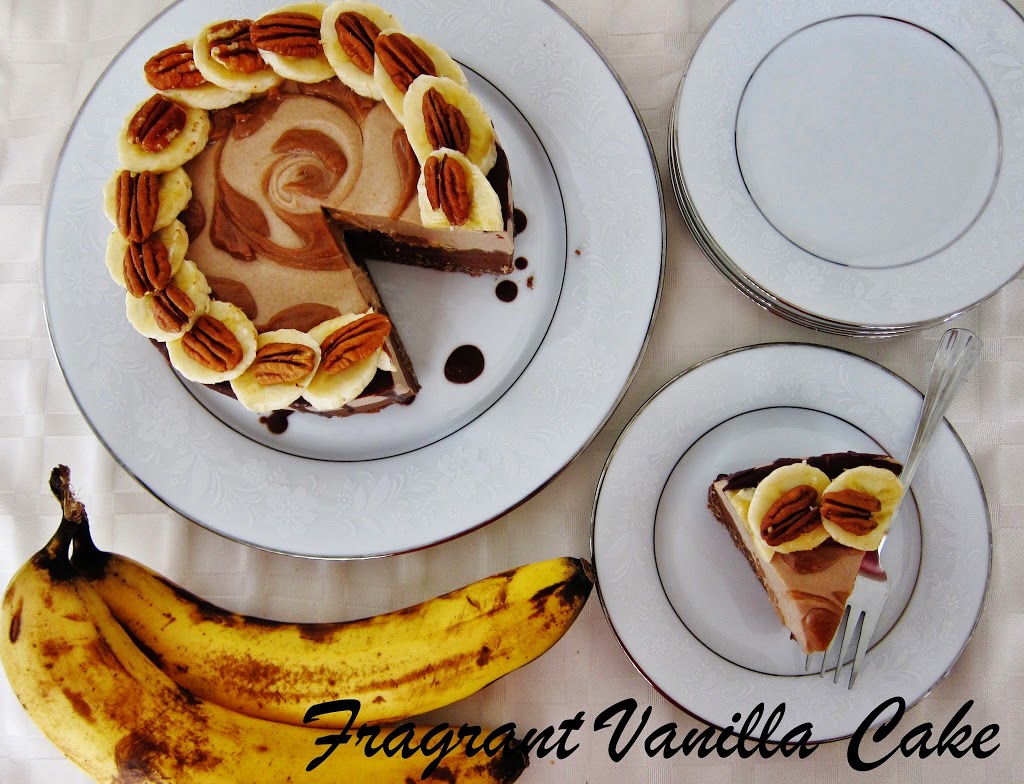 (Visited 447 times, 1 visits today)