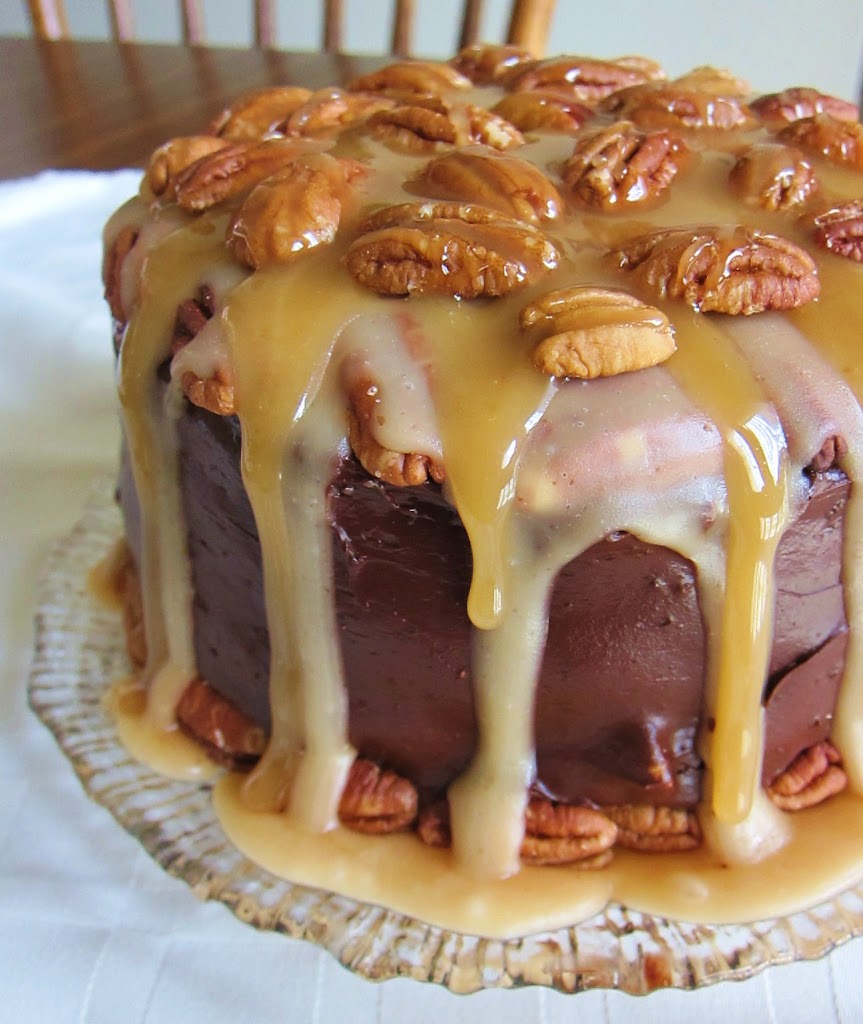 Vegan Maple Turtle Cake
It is world Vegan month...so I thought, what better way to celebrate, than make a decadent vegan cake!  What first came to mind was a turtle cake...decadent layers of gooey caramel and chocolate laced with pecans and sandwiched between moist chocolate cake...the type that makes you drool just thinking about it. This cake would be inspired by one I had as a child.  My Mom used to take me to a restaurant in St. Paul called Cafe Latte which is famous for their turtle cake, and it is pretty magnificent with all of it's layers.  I always had to have a nice big piece when she took me there.  But of course theirs is not vegan, so I wanted to create my own veganized version of this fabulous cake that tasted just as decadent, and gooey in every way.
I already had a dark chocolate cake recipe that I was going to use, and a delicious chocolate  fudge frosting, but what was in question was the caramel.  I wanted a maple caramel...I had added maple to the other components of the cake, maple sugar and extract in the cake layers and maple in the frosting.  But I had never made a vegan caramel before, and I was going to try.  I didn't have a specific recipe, and my first attempt failed.  I burned the sugar, and it separated from the coconut oil I had used in place of butter creating a cement like mess in my stockpot...and making me very very frustrated.  But me not being one to give up started over with a new recipe.  This one used coconut milk in place of the heavy cream, and earth balance in place of the butter.  I had my fingers crossed and was praying that it would turn out as I finished it off with the coconut milk...and it did!  It was delicious!  I had forgotten how good home made caramel could be!
I assembled my cake, and I was so anxious to dive in that it only sat for about as long as it took me to take the photos of it.  It was heavenly...decadent, rich, gooey, the toasted pecans mingled in with the brownie like cake and fudge frosting with the salted maple caramel!  Party in my mouth!  You definitely could not tell that it was vegan.  The maple was definitley a good choice to pair with the pecans and chocolate.  If you need a decadent dessert, this would be a must...and I guess you could use store bought caramel if you don't want to deal with making it, just add a little maple extract and sea salt.  Happy Vegan Month!
Vegan Maple Turtle Cake
Makes 1 6 inch 4 layer cake
2 6 inch cake pans
Cake:
1 1/2 cups gluten free all purpose flour (if not gluten free, whole wheat pastry flour may be used instead)
1/3 cup unsweetened cocoa powder (I use ghirardelli)
1 tsp baking soda
1 tsp sea salt
1 cup maple sugar
1/2 cup coconut oil, warmed to liquid
1 cup light coconut milk
1 Tbsp maple extract
1 Tbsp pure vanilla extract
2 Tbsp cider vinegar
Salted Maple Caramel:
2 cups maple sugar
1/2 cup water
1/4 cup maple syrup
1/2 cup full fat coconut milk
2 T. Earth balance butter
1 Tbsp pure vanilla extract
1 Tbsp maple extract
2 tsp sea salt
Frosting:
1 1/2 cup maple syrup
2 Tbsp coconut oil
1 Tbsp coconut milk
1 1/2 cups sifted cocoa powder, or more if needed
3/4 tsp sea salt
1 Tbsp pure vanilla extract
2 tsp maple extract
Topping:
2 1/2 cups toasted pecans
Instructions:
Preheat the oven to 375 degrees and position rack in center of oven.
Line two six-inch-diameter cake pans with 2-inch-high sides with parchment paper. Coat parchment paper and pan sides with coconut oil.
Whisk flour, cocoa powder, baking soda, salt, and sugar in a large bowl to blend well. Whisk oil, coconut milk, maple extract, and vanilla extract together in small bowl to blend well, then whisk into the flour mixture until well blended. Whisk in cider vinegar and stir quickly (pale swirls will be in the batter, which is the baking soda reacting with the vinegar, which allows the cake to rise since there are no eggs).
Transfer cake batter to prepared pan and bake cakes until tester inserted into center comes out clean, about 25-30 minutes. Cool cake completely in pan on rack, about 1 hour.
Cut around sides of pan to loosen. Turn cake out onto platter; peel off parchment paper. Let cool completely, then place in the fridge to chill until very cold to make slicing easier (since cakes with no eggs crumble easier). When chilled, slice cakes horizontally in half so that you have 4 layers. Keep chilled until you are done assembling the cake.
To make caramel, in a small saucepan over medium-high heat, bring the sugar, maple syrup, and water to a boil, stirring well at first to dissolve the sugar. Turn down the heat to low and cook until the liquid is deep amber in color, about 15-20 minutes, swirling the pan occasionally to ensure even cooking. Remove the pan from heat. Very carefully (the mixture will bubble), stir in the coconut milk, earth balance butter vanilla, maple extract, and sea salt until smooth. Let cool until it is a thicker consistency before using on cake (it gets thicker as it cools).
To make frosting, whisk all ingredients together in a medium bowl until very smooth, adding more cocoa powder if the frosting is not thick enough, or more coconut milk if too thick.
Place a layer of cake on a plate, and spoon about 1/2 cup frosting over, almost to the sides, then scatter with about 1/2 cup of toasted pecans and drizzle with a heaping 1/4 cup caramel.  Top with a another cake layer and repeat. Top with another cake layer, another frosting layer, pecans, caramel, then the top cake layer. Spread the remaining frosting over the top and the sides of the cake, and arrange whole pecans decoratively on the top of the cake.  Drizzle with caramel, and let it drip down the sides.
*If you would like a 4 layer 9 inch cake, double this entire recipe and bake in two 9 inch cake pans.
(Visited 383 times, 2 visits today)