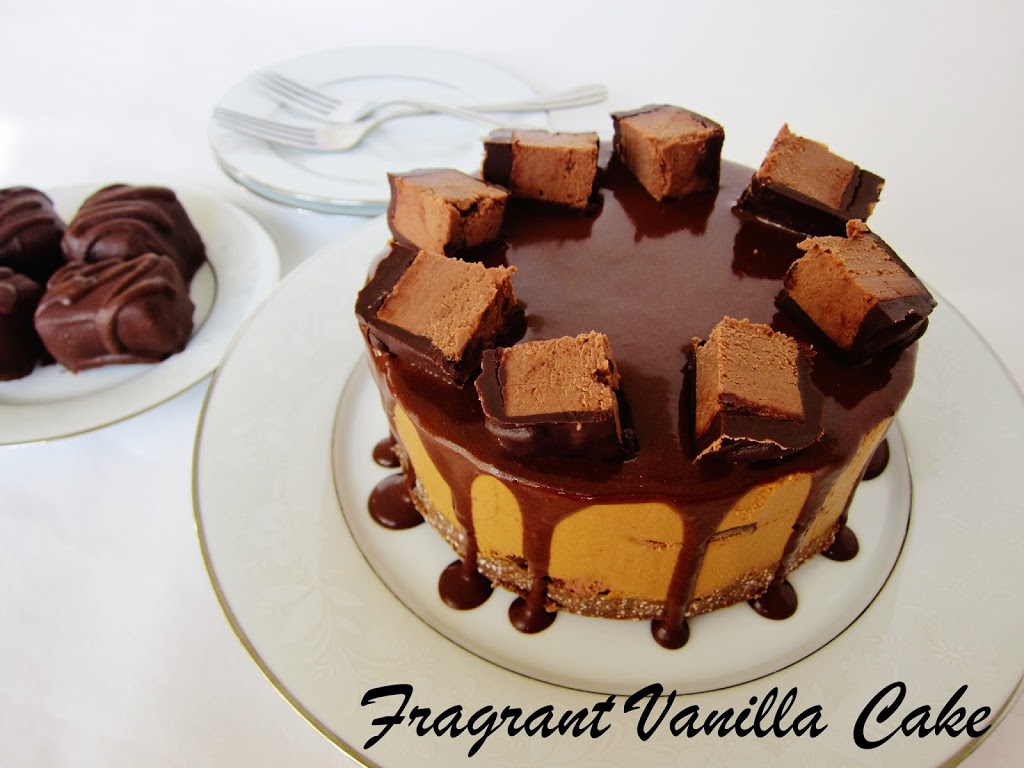 Raw 3 Musketeers Bar Cheesecake
I made Raw 3 Musketeer Bars earlier this week, and they were freaking delicious!  If you do not know what they are (which is ok, since my boyfriend didn't either until he tried my raw version, and I know they are not available everywhere), they are a whipped chocolate filled bar dipped in more chocolate.  Kind of like a chocolate mousse candy bar.  When I was a kid, I would usually only get to enjoy them around Halloween when the candy was plentiful.
So, since the raw version of 3 Musketeer bars was so good, I decided to use some of them in a raw cheesecake too.  Why not?  They remind me of chocolate mousse and I love chocolate mousse in cakes...so it seemed perfectly logical to make a 3 Musketeer Cheesecake!  I was drooling just at the thought of it. So it had to be made.
Once you make your Raw 3 Musketeer Bars, this is really pretty easy to make.  Just one filling, and no swirling required.  The filling is heavenly by the way.  Like liquid chocolate mousse before I poured it into the pan to set.  I gave the cake a crunchy chocolate crust, because why not make this ALL chocolate.  The filling also included chopped up 3 Musketeer Bars as well, and then I topped it off with a gooey chocolate fudge glaze.
Does that sound decadent enough for you?  It was chocolate heaven.  Like double 3 Musketeer Bars the cake then the pieces.  Trust me, you need this chocolate decadence in your life, we all need a treat sometimes!  If you make the bars for Halloween, then you will already have them on hand. Unless of course they are so good that you eat them all first, which could happen, but then you will have to make a second batch...which wouldn't necessarily be a bad thing.
Raw 3 Musketeers Bar Cheesecake
Makes one 6 inch cake
Crust:
1/2 cup raw sprouted buckwheat groats, dried in the dehydrator
3/4 cup dried finely shredded coconut
1/4 cup ground flax seed
1/8 teaspoon sea salt
1/2 tsp cinnamon
2/3 cup soft medjool dates, pitted and chopped
3 Tbsp raw cacao powder
Filling:
4 cups young coconut meat*
1/2 cup coconut water
1/2 cup raw coconut nectar (or your choice of raw liquid sweetener)
1/2 teaspoon sea salt
1 Tbsp pure vanilla extract and seeds from half a vanilla bean
1/2 cup raw cacao powder
1/2 cup plus 2 Tbsp raw coconut butter (warmed to liquid)
1 cup Raw 3 Musketeer Bars, cut into chunks
Topping:
1/3 cup raw cacao powder
1/4 cup raw coconut nectar (or your choice liquid raw sweetener)
1 Tbsp raw coconut oil, warmed to liquid
pinch sea salt
2 Raw 3 Musketeer Bars, cut into quarters for topping
Lightly coat a 6 inch spring form removable bottom pan with coconut oil. To prepare the crust, process buckwheat, coconut, flax seed, cacao powder and sea salt in a food processor until it is fine crumbs, then add the dates and process until the mixture holds together when squeezed between your fingers (if not holding together, add more dates). Firmly press crust into the bottom of the prepared pan, and set aside.
To make the filling, in a food processor combine coconut, coconut water, coconut nectar, sea salt vanilla, coconut nectar, and cacao powder and blend until smooth and creamy. With the processor running, add the coconut butter, and process for a minute until blended. Remove the filling from the food processor and place in a bowl).
To assemble the cheesecake, Scatter 1/2 of the 3 musketeer bar chunks over the crust, then pour half the cheesecake filling over.  Then scatter the other half of the 3 Musketeer bars over that.  Pour the rest of the filling over that.  Place in the freezer for about 4-6 hours or until set.
Whisk together the topping ingredients, (if it seems too runny add a little more cacao powder, if too thick a little more syrup).  Spread over the top of the cake allowing it to drip down the sides. Top with quartered 3 Musketeer bars.  Store in the fridge.*If you do not have access to young coconut meat, you can substitute 4 cups raw cashews soaked for 4 hours and drained for the coconut and filtered water for the coconut water.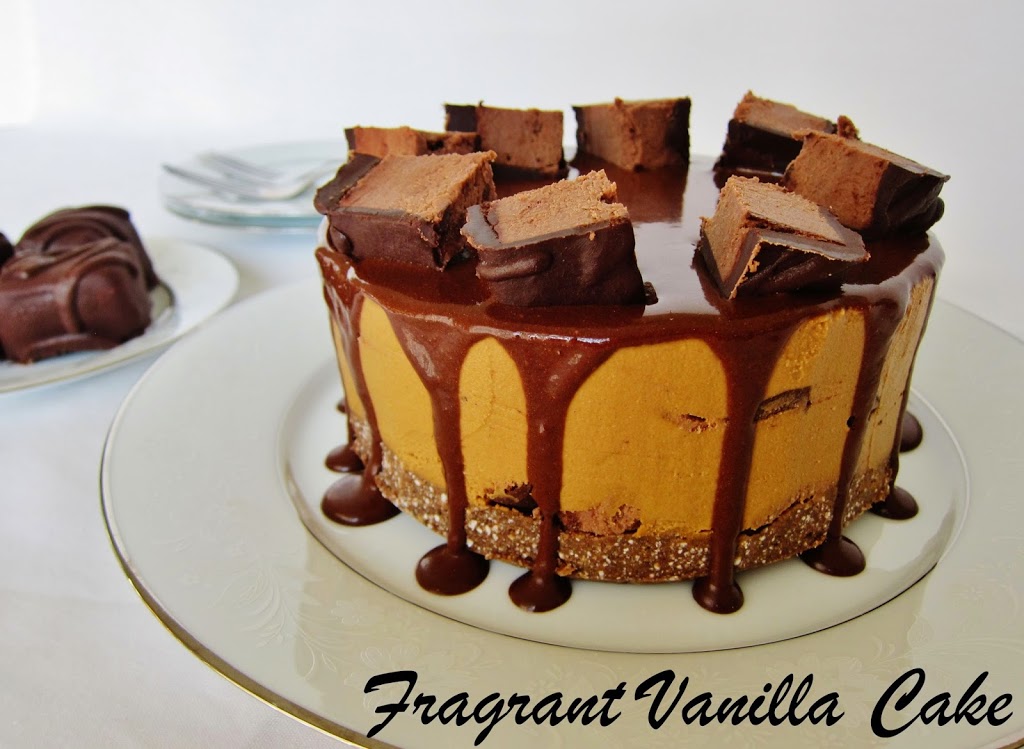 (Visited 571 times, 1 visits today)