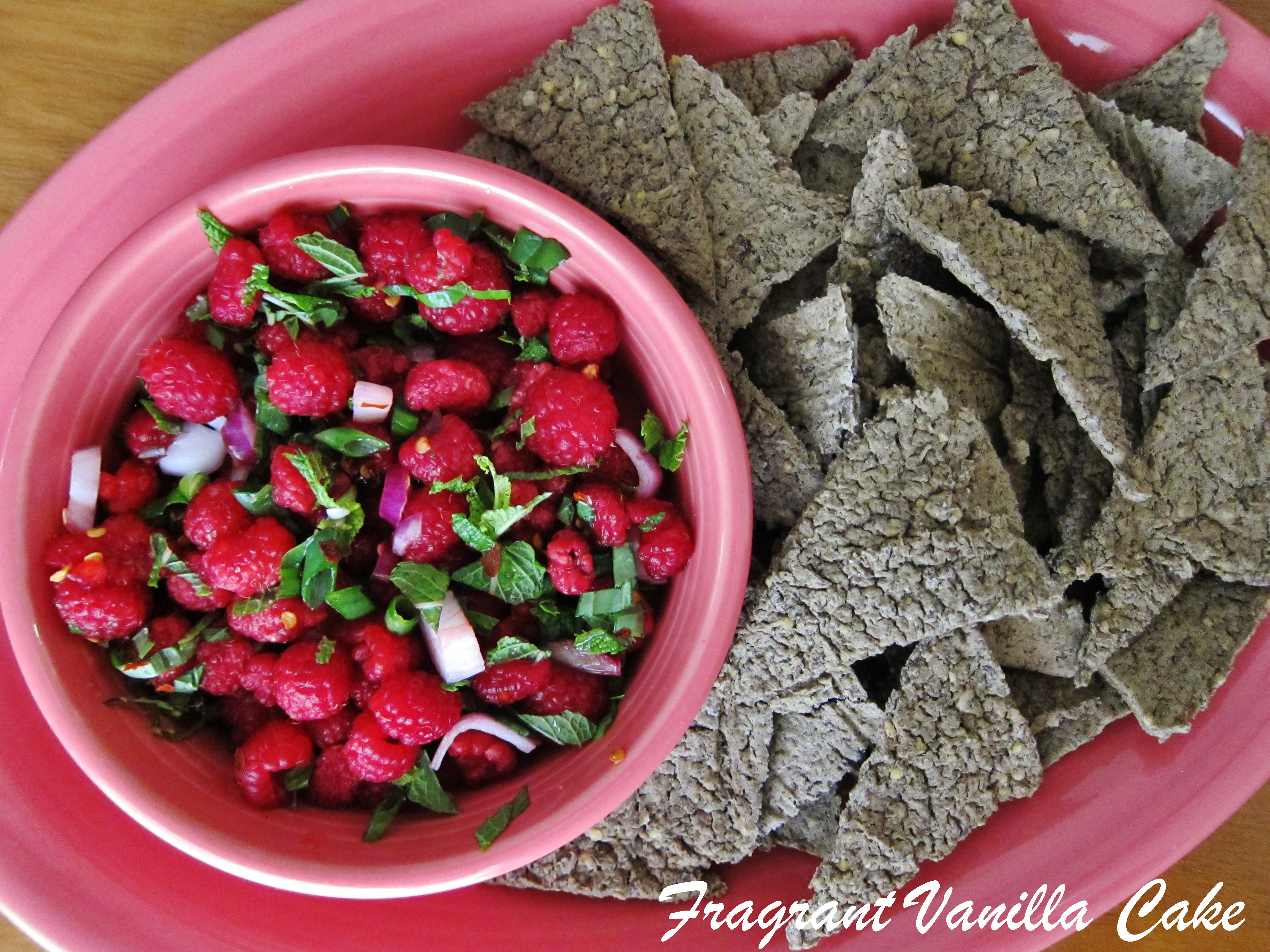 Raspberry Basil Mint Salsa and Spicy Lentil Chips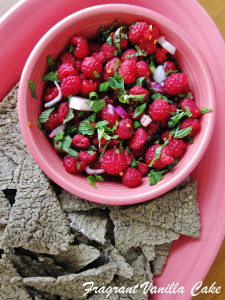 My Mom always tells me about these pinto bean chips that she buys that she loves so much.  I decided to try one, and they were pretty good, but I decided that I could make something similar at home.  I do love crunchy salty snackables after all. I decided to make mine with lentils though.  Just 5 ingredients, one of them being chipotle powder because I wanted a little kick. They turned out good!  They would definitely not win any beauty contest with their looks, but I didn't care as long as they were tasty.  The salsa I made to go with them more than made up for the ugly but tasty chips though, it was beautiful and colorful.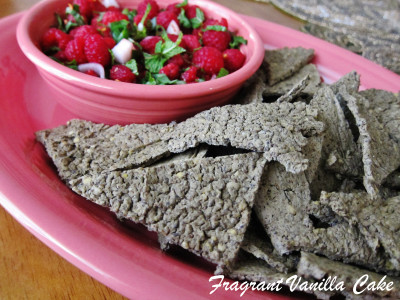 I had some raspberries, mint and onions from the farmer's market and some basil from a pot on my patio, and I combined it all plus a few more things to create one of the most delicious salsas I have ever eaten.  It was sweet and tart with a little kick, and so refreshing from the herbs!  Both of these recipes I had to share with you, so enjoy! For the chips I have directions for both cooked and raw so everyone can make them.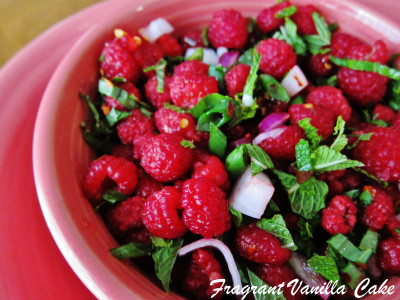 Spicy Lentil Chips
Makes about 4 cups
1 cup green lentils
filtered water
1/3 cup filtered water (or as needed)
2 Tbsp ground flax seed
1/2 tsp sea salt
1/2 tsp ground chipotle powder
Rinse the lentils, then place in a pan covered by a few inches of water.  Bring to a boil, then lower to a simmer and cook until the lentils are tender, about 3-40 minutes.  Drain, then add to a food processor along with other ingredients. Process until smooth (adding a little more water if too thick, you want to be able to spread it into a thin layer).
Spread out on a lined dehydrator tray, and dehydrate for about 4 hours at 155F until crispy.
If you would like to make these chips raw, then sprout your lentils.  Soak them in filtered water for 8 hours in a sprouting jar, then drain well and let sit and sprout for about 2-3 days until little tails appear (rinsing them 2 times a day and draining well). Continue with the blending and spreading out on a tray like in the above recipe, but when it comes to dehydrating, dehydrate at 115F for 20-24 hours until crispy.
Both chips store in an airtight container for a month at room temperature.
Raspberry Basil Mint Salsa
Makes about 2 1/2 cups
2 cups fresh organic raspberries
2 scallions, sliced
1 jalapeno, minced
1/4 cup diced red onion
1 garlic clove, minced
1/4 cup fresh mint, chopped
1/4 cup fresh basil, chopped
3 Tbsp lime juice
sea salt to taste
Combine all ingredients in a bowl, and mix until combined. Keeps in the refrigerator for up to a week.
(Visited 30 times, 1 visits today)