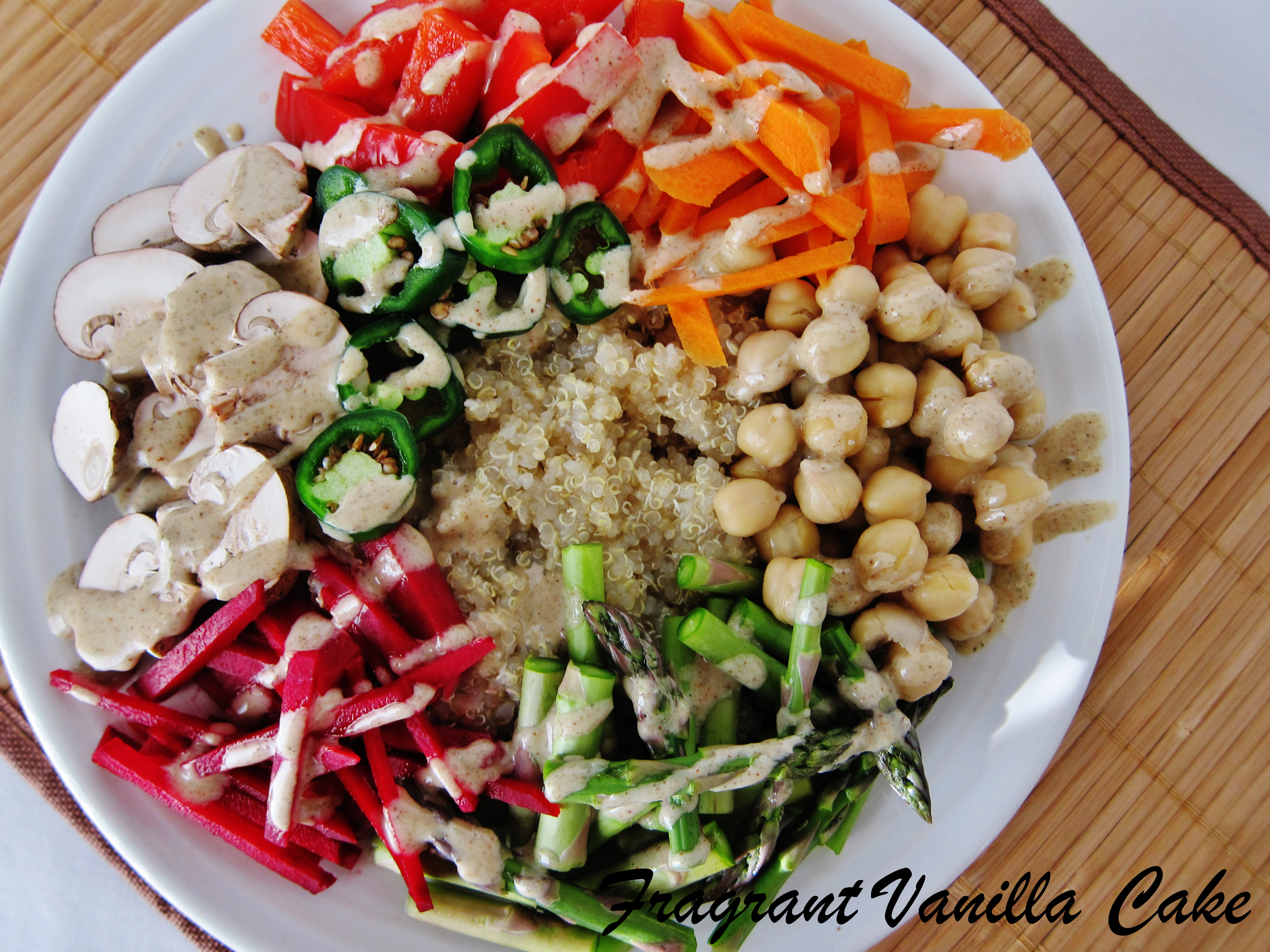 Quinoa Veggie Bowl with Lemon Almond Sauce
My dinners many times come together based on what I have on hand in the kitchen.  I come up with some of my favorite things that way and it forces me to think outside of the comfortable box of the things I know well.  I recently bought some quinoa because it was on sale and because I have been craving some for a while now, and I figured now would be the time to use it on the night I wasn't sure what to make for dinner.  I usually don't plan out my dinners ahead of time.  What I ended up making was a quinoa bowl, with veggies and chickpeas topped off with a silky almond lemon sauce.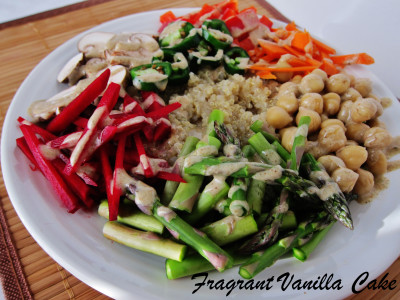 Omg was it ever good!   Satisfying and filling yet light and a balance of cooked and raw foods perfect for a Spring dinner.  I have made it a couple times since with variations on the veggies depending on what I have on hand and it is always good.  That is why I needed to share the recipe with you all. As far as I am concerned, every meal should include a plate full of colorful veggies. This is my kind of comfort food.  The kind that is healthy and delicious!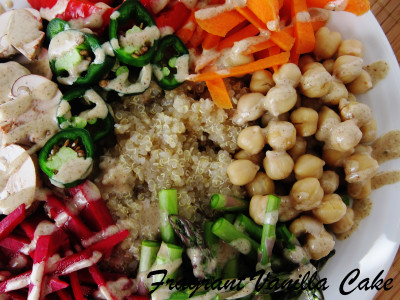 Q
uinoa Veggie Bowl with Lemon Almond Sauce
Serves 2-3
Ingredients:
2 cups water
1 garlic clove minced
1/4 tsp sea salt
1 cup quinoa, rinsed
1 cup cooked chickpeas
3/4 cup asparagus, cut into 1 inch pieces
1 red bell pepper, cut julienne
1 medium beet, cut julienne
1 medium carrot, cut julienne
3/4 cup sliced mushrooms
sliced jalapenos
Sauce:
1/2 cup almond butter
1/4 cup lemon juice
1/4 cup filtered water (or as needed)
1 garlic clove, minced
1 tsp ground cumin
1/8 tsp cayenne pepper
sea salt to taste
Instructions:
Place quinoa and water in a medium saucepan and bring to a boil. Reduce to a simmer, cover and cook until all the water is absorbed about 15 minutes, or when all the grains have turned from white to transparent, and the spiral-like germ has separated. Drain, and let cool.
Spoon the quinoa into bowls, then top with the quinoa and veggies.
Whisk together the sauce ingredients, adding water to achieve your desired consistency. Drizzle the sauce over the veggies and bowl.  Serve!
(Visited 456 times, 1 visits today)