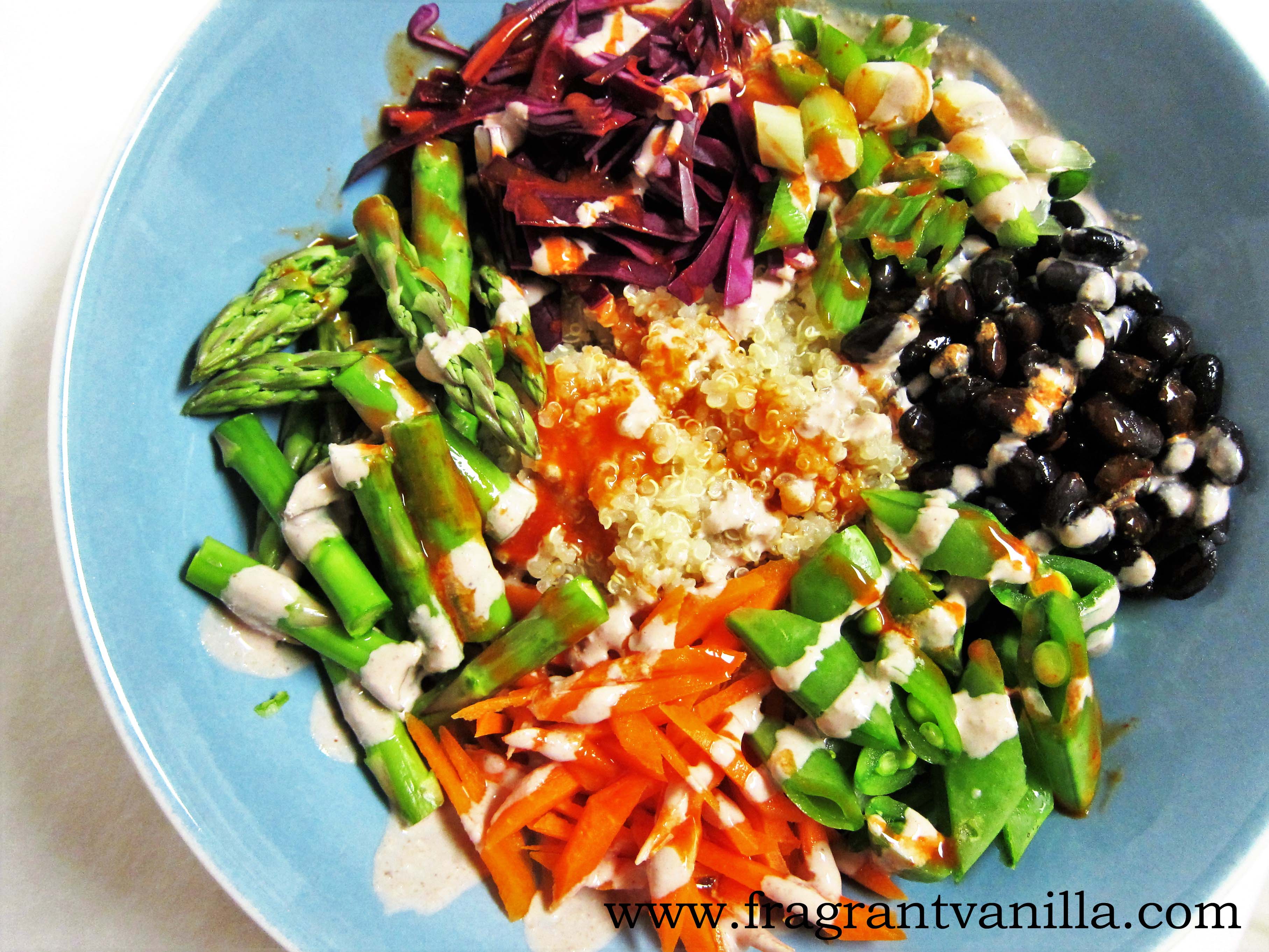 Quinoa Veggie Black Bean Bowl
It is exciting when more produce comes into season and becomes more readily available.  The Farmer's markets are going to open soon, which I am excited about since nothing beats local produce picked that day.  Asparagus and pea season is almost here, and so I am in a spring vegetable eating sort of mood.  Last night I decided to make a quinoa bowl loaded with fresh Spring vegetables.  They may not be local yet, but it was still satisfying and delicious.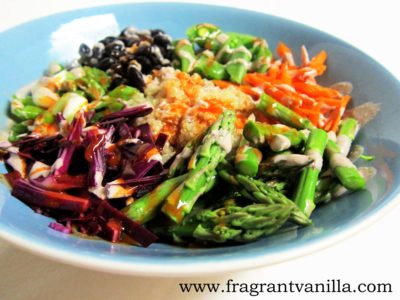 I love quinoa bowls.  I started loving bowls of things when I first tried a chipotle burrito bowl about 5 years ago, I thought it was the greatest thing ever.  All of those veggies and beans, it was a big bowl of happy.  So now I make my own bowls of different sorts, but they usually have quinoa because I am not a huge rice fan.  I love that quinoa has more protein and is lower glycemic than the rice. Anyways, this bowl came together really quick, because I already had black beans on hand, and the sauce I used for it is one I use often for other salads so I had that on hand as well.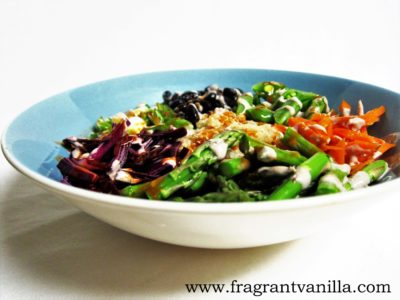 It was a big bowl of delicious, and so pretty with all of the veggies.  Things like this make me happy, who doesn't love a bowl full of good food though.  I will be making this often now that the weather is warming up and I am not all about stews and hot things every night.  If you are making this, feel free to use the veggies that you have on hand! Radishes and mushrooms would be good in it too.
Quinoa Veggie Black Bean Bowl
Serves 2-3
2 cups water
1 garlic clove minced
1/4 tsp sea salt
1 cup quinoa, rinsed
1 cup cooked black beans
3/4 cup asparagus, cut into 1 inch pieces
1 cup red cabbage, cut julienne
1 medium carrot, cut julienne
1 cup snap peas
2 scallions, sliced
Sauce:
1/2 cup walnut butter
1/4 cup apple cider vinegar
1/4 cup filtered water (or as needed)
1 garlic clove, minced
1 tsp ground cumin
1/2 tsp dried thyme
1/8 tsp dried chipotle pepper
sea salt to taste
Place quinoa, garlic and water in a medium saucepan and bring to a boil. Reduce to a simmer, cover and cook until all the water is absorbed about 15 minutes, or when all the grains have turned from white to transparent, and the spiral-like germ has separated. Drain, and let cool.
Spoon the quinoa into bowls, then top with the beans and veggies.
Whisk together the sauce ingredients, adding water to achieve your desired consistency. Drizzle the sauce over the veggies and bowl. Serve!
(Visited 50 times, 1 visits today)