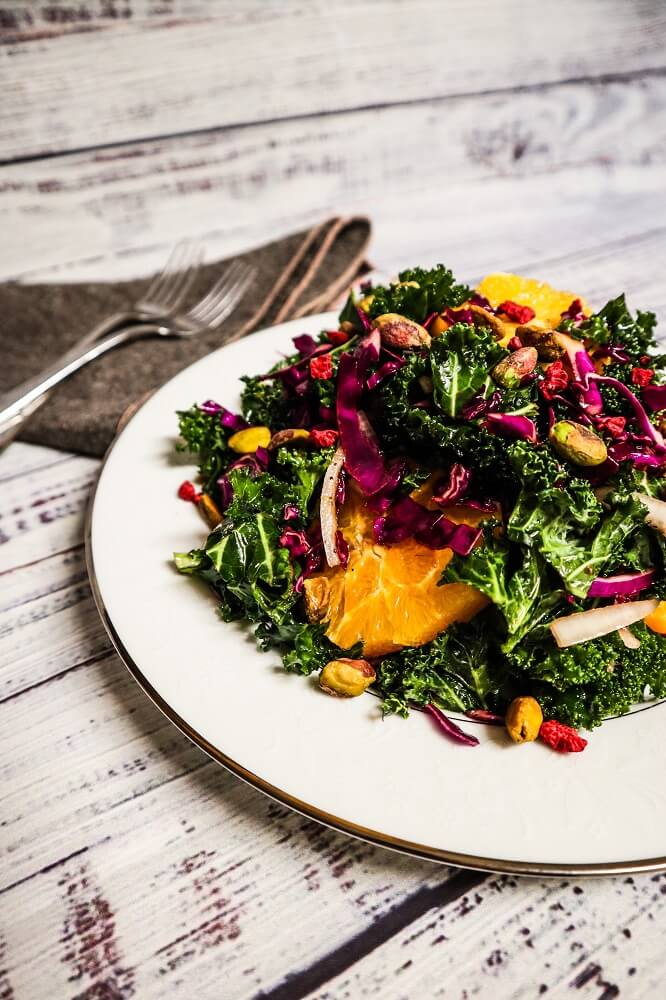 Orange Kale Salad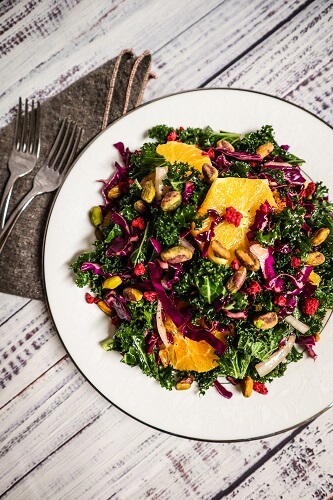 Spring is on the horizon, it has been warm and sunny here lately with the snow rapidly melting and lovely outside.  I have been trying to get out for a walk everyday and it is nice that now when I get home from work it is still light outside.  Even though citrus season is almost over with winter being almost over I am still enjoying it at the moment before more local produce becomes available in a few months.  We are a bit behind some of the other states here in Minnesota and it is sometimes end of April before we see local produce.  So oranges and grapefruits it is!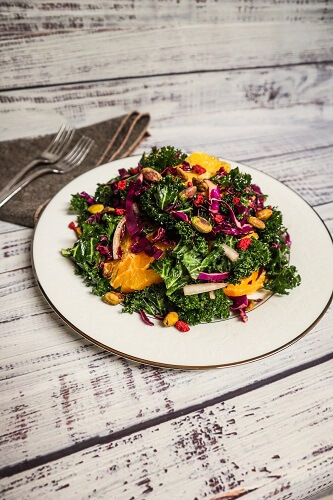 Last weekend I decided to make a refreshing kale salad with orange.  I used to make kale salads all the time, and I do at work, but I don't make them quite as often at home now and enjoy them more when I do.  My favorite dressing with kale is a simple vinaigrette, and for this one, I combined some balsamic vinegar with a bit of orange for the acid.  I think balsamic is my favorite vinegar because of its rich flavor and less acidity.  I also sweetened the dressing with a bit of maple syrup since it goes so well with the orange and balsamic and it was nice and balanced.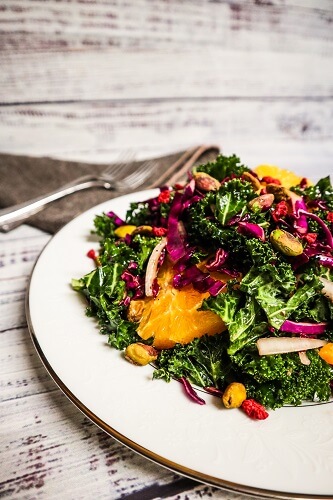 The key to kale salads, is to massage the dressing into the kale with your hands to soften it, it makes such a huge difference compared to just pouring it on.  It makes it more tender and easy to eat as well as less bitter.  I massage giant batches of kale at work for our salads.  Since this kind of smushes up the kale, I like to add the more tender ingredients like the oranges at the end and toss them in gently.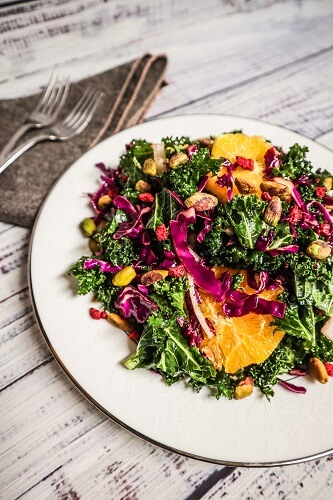 This salad turned out so good!  In addition to the oranges, I also added some pistachios for crunch, dried raspberries for sweetness and color and onions to give it more flavor.  It was a party in my mouth!  If you are craving something fresh and flavorful, definitely give this a try!  It has even more flavor the next day if you have leftovers.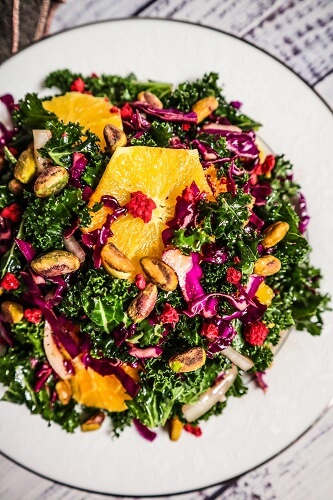 Orange Kale Salad 
Serves 2-4
Ingredients:
1 large bunch kale, washed and torn into bite sized pieces
1 cup shredded purple cabbage
3 Tbsp orange juice
2 Tbsp balsamic vinegar
2 Tbsp avocado oil or olive oil
1 Tbsp maple syrup
1 garlic clove, minced
1/2 tsp sea salt (or to taste)
1/4 tsp pepper
2 medium oranges, peeled and sliced
1/4 cup sliced red or white onion
3/4 cup toasted pistachios
1/2 cup dried raspberries
Instructions:
In a large bowl, combine the kale, red cabbage, orange juice, vinegar, oil, maple syrup, garlic, sea salt and pepper.
Massage the kale and cabbage with your hands until it softens slightly and is all coated.
Add the oranges, onions, pistachios and berries, and mix gently with your hands until everything is well distributed.
Serve!
(Visited 220 times, 1 visits today)