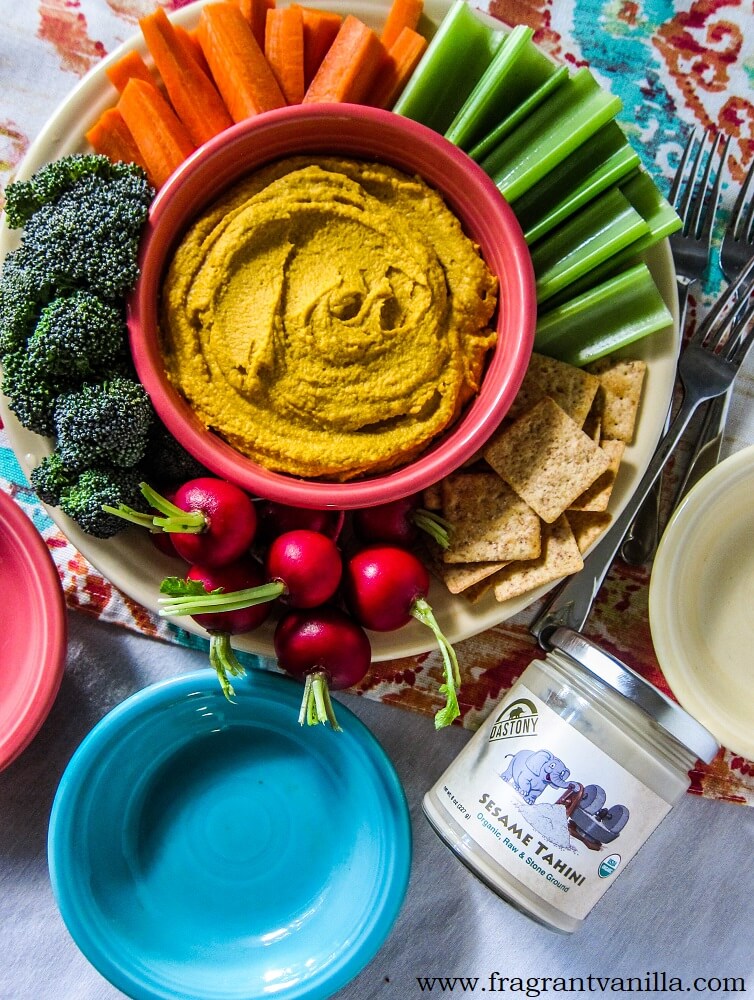 Moroccan Roasted Carrot Hummus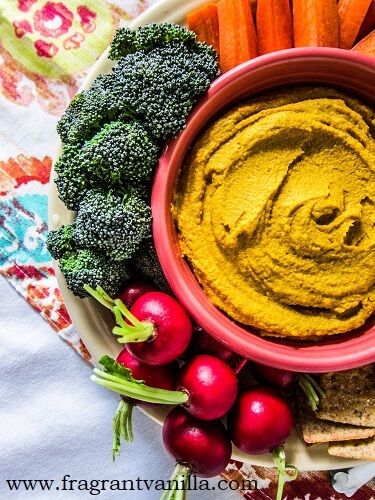 One of my favorite things to make at work (in a health food store deli) is hummus.  It is not my usual job, I am the one who makes salads, vegan soups and vegan hot bar, but when I have all of my stuff done, and they need help making hummus, I always volunteer.  We make really good hummus, red pepper and regular, and of course, we always have to taste test it to make sure it is fit for the customers.  Which is why I love to make it.  It has plenty of lemon juice, sea salt, and a little bit of a kick, which is the way I love it, and the way I usually make it at home.  A few days back my coworker was making it and I said to myself, you know what sounds good for dinner?  Hummus with a big plate of veggies.  So, that is exactly what I made when I got home.  I decided to make a new flavor of hummus though, because I like to keep it interesting.  Raw Guru had recently sent me some Dastony Sesame Tahini so, it was the perfect time to make hummus!  Their tahini is super smooth and creamy, not bitter like tahini sometimes is.  So, it made for some rich and delicious hummus!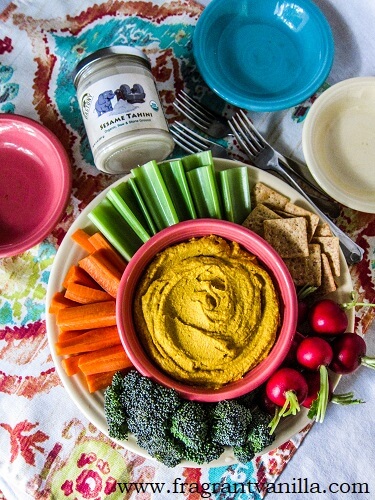 I decided to make a Moroccan roasted carrot hummus, because I was in the mood for something with plenty of spices and I had carrots on hand.  When deciding what to make, I almost always try to just use what I have on hand at home already.  This way I never waste food, and I save money which is a win all around.  I roasted the carrots until they were tender in the oven, bringing out their sweet flavor, and then combined them with cooked chickpeas for the bulk of the hummus.  I always have cooked chickpeas on hand for things like this, because I cook up a big batch, then freeze them in portions so that they are ready to use. It is more cost effective than using canned, plus I think they taste a little better.  I added  the smooth Dastony Sesame Tahini to the hummus, and it was so silky smooth!  All it needed were the aromatic spices.   I chose garlic, cumin, paprika, cinnamon, coriander and turmeric.  Also some cayenne for heat.  It smelled sooo good!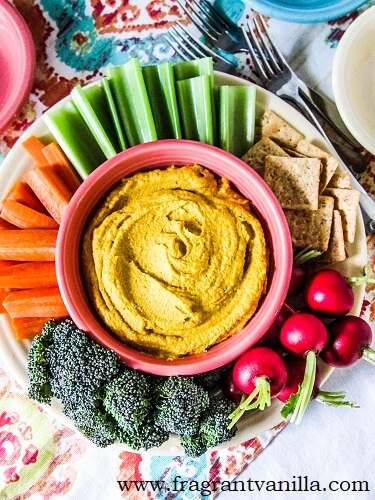 I could not wait for dinner!  I just had to cut up all of my veggies.  It didn't take long because I am a veggie chopping expert, and I was hungry for that hummus!  The flavor was delicious!  A little sweet from the carrots, and the blend of aromatic spices a bit warming with that rich tahini texture...it was sooo good!  I ate the whole plate of veggies and hummus.  This is one of my favorite Summer meals, and I always have to make it a few times.  But if I am not ambitious about cutting that many veggies, the hummus just makes the perfect afternoon snack with some cucumber slices after work.  I hope you are all having a fabulous Summer so far, if you are a hummus fan like me, give this one a try!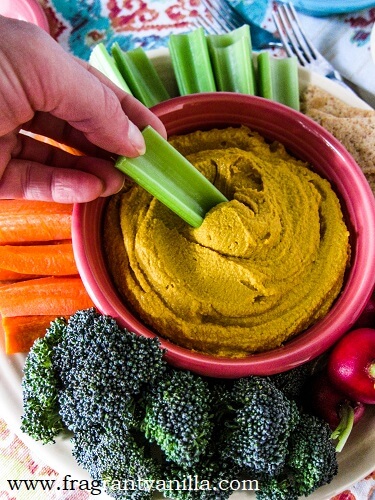 Moroccan Roasted Carrot Hummus
Makes about 2 1/2 cups
Ingredients:
2 large organic carrots, cut into 1 inch pieces
olive oil
1 1/2 cups cooked chickpeas
1/2 cup Dastony Sesame Tahini
juice of 2 large lemons (1/4 cup)
1 garlic clove, minced
1/2 tsp Raw Guru Himalayan salt or sea salt (or to taste)
2 tsp ground cumin
1 Tbsp smoked paprika
1/8 tsp cayenne (or more if you like spicy)
1/4 tsp cinnamon
1/2 tsp coriander seed
1/2 tsp turmeric
filtered water as needed
To roast the carrots, preheat the oven to 400F degrees.
Toss the carrots with just enough olive oil to lightly coat them, and spread out on an oiled sheet pan.  Place in the oven and roast until the carrots are tender, about 30-40 minutes.  Remove from oven and let cool.
Place the carrots in a high speed blender or food processor, along with all of the other ingredients, and blend until smooth, adding filtered water as needed to create a smooth consistency.
Enjoy!  Keeps in an airtight container in the refrigerator for up to 2 weeks.
(Visited 118 times, 1 visits today)