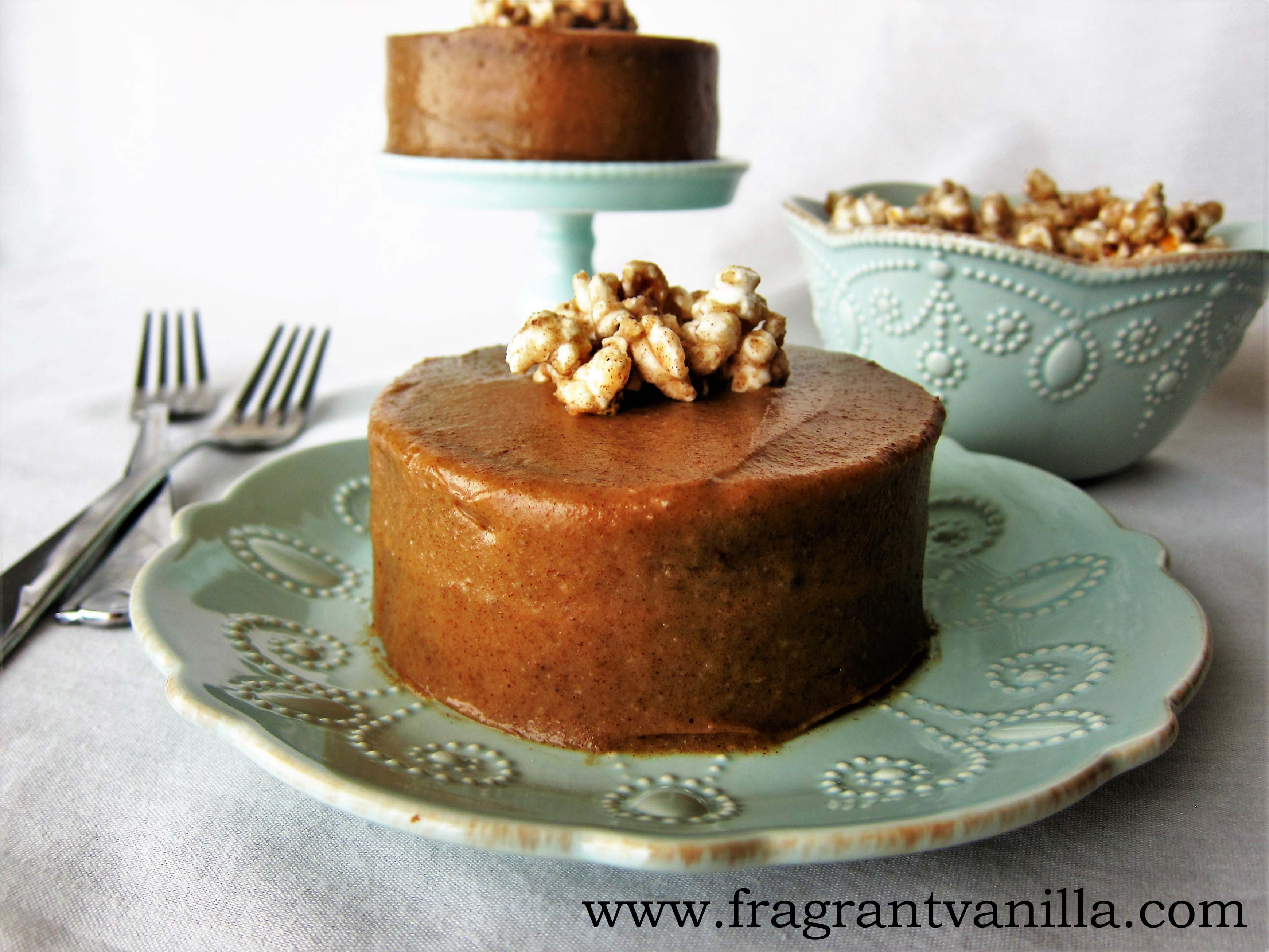 Mini Vegan Caramel Cakes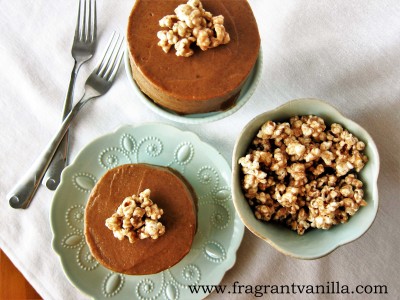 I have been wanting to make a caramel cake for some time, after seeing one that looked really good on a TV show I was watching, and drooling over another one on Pinterest which had caramel popcorn on top of it.  I thought, hey, I can make my own gluten free, sugar free (fruit sweetened) vegan version!  I knew just what  I would use to make taste like traditional caramel but healthier.  Dates.  Dates are always the answer when it comes to vegan caramel as far as I am concerned.
I fell in love with them when I first started making raw desserts, and I learned about date caramel.  Makes sense, because to me dates are nature's caramel (really even better than traditional caramel if you ask me because they have health benefits that regular sugar doesn't). When blended with just water and a little sea salt, you can make a delicious caramel sauce.  So I used them to sweeten the cake, as well as for the frosting.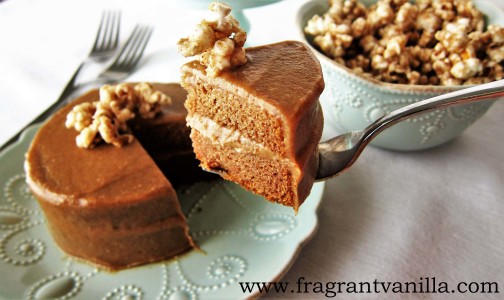 I decided to make mini layer cakes, because of course it saves money (because I do not have a large family).  Plus I get my own little individual cake and they are cute!  I have included instructions though at the bottom if you would like to make a larger cake for a celebration or something.  For the frosting, I blended the dates with nut butter and a little vanilla and a touch of sea salt.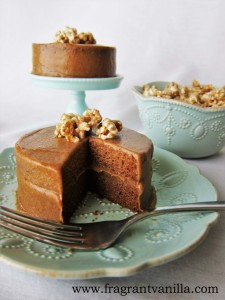 The cakes turned out even better than I imagined!  The dates providing just the right amount of moisture and sweetness, and the caramel gooey, sweet and better than real sugar caramel. I topped them off with some Vegan Caramel Corn that I had just made and it was the perfect topper!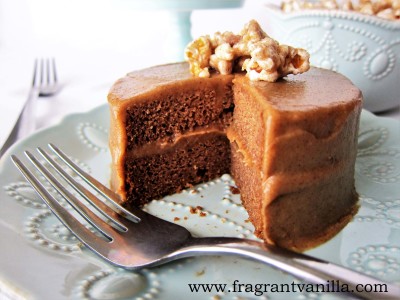 Mini Vegan Caramel Cakes
Makes 2 6 inch 2 layer cakes
2 4 inch cake pans
Cake:
3/4 cup quinoa flour (or all purpose gluten free flour)
3/4 tsp baking soda
1/2 tsp baking powder
1/4 tsp sea salt
1/2 cup packed soft medjool dates, pitted, soaked in water for 30 minutes and 1/4 cup of the water reserved
2 Tbsp avocado oil or olive oil
1 tsp pure vanilla extract
1/2 cup filtered water
1 Tbsp apple cider vinegar
Frosting:
2/3 cup pitted medjool dates, soaked in water for 30 minutes and 1/2 cup of the water reserved
1/4 cup plus 2 Tbsp raw pecan butter or raw almond butter
1 Tbsp coconut butter, warmed to liquid
1 tsp pure vanilla extract
large pinch sea salt
Vegan Caramel Corn for topping (omit the pecans in the recipe)
Preheat the oven to 375F and position rack in center of oven. Line the bottoms of two 4-inch-diameter cake pans with 2-inch-high sides with parchment paper. Coat parchment paper and pan sides lightly with oil so that the cake doesn't stick. Whisk flour, baking powder, baking soda, sea salt, in a large bowl to blend well. Place dates, reserved date water and additional 1/2 cup water, oil, and vanilla extract into a blender, and blend until smooth, then whisk this blended mixture into the flour mixture until well blended.
Whisk cider vinegar into  the batter until bubbles form. Transfer cake batter to prepared pans and bake cakes until tester inserted into center comes out clean, about 25-30 minutes. Cool cakes completely in pan on rack, about 1 hour. Cut around sides of pan to loosen. Turn cakes out onto platter; peel off parchment paper. Let cool completely.
Meanwhile, to make the frosting, combine all ingredients in a high speed blender and blend until smooth.
To assemble, place one cake layer on a plate, and spread frosting 1/2 inch thick over it. Place the other cake layer over that, then spread the frosting on the top and down the sides of the cake.
*Note: if you would like to make a 6 inch cake, double the cake recipe (and frosting recipe) and bake in two six inch round pans, it will take 30-40 minutes to bake.  If you would like to make a 9 inch cake, quadruple the recipe (frosting too) using two 9 inch pans and bake for about 50-60 minutes.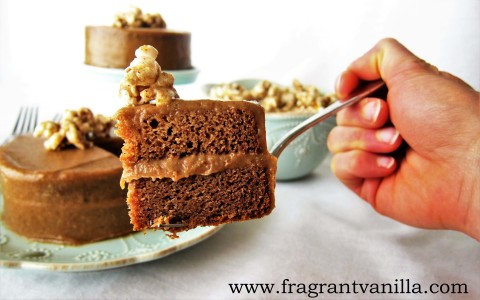 (Visited 2,503 times, 1 visits today)