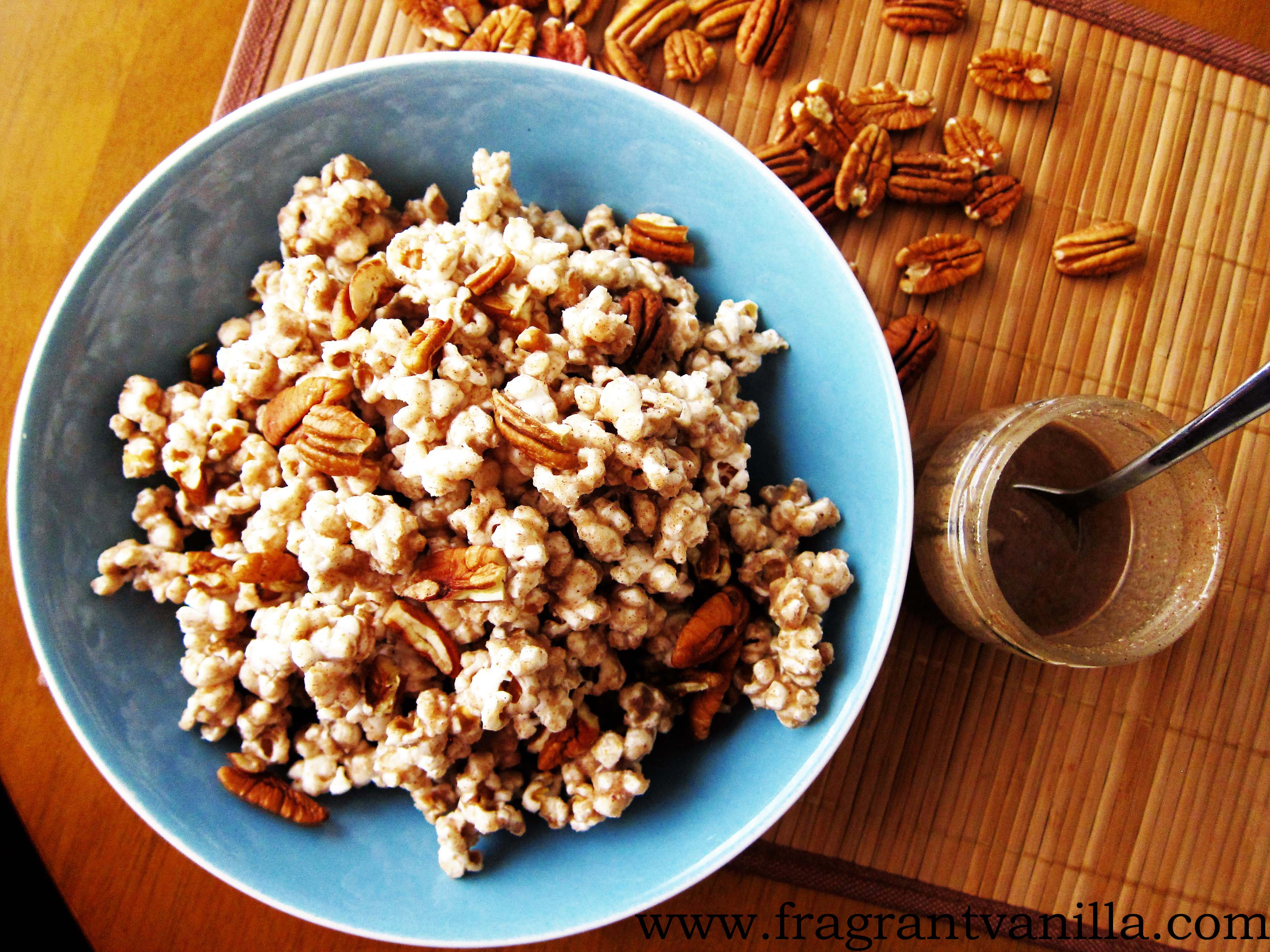 Vegan Pecan Caramel Corn
I have always been a fan of caramel corn. It ranked right up there with cheese flavored (notice how I said flavored because it was never real cheese in the stuff I had as a kid). I remember every time I would go on a trip with my Dad (we used to like to go on driving road trips), I would beg for some at the gas stations we stopped at. It was good stuff to my 8 year old self, even better than chips. I laugh about that stuff looking back now, I am sure it was full of artificial flavors, although nowhere near as bad as stuff is now. I made home made caramel corn when I was in college and it was really good (although not vegan) and I then decided that home made was way better than the gas station stuff.
I had a craving for caramel corn last Friday, so I decided to go for it. Making it that is, not caving and buying the sugary store bought stuff. I wanted a simple recipe that I could make quickly and did not require any cooking. Also, I decided that pecans would be heavenly in said popcorn so I added those in as well. The mixture to coat the popcorn was maple syrup (which went really well with the pecans), coconut butter, to make it set, vanilla and sea salt. It really came together fast, and the thing that took the longest time was chilling it so that it was not so sticky.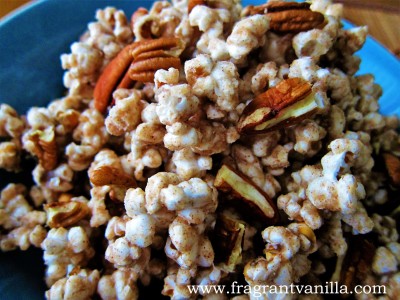 OMG it was heavenly stuff. Talk about crave worthy. I could not stop eating it. That was the point where I said, I better put it away until tomorrow or I will have none to share with people I told I would share with (this happened the time before when I made dark chocolate sea salt popcorn so I promised this time I would save some). Because I probably ate about a third while taking pictures. This is so much better than traditional caramel corn. Just sayin.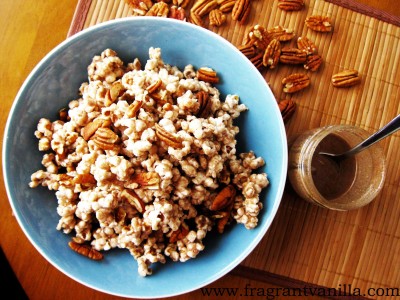 Vegan Pecan Caramel Corn
Makes 8 cups
1/3 cup maple syrup
1/3 cup pecan butter
1/3 cup raw coconut butter
1/2 tsp sea salt
1 tsp pure vanilla extract
8 cups plain organic popped corn
3/4 cup chopped toasted pecans
In a glass measuring cup (or bowl) whisk together the maple syrup, pecan butter, coconut butter, sea salt and vanilla until well blended. Pour over the popcorn in a large bowl, along with pecans and mix well. Spread out onto a lined sheet pan, and place in the freezer until it is hard. Enjoy!
(Visited 65 times, 1 visits today)