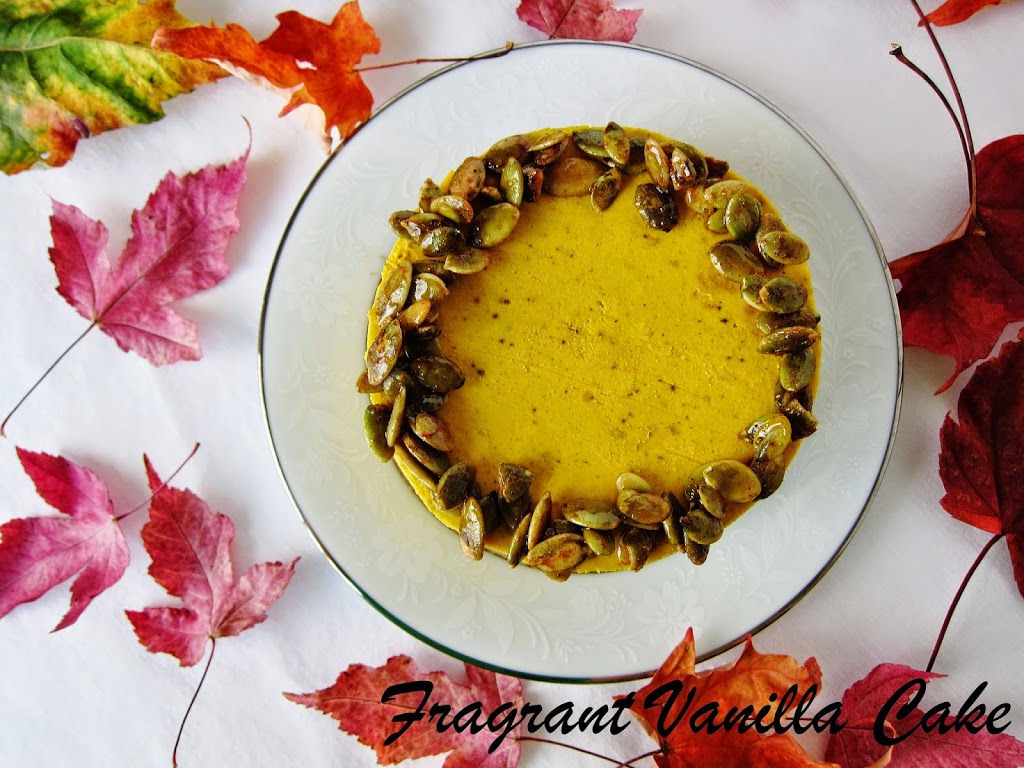 Mini Raw Pumpkin Spice Yogurt Cheesecakes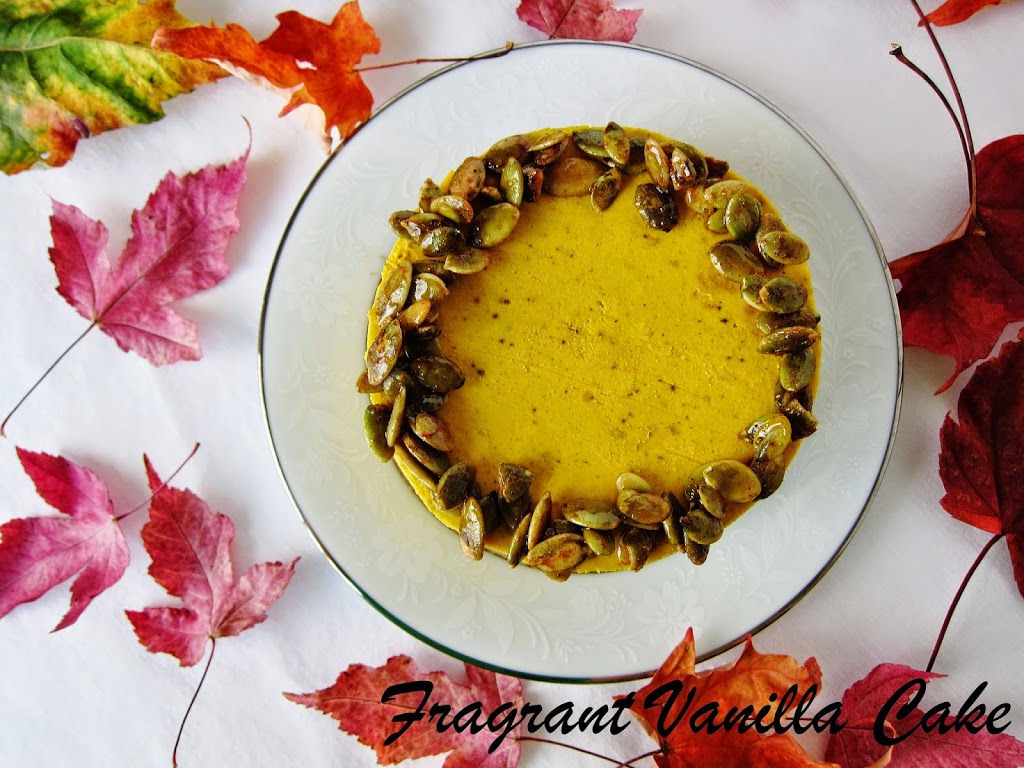 I saw some pumpkin spice yogurt at the store recently, and I decided that I had to try making my own vegan version with coconut. It sounded so good! I love coconut yogurt, and I imagined the pumpkin spice would be a wonderful addition, so it had to happen. It turned out so good, and you could not tell it was vegan. I used my usual coconut yogurt base with probiotics, and added in all of my essential pumpkin spices along with pumpkin puree and a little sweetener and it was perfect. Especially when topped off with
raw pumpkin spice granola
! If you would like this yogurt recipe, I have included it at the end of this post!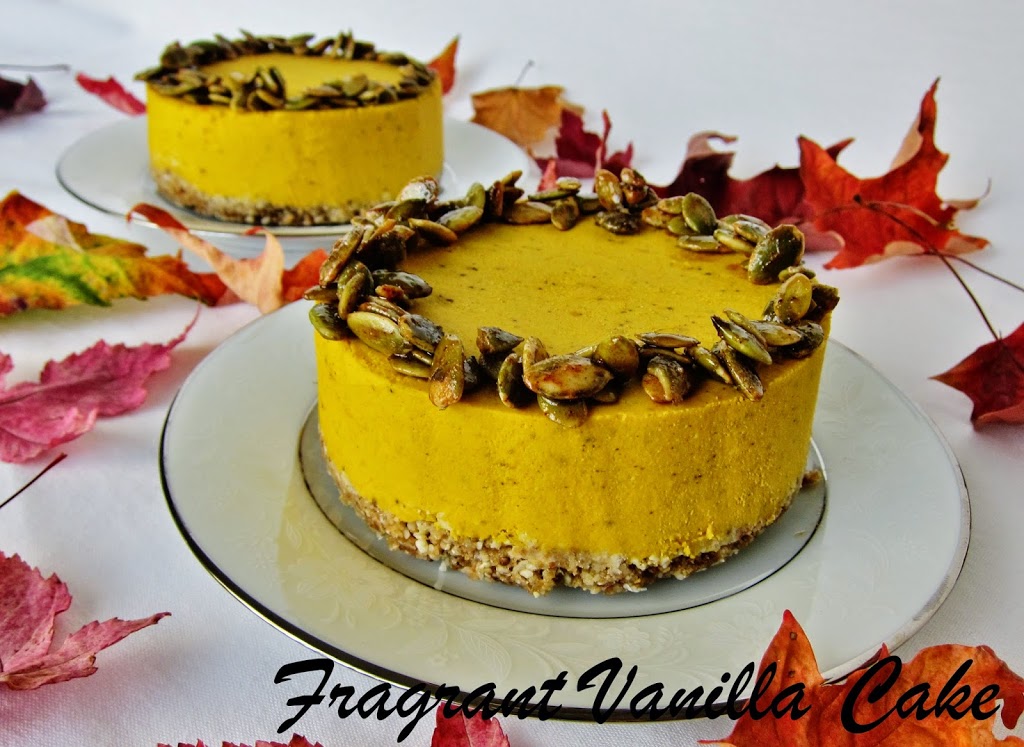 That yogurt was so good, that I was inspired to make more of it and make it into mini yogurt cheesecakes. I fell in love with yogurt cheesecakes this summer when I was big into making lots of probiotic rich coconut yogurt. They taste like they contain dairy, and very rich when in fact they are vegan and lighter than you think. So, anyways, I thought that the pumpkin spice yogurt would make wonderful cake.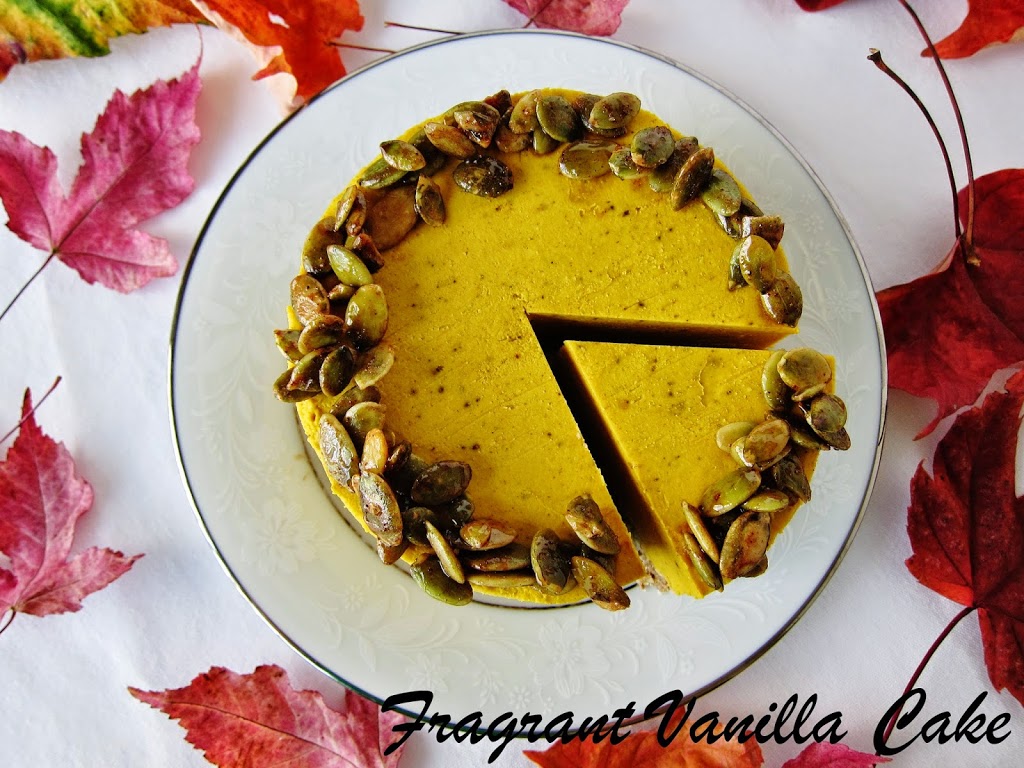 Nothing fancy shmancy here, just simple little yogurt cakes that taste like heaven. Yes, the yogurt needs to sit overnight to culture, but that is the most time consuming part of it. All you need to do is buzz all of the filling ingredients together and pour them over the simple crust (which doesn't take long to make either) and if you like, you can leave them bare, but for mine, I added a spiced pepita topping that also makes a good snack.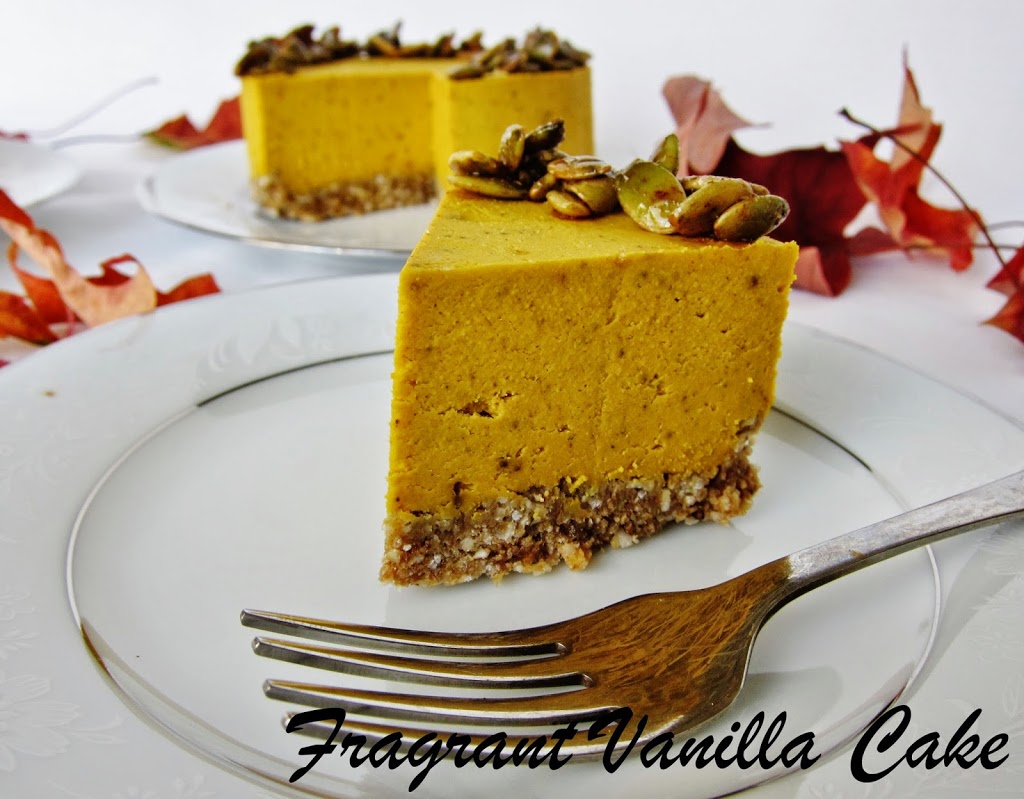 No swirling or cake decorating skills needed here (I am sure this will make some of you very happy)! These are so good! The recipe makes two, because I like to share with my boyfriend, but if you would like to make four, or one big one, you can double it. Also, since I don't discriminate here, and I know not all of you are strictly raw, it is perfectly fine to use canned pumpkin in this recipe for a vegan but not raw version (which is equally delicious).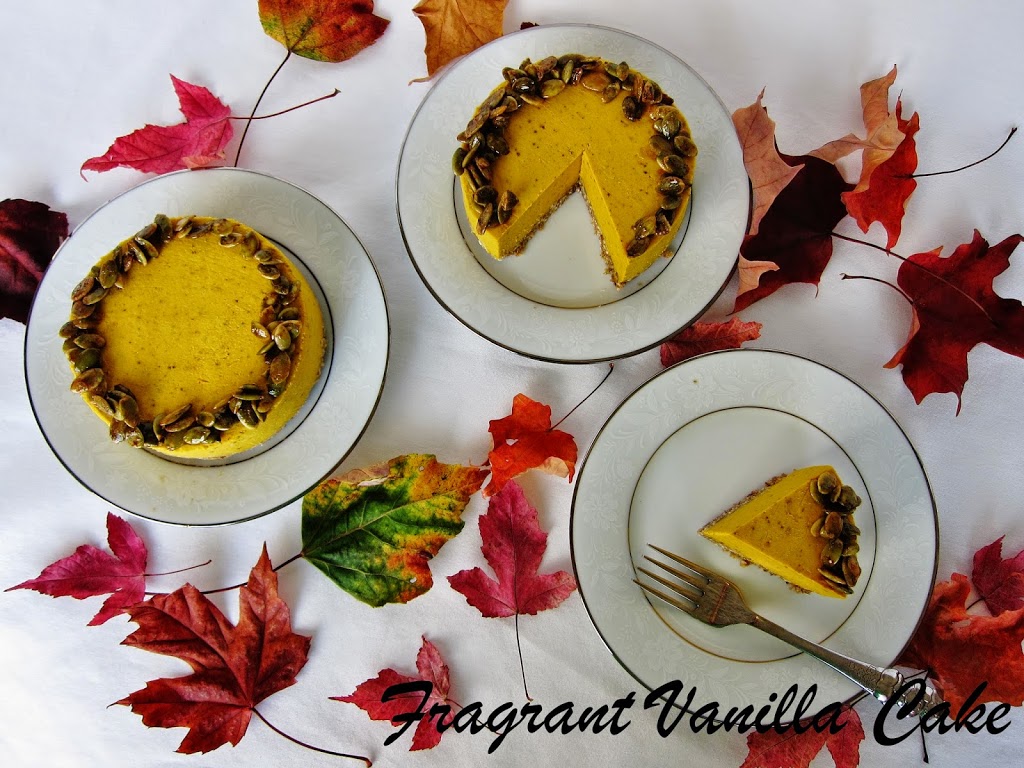 Mini Raw Pumpkin Spice Yogurt Cheesecakes
Makes 2
Spiced pumpkin seeds:
1/3 cup raw pumpkin seeds
2 tsp maple syrup
1/4 tsp sea salt
1/2 tsp cinnamon
1/8 tsp chipotle powder
Yogurt:
2 cups young coconut meat*
1/4 cup coconut water
1 1/2 cups raw pumpkin puree**
Crust:
2/3
cup raw sprouted buckwheat groats (or additional coconut)
1/3 cup ground flaxseed
3/4 cup dried finely shredded coconut
1/8 teaspoon sea salt
10-12 soft medjool dates, pitted and chopped (if they are not soft, soak them in water until they are and drain them well)

Filling:
1 Tbsp cinnamon
1 tsp ginger
1 tsp cardamom
1/2 tsp cloves
a pinch sea salt
1/4 cup raw coconut nectar or your choice liquid raw sweetener
1 tsp pure vanilla extract
1 tsp maple extract
2/3 cup raw coconut butter, warmed to liquid
To make the seeds, combine all ingredients in a bowl, and toss to coat. Spread out on a lined dehydrator tray, and dehydrate until dry, about 12 hours.

To make the yogurt, combine all ingredients in a high speed blender until smooth, and pour into a bowl. Cover with plastic wrap, and let sit in a warm place overnight until tangy.
Lightly coat two 4 4 inch spring form removable bottom pans with coconut oil. To prepare the crust, process flax, coconut, buckwheat and sea salt in a food processor until fine crumbs, then add the dates and cacao powder and process until the mixture holds together when squeezed between your fingers (if not holding together, add more dates). Firmly press crust into the bottom of the prepared pans, and set aside.
To make the filling, combine the yogurt, and all ingredients in the food processor and process until smooth. Pour the
filling over the crusts and smooth the top.
Place in the freezer for about 4 hours to firm up.
Once the cakes are done, garnish with the seeds. Serve! Store extra cake in the fridge.
Note: You can double the recipe, and make one big cake if you like, just use a 6 inch round spring form pan.
*You can use 2 cups soaked raw cashews if you do not have access to young coconut meat, and you do not mind this not being nut free.
**you may use canned if you do not mind this not being raw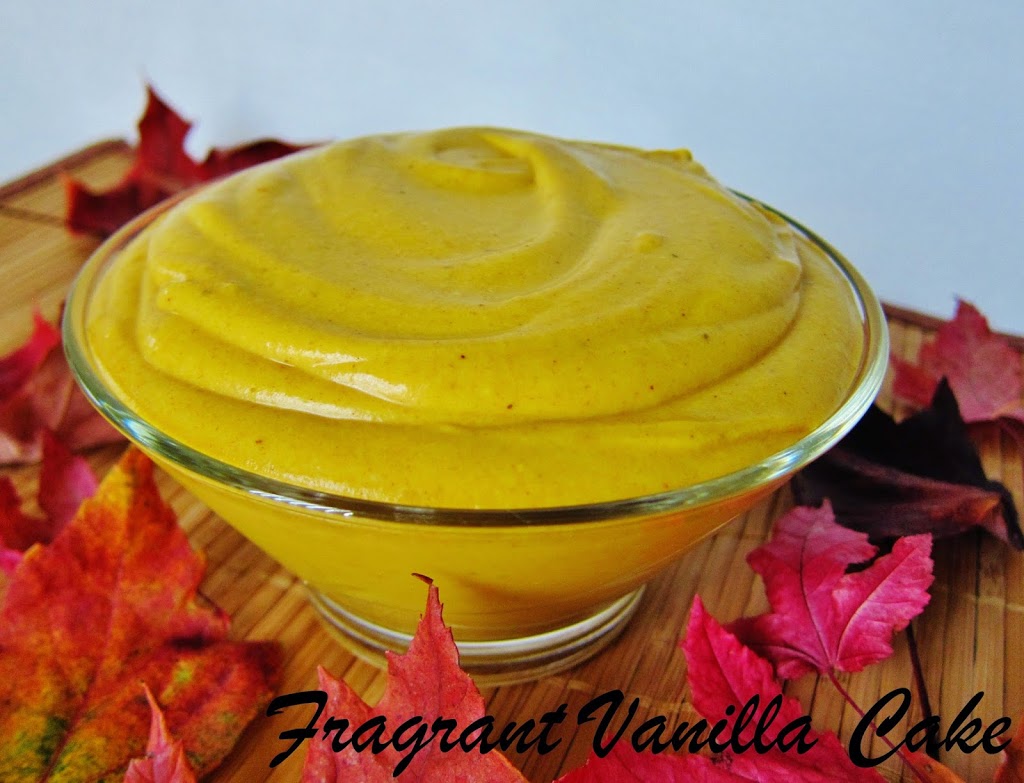 Raw Pumpkin Spice Coconut Yogurt
Makes about 3 cups

2 cups young coconut meat*
1/4 cup coconut water
1 1/2 cups raw pumpkin puree**
2 tsp cinnamon
1/2 tsp ginger
1/2 tsp cardamom
1/4 tsp cloves
a pinch sea salt
2 Tbsp raw coconut nectar or your choice liquid raw sweetener (or maple syrup works too)***
1 tsp pure vanilla extract
1 tsp maple extract
To make the yogurt, combine all ingredients in a high speed blender until smooth, and pour into a bowl. Cover with plastic wrap, and let sit in a warm place overnight until tangy.

*You can use 2 cups soaked raw cashews if you do not have access to young coconut meat, and you do not mind this not being nut free.
**you may use canned if you do not mind this not being raw
***If you would like it sweeter, feel free to add more
(Visited 31 times, 1 visits today)