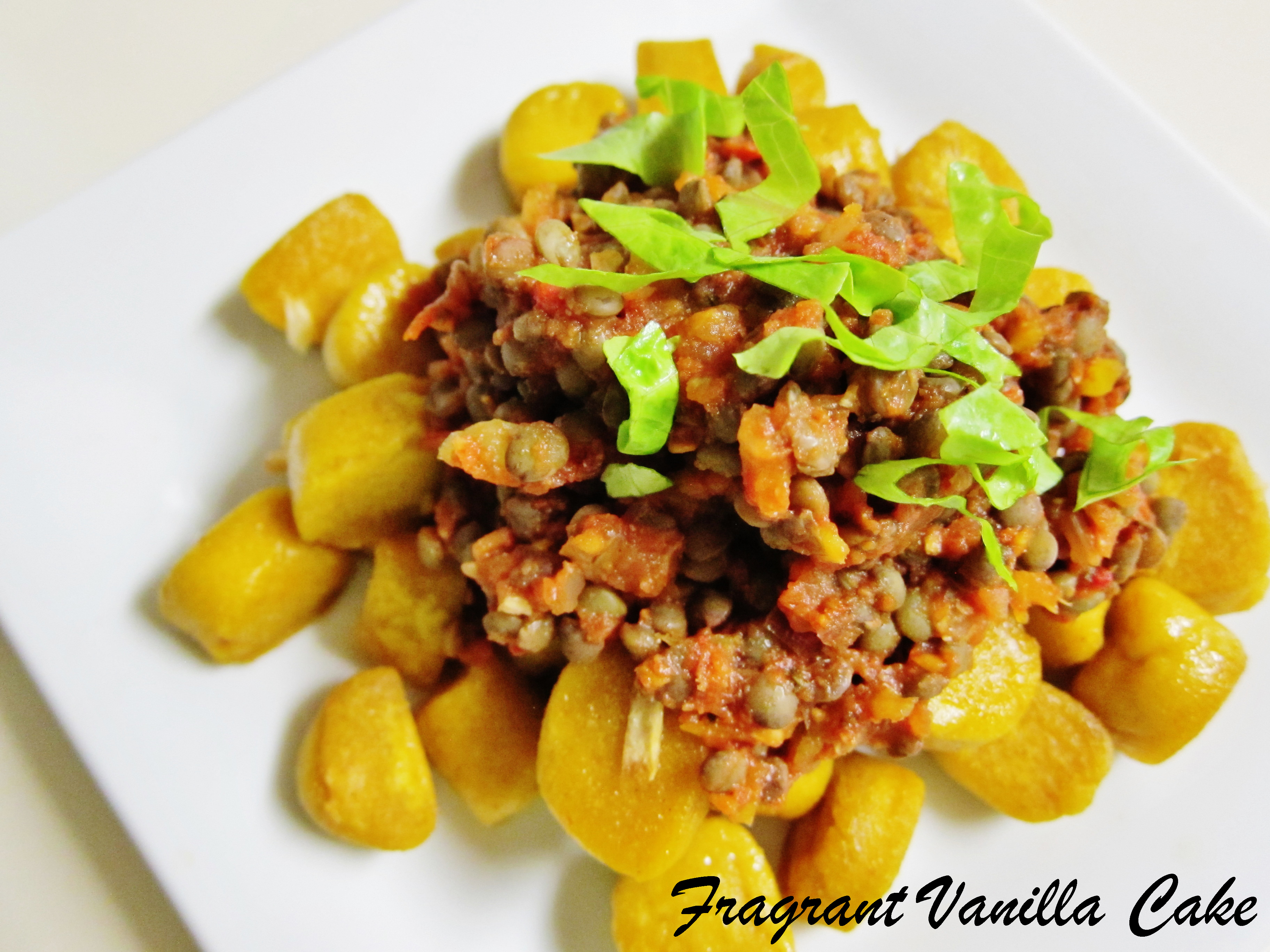 Lentil Ragout over Pumpkin Gnocchi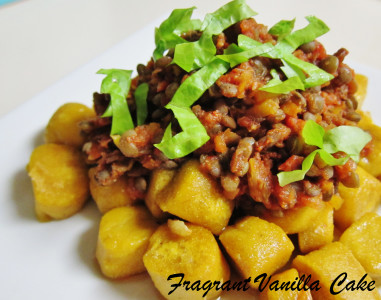 The last time I attempted to make vegan gnocchi, it ended in disaster. They fell apart, and I was so disappointed because I was excited about the recipe.  That was about 6 years ago, and I decided it was time to attempt them again.  After all, I have nailed several things since then that had previously scared me. I wanted to make pumpkin gnocchi this time, since I am in a pumpkin sort of mood, and it just sounded so good.  The last time I enjoyed any kind of gnocchi was in a fine restaurant and it was so freaking delicious.  I have been craving it since then.  I sort of winged it, just a simple mixture of gluten free flour, pumpkin and sea salt and it worked!  I was so happy!  They did not fall apart, they cooked up as soft little pillows that were delicious once sautéed with garlic and olive oil. I decided to make a lentil ragout to accompany them because I wanted something hearty and substantial.  It was so delicious together!  I have a feeling this is going to be one of my go to comfort food meals this season!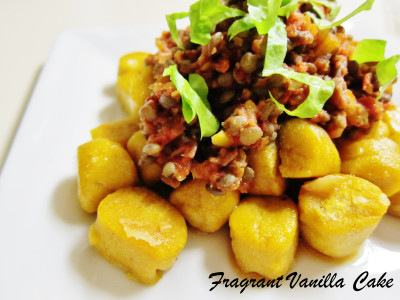 Lentil Ragout over Pumpkin Gnocchi
Serves 3
2/3 cup French lentils
filtered water
Gnocchi:
3 cups gluten free all purpose flour
1 cup canned pumpkin
1/4 tsp sea salt
filtered water
olive oil
1 garlic clove, sliced
Ragout:
1/4 cup diced red onion
1 medium stalk celery, diced small
1 medium carrot, shredded
1 garlic clove, minced
1 tsp dried basil
1 tsp dried oregano
1/4 tsp red pepper flakes
sea salt to taste
2 cups crushed canned tomatoes
filtered water as needed
1 Tbsp balsamic vinegar
cooked lentils from above
To cook the lentils, place in a pot and cover with filtered water by 3 inches.  Bring to a boil, then lower to a simmer and cook for 20 minutes or until the lentils are tender.  Drain, and set aside.
To make the gnocchi, mix together the flour, salt and pumpkin together in a bowl with your hands until you have a cohesive mass (if it is too sticky, add a little more flour, you want it the consistency of play dough).  Divide into 4 pieces, then roll each out into a 1 inch thick rope on a lightly floured surface, and slice into 1/2 inch thick rounds.
Bring a pot of salted water to a boil, and add the gnocchi.  Allow to cook until they float to the surface which is about 2 minutes.  Remove with a slotted spoon, and place on a plate.
Heat about 1 Tbsp olive oil in a pan over medium heat, along with 1 garlic clove, sliced.  Add the gnocchi and cook until lightly brown on both sides, about 5-7 minutes.  Season with sea sale. Remove from the pan and keep warm.
Add the ragout veggies, except the garlic and tomatoes, and sauté until tender.  Add the garlic, tomatoes, herbs, salt, pepper, vinegar, and filtered water as needed.  Bring to a simmer, and allow to cook until all of the veggies are very soft and the flavor has melded, about 15-20 minutes. Add the lentils and allow to heat through, taste for seasoning and add more salt if needed. Serve the lentils over the gnocchi.
(Visited 87 times, 1 visits today)