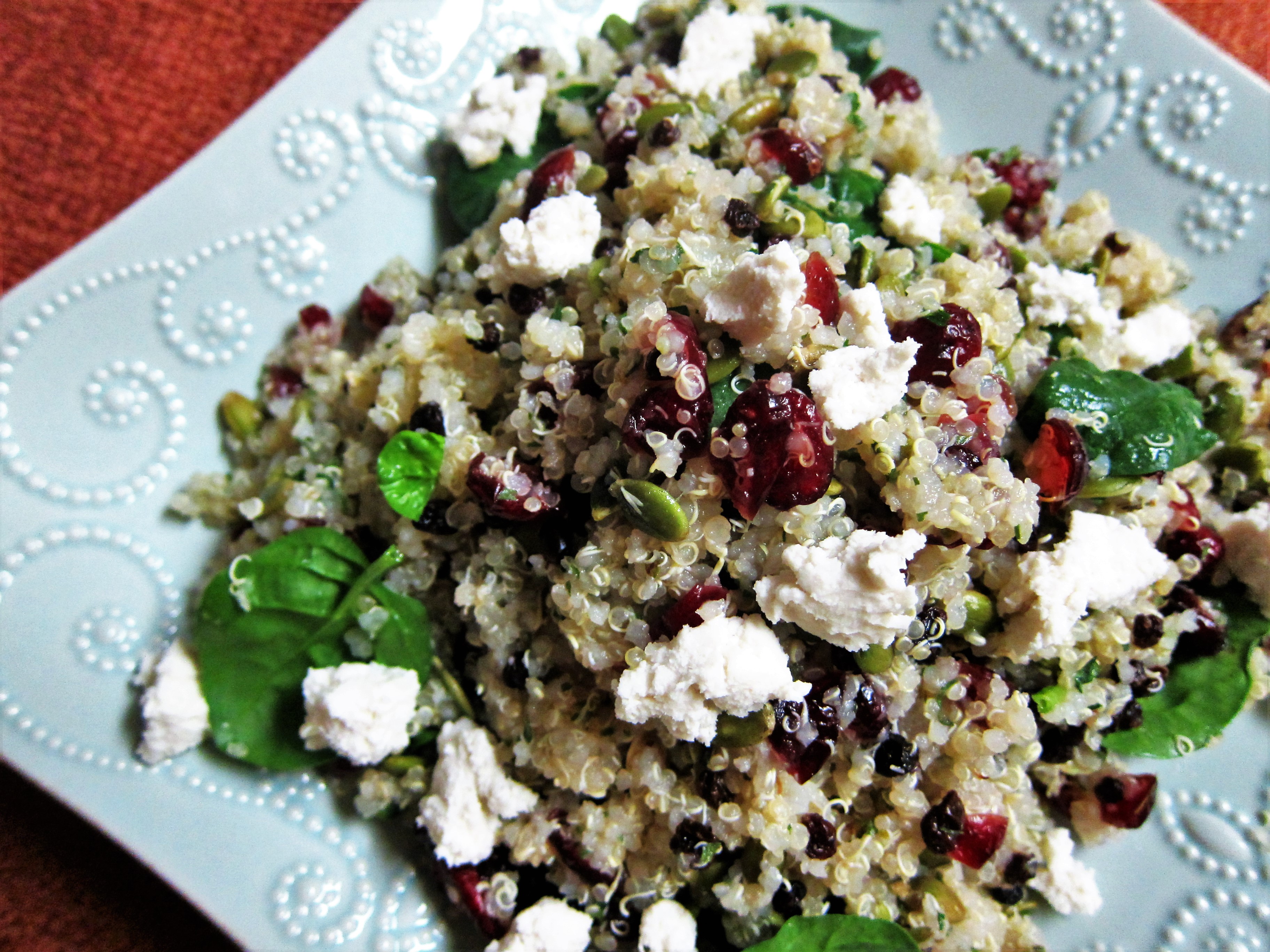 Jeweled Quinoa Salad with Macadamia Chevre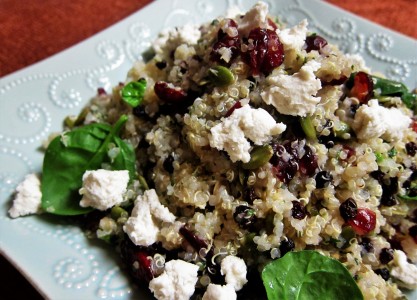 I make a quinoa salad at work sometimes that my coworkers love, and to be honest it is my quick go to dish when I don't have a lot of time.  But it is so good, that it doesn't matter how little time it took to prepare it. I came up with it one day when I thought a quinoa laced with fruit and nuts might be nice, and it turned out to be just what I needed to make.  I have used it a few times at home as a stuffing for squash for me and Eric when I want something easy for dinner, and we both love it as well.  I finally decided I am going to share a variation of the recipe with you all because it is too good not to share.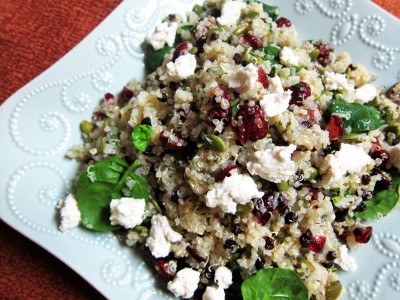 This is a very similar recipe to the one I always make, but I have added a few more things to make it even more delicious, and things that I happened to have on hand.  It has quinoa of course, but also pumpkin seeds for protein.  I added in dried cranberries and currants for sweetness, and spinach and herbs for color.  I topped it off with a macadamia chevre that I happened to have on hand and it was a nice bit of richness to an otherwise low fat dish.  It was crave worthy.  I like this one even better than the original version.  This is a great make ahead salad to pack in lunches for a healthy protein rich meal.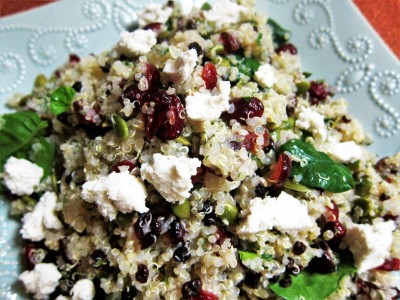 Jeweled Quinoa Salad with Macadamia Chevre
Serves 4
Chevre:
2 cups raw macadamia nuts (or cashews), soaked in water for 4 hours and drained
1/4 cup lemon juice
1 tsp cider vinegar
1 tsp sea salt (or to taste)
2-3 Tbsp filtered water
Quinoa:
1 cup white quinoa, rinsed
2 cups filtered water
1/2 cup dried cranberries
1/2 cup dried currants
2 scallions, sliced
2 Tbsp chopped parsley, or 1 Tbsp dried
sea salt to taste
1 tsp dried thyme
1/4 cup lemon juice
1/4 cup orange juice
2 cups baby spinach
To make the chevre, combine all ingredients in a high speed blender or food processor, and blend until smooth adding a Tbsp or two of water as needed to create a chevre like consistency (do not add too much or it will be too thin).  Place in 2 layers of cheesecloth, wrap up, and place in the refrigerator overnight to firm up.
To prepare the quinoa, place quinoa and water in a medium saucepan and bring to a boil. Reduce to a simmer, cover and cook until all the water is absorbed about 15 minutes, or when all the grains have turned from white to transparent, and the spiral-like germ has separated. Drain, and set aside. In a large bowl, combine all the rest of the ingredients with the quinoa and toss until well mixed. Break pieces off of the chevre and scatter them around the top of the quinoa. Serve at room temperature.
(Visited 110 times, 1 visits today)