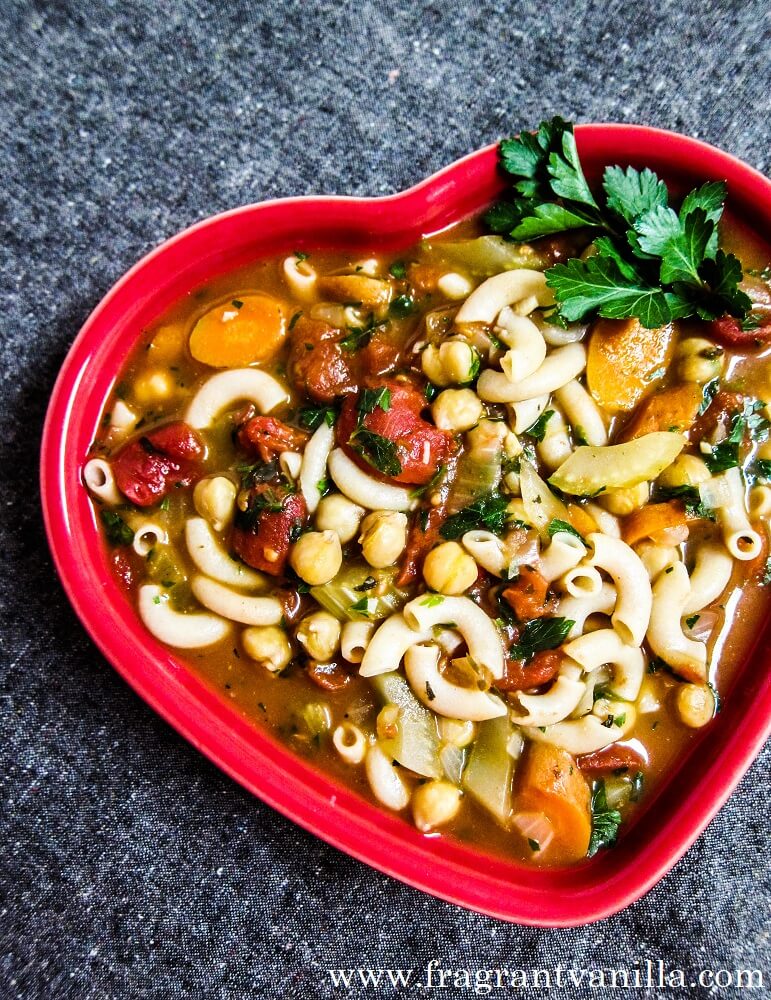 Italian Pasta and Chickpea Soup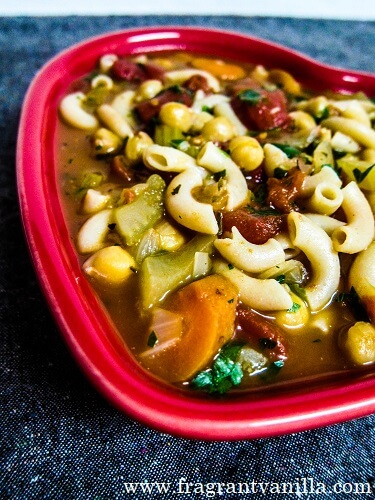 So apparently Winter is never going away here.  They are predicting even more snow, even though it is mid April and the tulips should be blooming by now.  I am so over it.  Last year the first week of April I was wearing shorts outside.  So, I am not quite into the light Spring food yet, I am in comfort food mode until it warms up.  Which will probably be another month from the looks of it.  The soups are flying out of  the deli I work in, and I feel like soup making and serving is non-stop.  I can't blame people, I feel the same way about soup right now.  So a few nights back I made myself a big pot of warming comforting soup.  I was in the mood for something with Italian flavor because I had made one at work and it just tasted and smelled so good I wanted my own. I had all of the ingredients on hand as well, so it was perfect!  I love it when I don't have to go shopping for things to make dinner.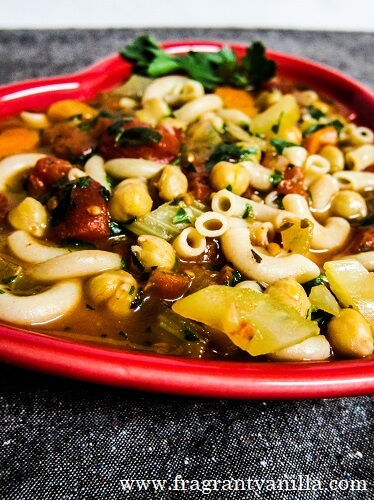 It was really pretty simple to make as far as soups go. I have made my own soup ever since my Mom taught me how to make soup when I was in high school.  She had gotten this soup book and we would pick different recipes and make them together.  I thought that was pretty exciting, and it taught me a lot. It was useful knowledge when I decided I wanted to cook for a living.  My favorite soups out of that book were the Italian ones, so that is what we made most often, and those memories are what I based my Italian soup I made this week off of.  One called pasta e fagioli, or beans with pasta.  It had plenty of vegetables in the base, it was flavorful thanks to the herbs and alliums, and it was definitely comfort food. This one came together in about 45 minutes and it was just as delicious!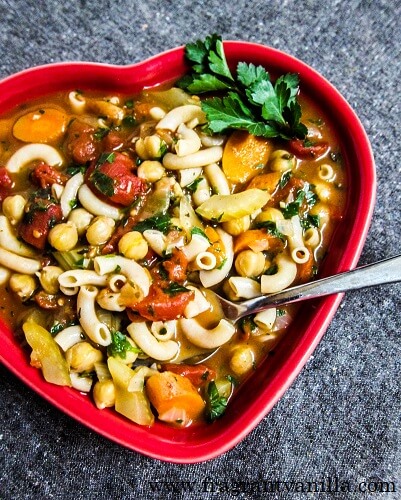 The only things I changed were I swapped the usual white beans we used to use for chickpeas, and used elbow pasta instead of little alphabet shaped pasta I loved so much when I was younger, just because that is what I had on hand.  If you are making this for yourself, feel free to add in your favorite vegetables, or pastas or use a different bean.  Because that is what cooking at home is all about, making it work for you, and using what you like and have on hand!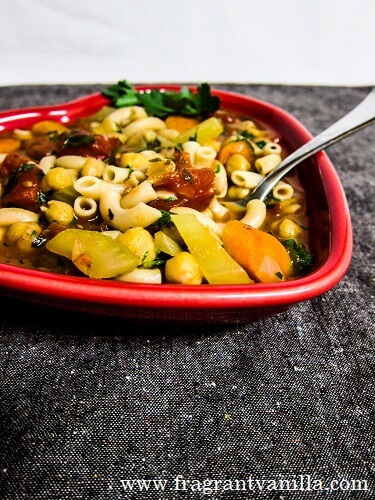 Italian Pasta and Chickpea Soup 
Serves 3
Ingredients:
1 tsp olive oil
1/4 cup diced red onion
2 stalks celery, sliced
2 carrots, cut in half and sliced
2 garlic cloves, minced
1 tsp dried basil
1/2 tsp fennel seed
1 tsp dried oregano
1/4 tsp red pepper flakes
1/2 tsp sea salt
3 cups crushed canned tomatoes or fresh roasted*
2 cups filtered water
1 Tbsp balsamic vinegar
sea salt
1 1/2 cups cooked chickpeas
1/4 cup chopped fresh parsley
Instructions:
Heat the olive oil in a medium pan.
Add onions, carrots and celery and sauté until tender.
Add the garlic, tomatoes, herbs, sea salt, pepper, vinegar, and filtered water.
Bring to a simmer, and allow to cook until the tomatoes are very soft and the flavor has melded, about 30 minutes.
Add the pasta to the pot, and let cook for about 5 minutes.
When the pasta is cooked, stir in the chickpeas and fresh parsley.
Serve!
*To roast the tomatoes, cut them into 2 inch wedges, and spread them out on a parchment lined baking sheet.  Place in a 400F degree oven and roast for about 30-45 minutes until tender and starting to brown at the edges. Remove from oven and you are ready to use them in this recipe.
(Visited 125 times, 1 visits today)