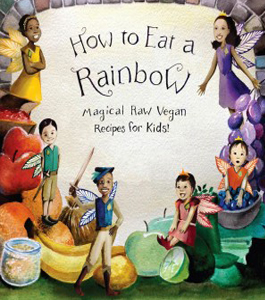 How to Eat a Rainbow Book Review and Givaway!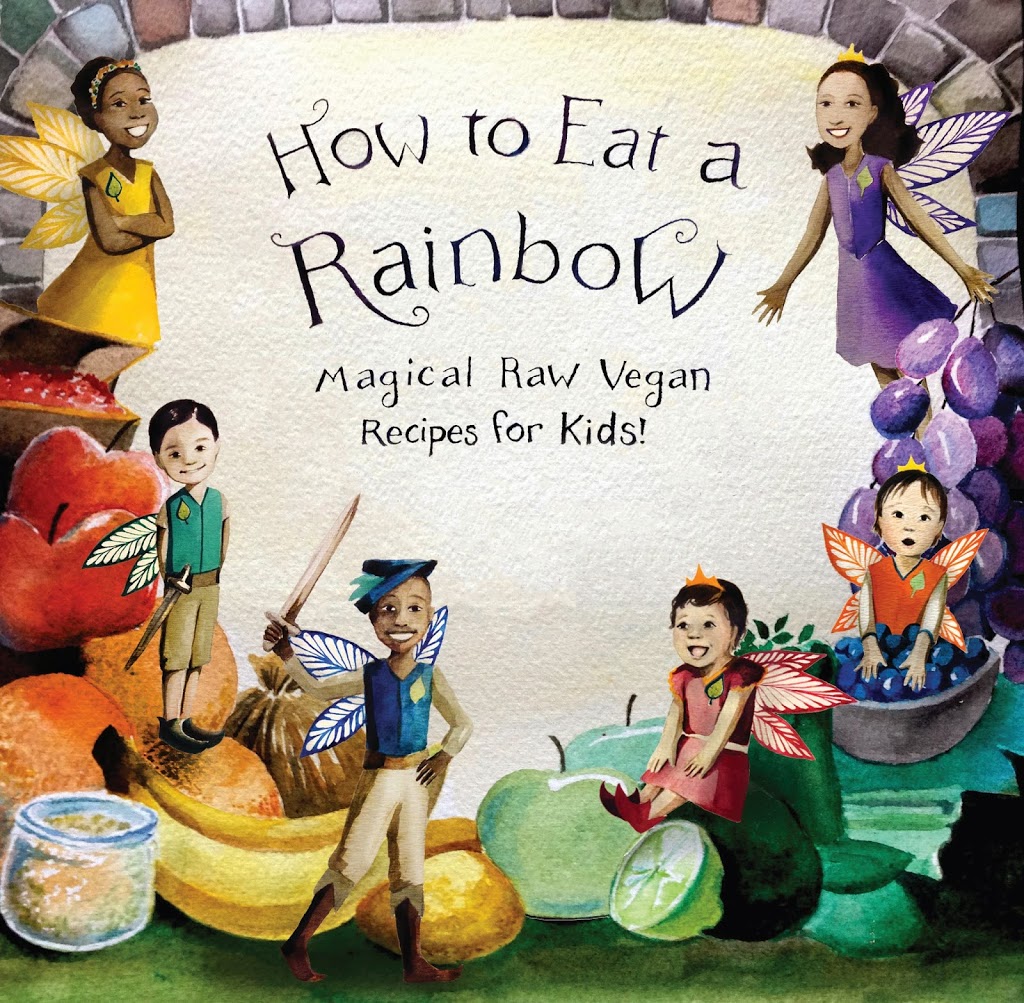 When Ellie Bedford asked me if I wanted to review her new cookbook "How to Eat a Rainbow", I was quite excited. It is a children's raw food book with pages full of colorful recipes made just for pint sized readers. I am not pint sized, but I love this idea! Teaching kids to have fun with their food, while being healthy. When I was a little girl I would have begged my Mom to buy me this book had it caught my eye in a book store. And it would have, because it is illustrated with the most adorable little fairies and photos. Not only are they adorable, they are hand drawn by the author's sister Sabrina Bedford.
The recipes are easy enough for children to make with a little help, and all brightly colored. Things like Sunflower Power Seed Pate, Green Goblin Smoothie, and Peppermint Cream Clouds. The names of the dishes alone would have made me want to make them when I was little.
I made some of the "Purple Haystack Salad" to go with my lunch, because I can not resist beets and citrus and it sounded lovely. It was simple to make, and so delicious!
If you are trying to make raw foods appealing to your children, this book is for you! The recipes are accessible to children, simple enough to prepare, beautiful, and they taste good (and we all know how important the looks and taste of foods are to youngsters). I have exciting news...you can win a copy of this beautiful book! Just scroll to the bottom of the page and enter! Or, if you simply cannot wait, you can purchase a copy for yourself here: http://veganpublishers.com/multimedia-archive/how-to-eat-a-rainbow-magical-raw-vegan-recipes-for-kids/
It is available in both e-book and printed copies. You can visit the How to Eat a Rainbow Facebook Page as well, for more delicious recipe ideas and updates on the book!
Purple Haystack Salad
(From How to Eat a Rainbow by Ellie Bedford)
Makes 4 stacks
1 cup grated carrot
1 cup grated beetroot
1 pink grapefruit, peeled and segmented
1 small pinch of pink Himalayan salt
1 Tbsp lemon juice
1 Tbsp fresh basil or mint, finely shredded
1 Tbsp coconut palm sugar
Mix everything together well and pile onto your plates in little haystacks.
(Visited 73 times, 1 visits today)