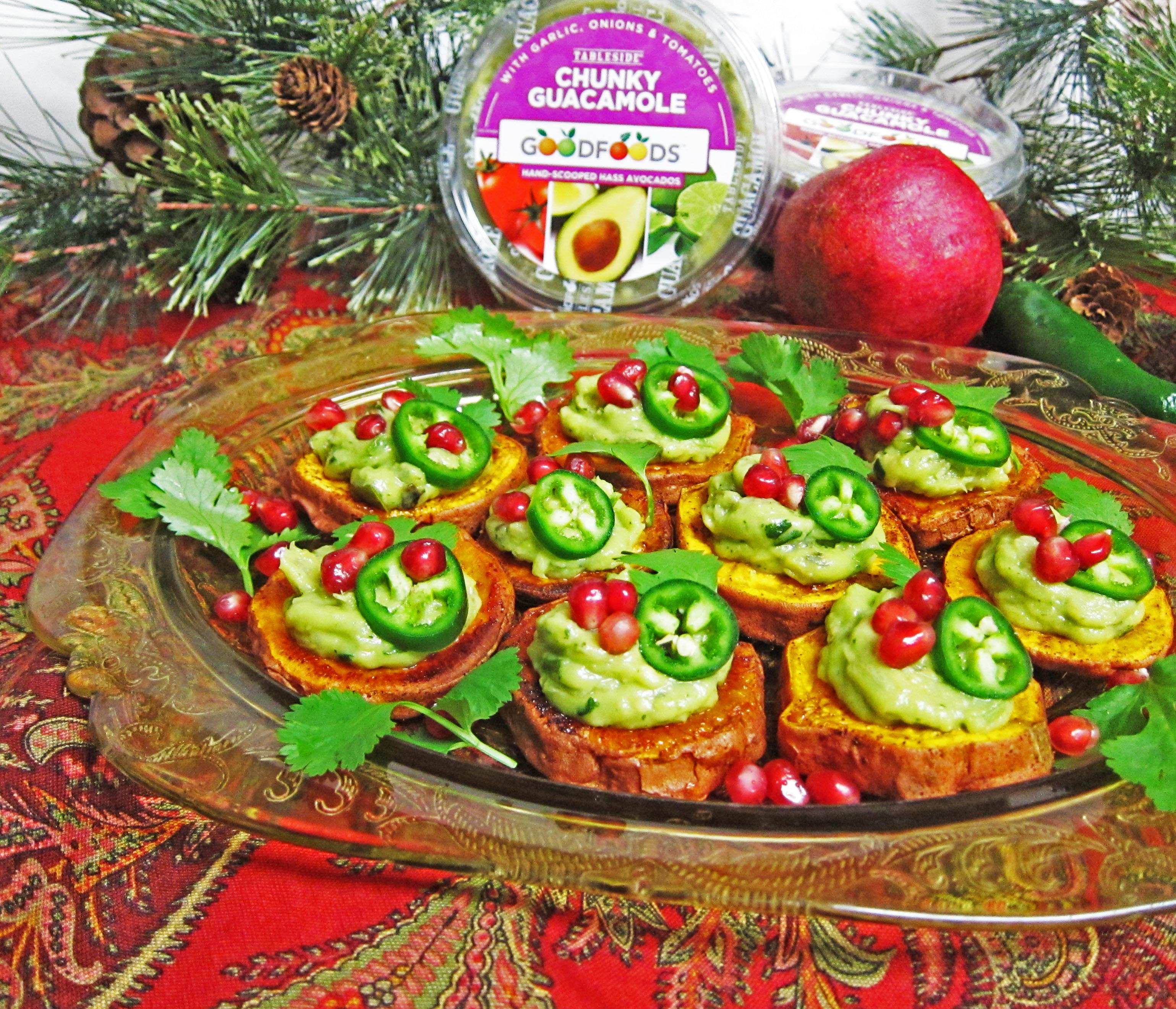 Holiday Entertaining! Mini Sweet Potato Avocado Crostini and GOODFOODS Guacamole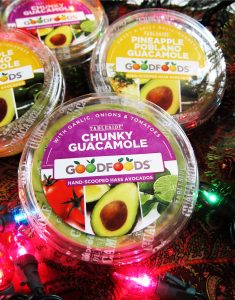 The Holidays are a beautiful time of the year.  Getting together with loved ones you haven't seen in ages, sparkling snow and twinkling lights, and choosing the perfect thoughtful Christmas presents for friends and family.  But they can also be hectic, and stressful if you are the one hosting the get together, or maybe you are working a lot and don't have a lot of time to prepare.  You want to make sure you are taking care of yourself this time of the year and eating healthy so you have enough energy to enjoy all of the Holiday traditions, but maybe you do not have a lot of time to prepare foods.  This is where GOODFOODS Guacamole comes in!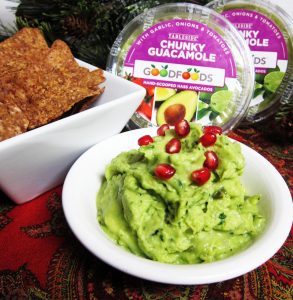 It is my go-to snack as of lately and it is available in so many stores nationwide so you should not have a hard time finding it.  I bought it at my local Super Target in the produce section.  Why do I love it so much?  Many reason!  First off, it is made with good ingredients.  And by good, I mean Nothing you can't pronounce, no preservatives, chemicals or additives.  Just avocadoes, and veggies which is really important to me!  I want to be fueling my body with good things, and GOODFOODS guacamole is a good thing!  This stuff is packed with nutrients to keep you feeling good, and it is always fresh, never heated because they use a special process. Not only is it made with good ingredients, but these guys care about the environment as well, they compost all of their avocado skins and pits and hope to become a zero waste to landfill facility! It is not often you hear about companies that do that.  For a healthy snack, I like to mix it into black beans and then use it as a dip for veggies or organic corn chips (made with healthy oils of course).  This is my favorite thing in the afternoon lately after work to eat lately!  Not only that though, GOODFOODS Guacamole is an essential addition to home made tacos, the perfect dip for my sweet potato fries, and even a great addition to appetizers for Holiday parties!  Like the recipe I am sharing with you today!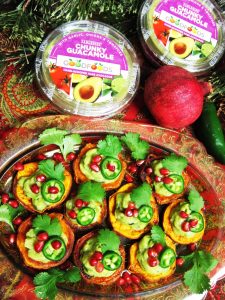 Sweet potato toast is all the rage lately with vegans like myself, because I am not a big bread fan and I love sweet potatoes.  Also, avocado toast is always filling my Instagram feed and it always looks so good.  So, I thought why not combine the two, and make a healthier Holiday crostini with smaller sweet potato toasts and the GOODFOODS Guacamole, because they pair so well together!  Low carb, healthy and delicious! All you need to do is roast your sweet potato slices in the oven until golden, top off with the GOODFOODS Guacamole, and then sprinkle with some festive pomegranate seeds, cilantro and jalapenos (or be creative and add your own colorful things)!  Talk about simple and delicious!  They look so festive too!  I always love it when Holiday snacks are healthy, guilt free, AND good. You do not find that at parties often.  I tried both the Pineapple Poblano Guacamole and the Chunky Guacamole for this recipe and they are both good in it so pick the one that sounds best to you!  Even if you don't try my recipe, I encourage you to find some GOODFOODS guacamole in your area!  You can locate a store near you that carries them on their website HERE. They are in many stores including Target, Costco and Walmart among others, it is not hard to get your hands on.  Make this guacamole part of your Holidays!  Share the Goodness with GOODFOODS!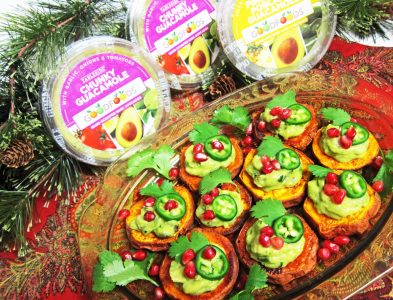 Mini Sweet Potato Avocado Crostini with GOODFOODS Guacamole
Serves 12
Ingredients:
2 medium sized sweet potatoes , sliced into 1/4 inch thick slices
olive oil
1/4 tsp chipotle powder
sea salt to taste
1/2 cup pomegranate seeds
2 jalapenos, sliced
1/4 cup fresh cilantro leaves
Instructions:
Preheat the oven to 400F degrees, and oil a sheet pan.
Toss the sweet potatoes with just enough olive oil to coat, the chipotle powder and sea salt.  Spread the sweet potatoes out on the sheet pan, place in the oven and roast until golden brown, about 45 minutes depending on your oven.  Remove from the oven and let cool until just warm or at room temperature.
Spoon some of the GOODFOODS guacamole onto each sweet potato toast.  Place a slice of jalapeno, a cilantro leaf and a few pomegranate seeds onto each toast.  Arrange on a plate and serve!
(Visited 31 times, 1 visits today)