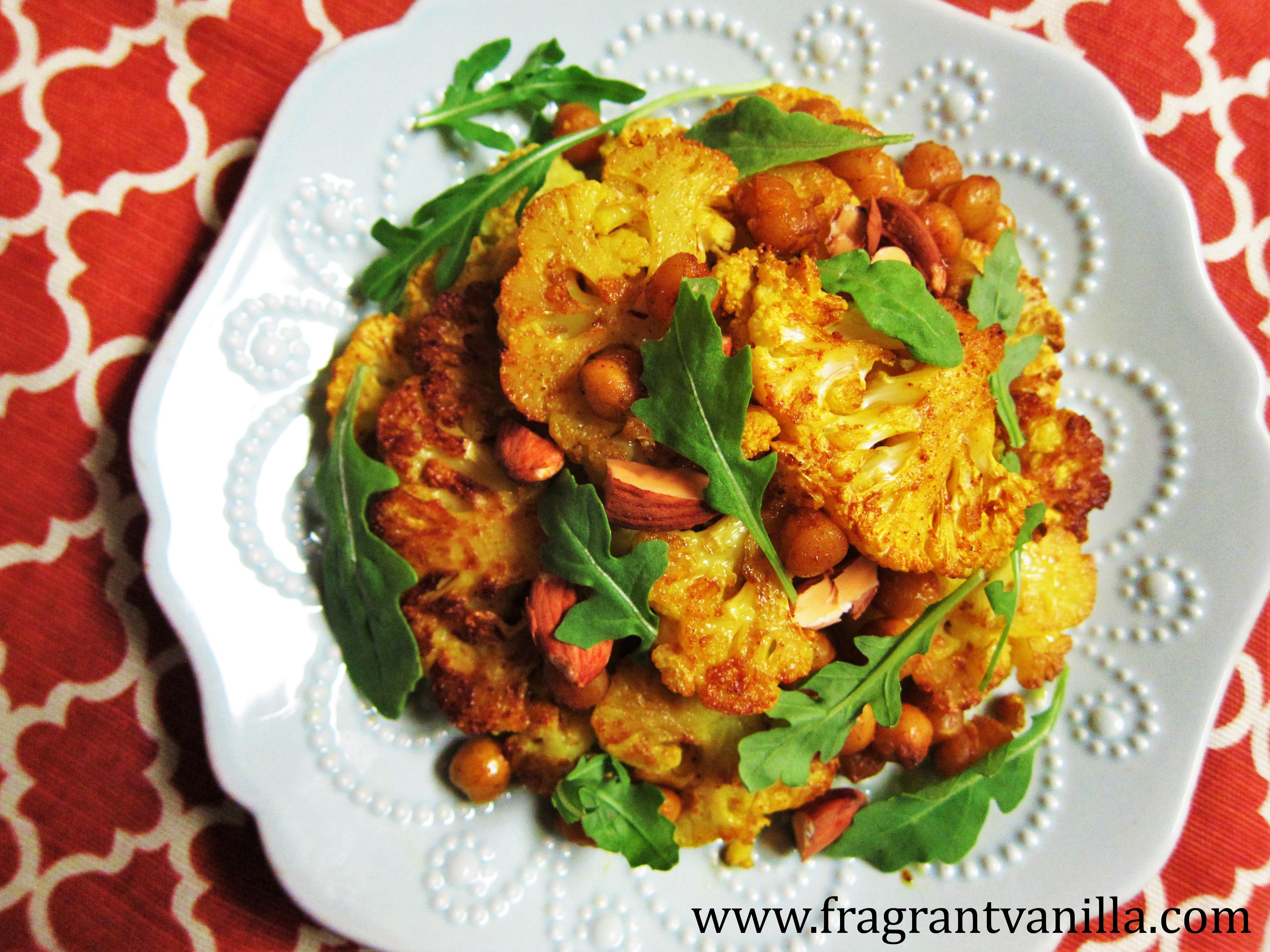 Golden Roasted Cauliflower and Chickpeas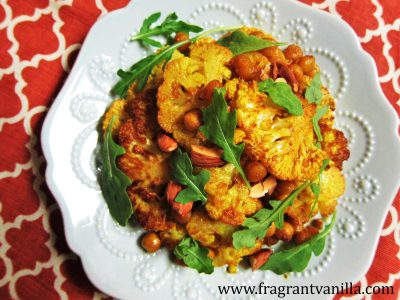 My Mom bought me a cauliflower, and asked me to make her something with it.  And, since it is prime veggie roasting season, I decided to roast it!  When I was young, she had this book for healthy recipes that heal the body, and one of them was for a curries cauliflower rich in turmeric.  I kind of decided to go off of that recipe, minus the curry.  Turmeric is an awesome spice!  In fact, I try to include it in my diet in some form every day to help decrease inflammation in my body among other things.  Usually it is in my oatmeal in the morning with a few other spices, but it is wonderful in savory dishes as well!  Plus, it gives everything such s pretty yellow color!  Since cauliflower is white, and not very colorful, I thought it would make it pop more.  Plus, I kind of feel like they are a match made in heaven.\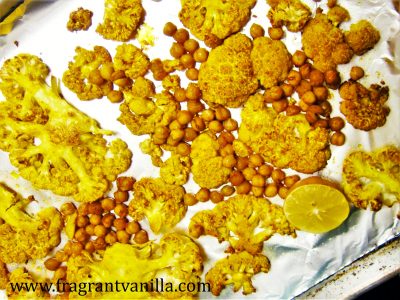 I whisked some turmeric into some olive oil along with a little cinnamon for sweetness, and chipotle powder for a kick, and a little sea salt, and it was the perfect balanced mixture to coat the cauliflower with.  To make this more of a complete dish, I also added some chickpeas to roast along with it, as well as some lemons to squeeze over the final dish (allowing their flavor to intensify in the oven).  They all turned out beautifully and everything was a lovely shade of gold when I removed it from the oven.  I plated it all up, sprinkled it with toasted almonds and arugula and it was so pretty!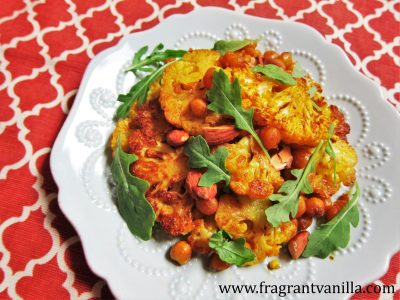 Not only that, it tasted wonderful, and my Mom was super happy with it, which is what mattered since the dish was for her. It was savory, a touch sweet from the cinnamon, and that hit of lemon made it extra delicious!  The chickpeas were a little crunchy and the cauliflower tender.  This can either be a main dish, or a side dish depending on what you serve with it.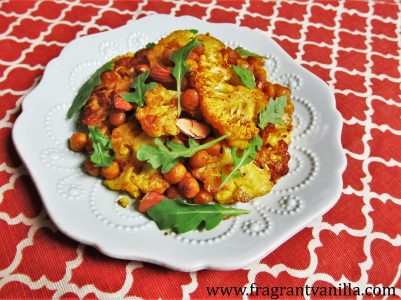 Golden Roasted Cauliflower and Chickpeas
Serves 2
Ingredients:
1 large head cauliflower, sliced thickly
1  1/2 cups chickpeas
1/4 cup olive oil
1 1/2 tsp turmeric
1/2 tsp chipotle powder
1/2 tsp cinnamon
sea salt to taste
1 lemon, halved
1/4 cup chopped roasted almonds
1 handful arugula
Directions:
Preheat the oven to 400F degrees.
Whisk together the oil, spices, and salt in a bowl, and toss the cauliflower and chickpeas with it.
Spread the cauliflower and chickpeas out on a sheet pan, along with the lemon halves.
Place in the oven and roast until the cauliflower is tender and starting to brown a little.  Remove from the oven.
Place the cauliflower and chickpeas on a serving plate, squeeze the lemon over them, and sprinkle the almonds and arugula over the top.  Serve!
(Visited 232 times, 1 visits today)