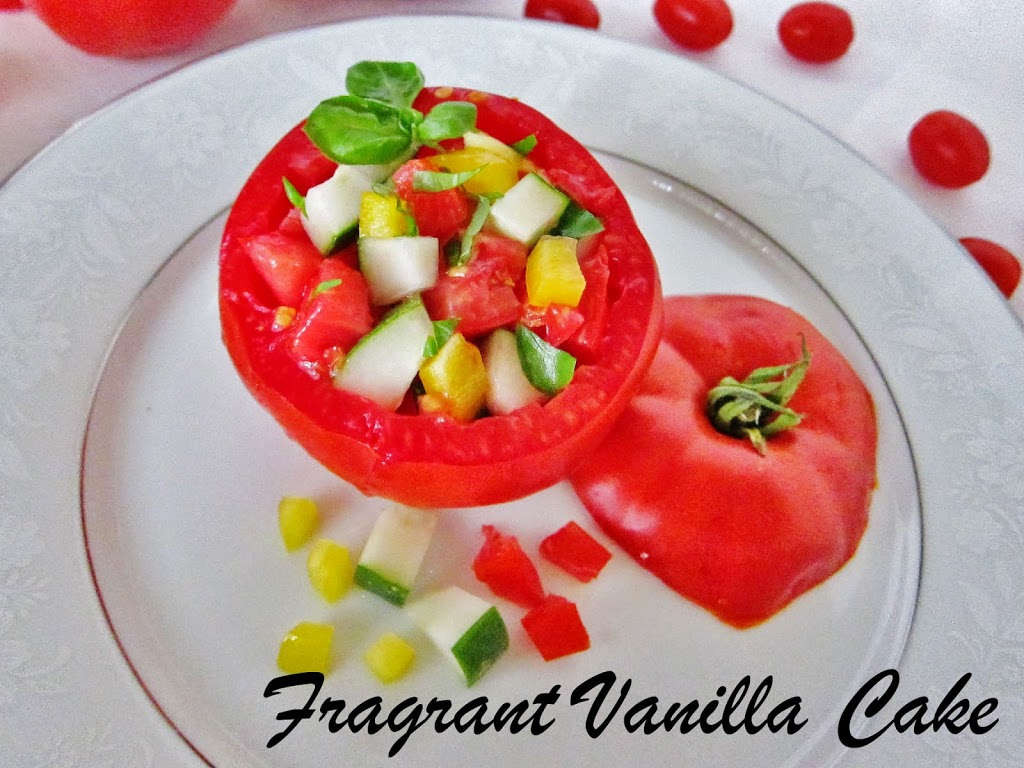 Gazpacho Salad Stuffed Tomatoes
I have been in heaven since last week when my Grandpa gave me some of the first tomatoes harvested from his garden this year. They are seriously amazing. I wait for them all year and snub the tomatoes at the store unless they are local because these are the best tomatoes I have ever eaten. Must be the extra love and care my Grandpa gives them. I have eaten most of them with just a sprinkling of sea salt, but I love them in things like gazpacho and salads too!
Which is exactly how this creation came to be. I was in the mood for the flavors of gazpacho, but I wanted something that I could chew and savor instead of something liquid. So I made a lovely gazpacho salad! Including also cucumbers from my Grandpas garden, bell pepper, and the usual seasonings I put in my gazpacho soup. It was delicious! If you have fresh local veggies, definitely give this a go!
Gazpacho Salad Stuffed Tomatoes
Makes 2
2 medium large tomatoes
1 medium cucumber, seeded and diced
1 large tomato, diced
1 large yellow bell pepper, diced
1 scallion, sliced
1 garlic clove minced
1/4 cup fresh basil, chopped
1 Tbsp cider vinegar
1 Tbsp olive oil
a pinch red pepper flakes
sea salt to taste
Cut the tops off of the two tomatoes and set aside. Scoop out the insides (being careful to keep the outside of the tomato in tact. Set the tomatoes aside, and dice up the insides that you had removed and add them to a bowl along with the rest of the veggies. Add garlic, basil, cider vinegar, olive oil, red pepper, and sea salt to the bowl and toss to combine. Spoon into the reserved tomatoes and serve with the tops alongside if desired.
(Visited 34 times, 1 visits today)