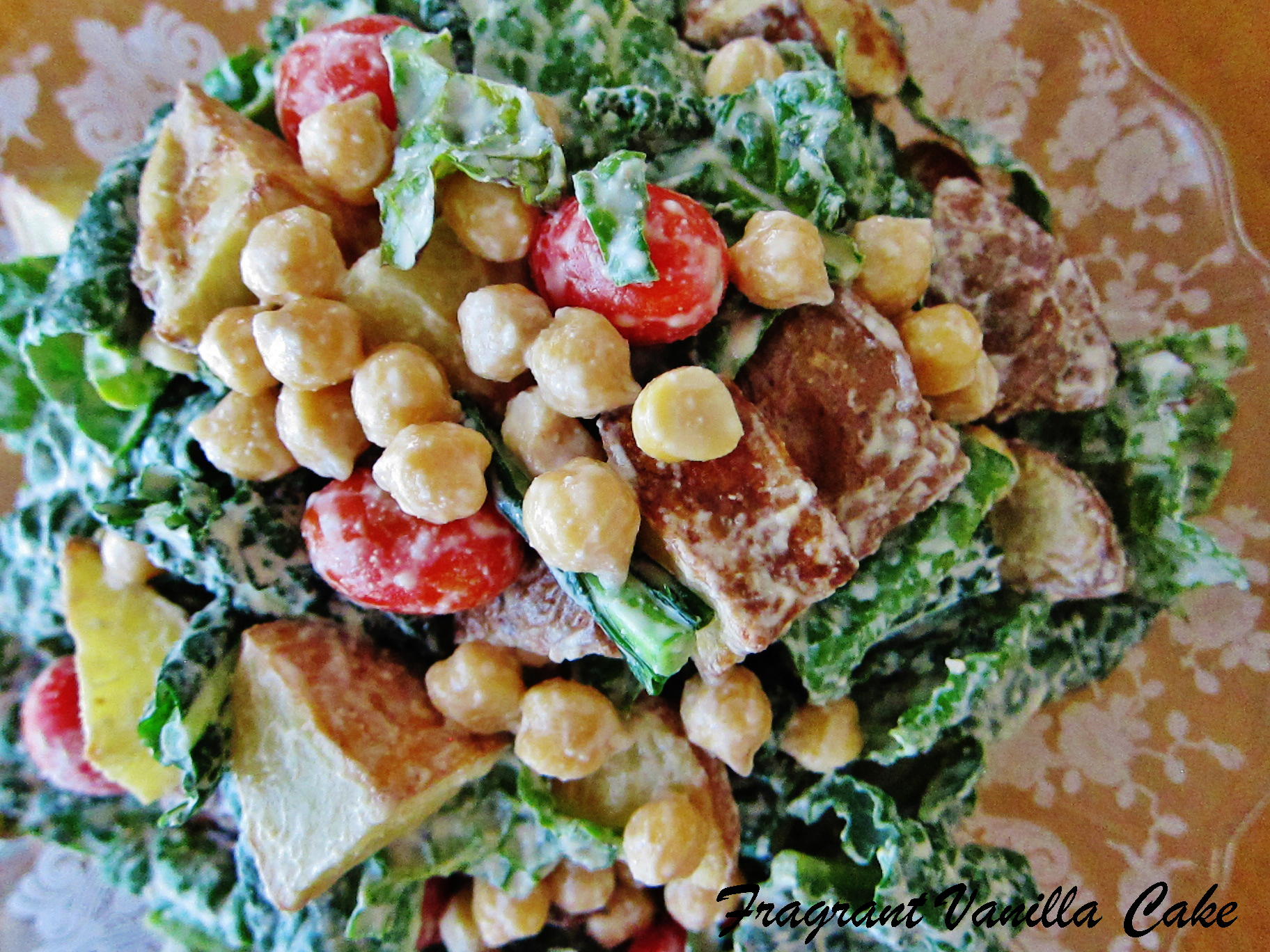 Garlicy Kale Salad with Roasted Potatoes and Chickpeas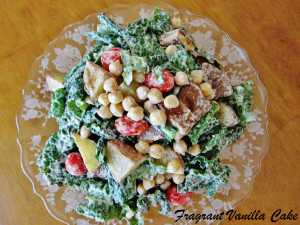 I always try to think of what I can make out of ingredients I already have at home to save on money and not waste things.  So, last week I had lots of kale and potatoes.  I thought about making a soup or vegan frittata or something, but what I ended up really wanting was a salad.  It had been a really hot day, I never really cooled down from my morning run, working in a kitchen and sweating all day, so salad sounded wonderful.  You know, something that didn't make me more hot.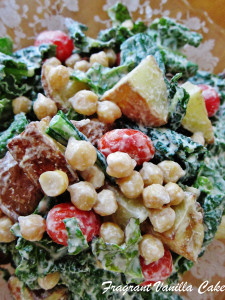 I roasted the potatoes until they were perfect and crispy, then combined them with the kale, some cherry tomatoes, and some chickpeas for protein.  I dressed it all with this luscious garlicy lemony creamy dressing I made quickly in the blender.  It was so good I could have eaten it with a spoon, but then I would have had no dressing for my salad.  Once it was combined, it was delicious!  Just what I had been hoping for! It was so good, I had to share the recipe with you all, so you can enjoy it too!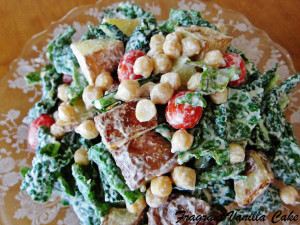 Garlicy Kale Salad with Roasted Potatoes and Chickpeas
Serves 2-4
Potatoes:
4 medium red or yellow potatoes, cut into cubes
olive oil
Dressing:
1 cup raw macadamia nuts, pine nuts, or cashews, soaked for 4 hours and drained
2/3 cup filtered water
1/4 cup lemon juice
1 Tbsp organic lemon zest
1/4 tsp sea salt or to taste
2 garlic cloves
2 bunches kale, torn or cut into bite sized pieces
1 cup cherry tomatoes
1 1/2 cups cooked chickpeas (one 15 oz can drained will work)
To prepare the potatoes, pre heat the oven to 400F degrees.  Toss the potatoes with just enough olive oil to coat, and sprinkle with sea salt.  Spread out on the pan and roast in the oven until they are starting to brown and are tender about 30 minutes.  Remove from the oven and let cool slightly.
Meanwhile, to make the dressing, combine all ingredients in a high speed blender or food processor and blend until smooth. Set aside.
In a large bowl combine the potatoes, kale, tomatoes, chickpeas, and dressing and toss to combine.  Serve at room temperature.
(Visited 65 times, 1 visits today)