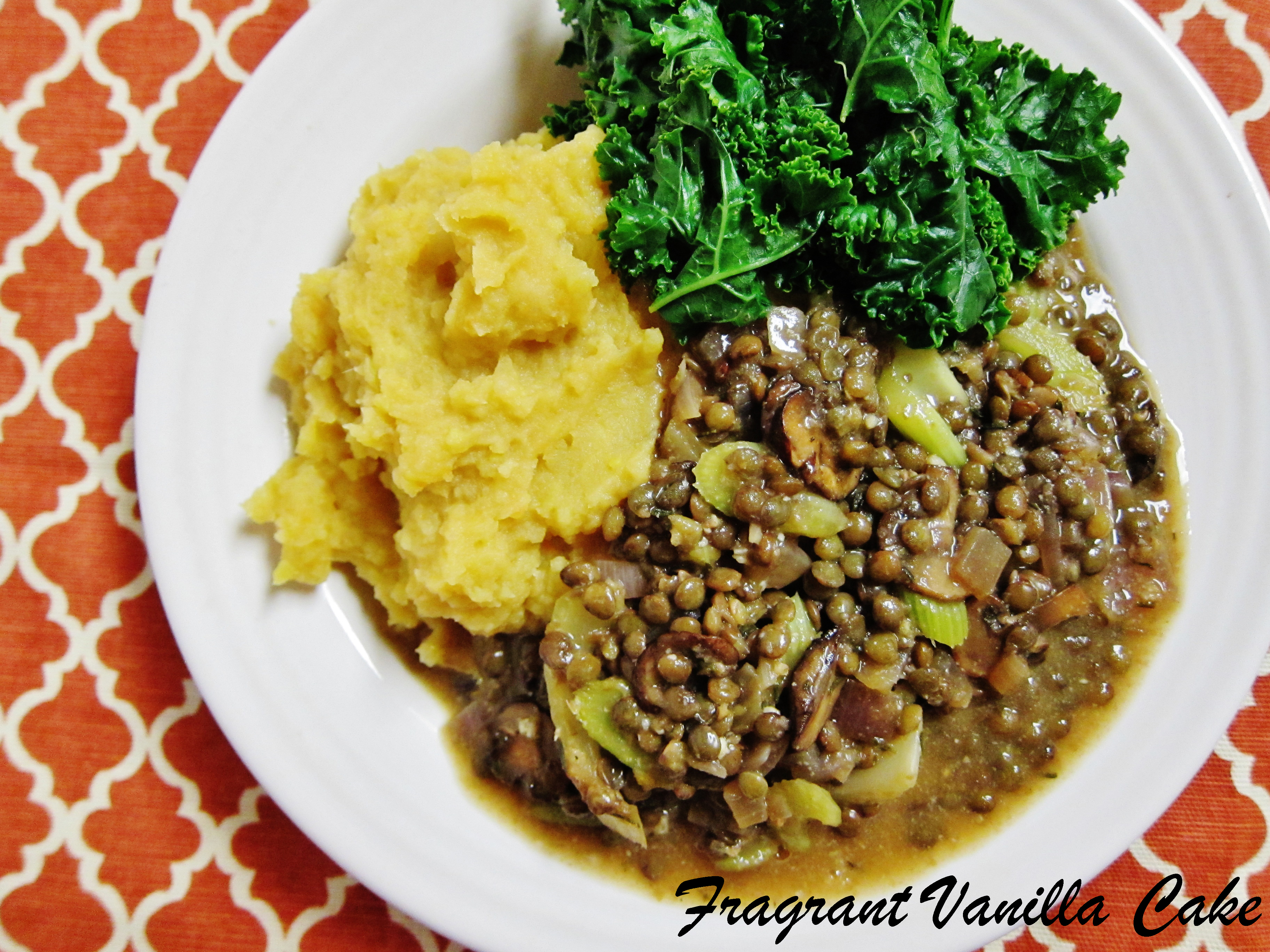 French Lentils in Mushroom Gravy with Mashed Sweet and Gold Potatoes
 
It was kind of chilly last Thursday, and so I decided that I wanted some warming comfort food for dinner.  I really wanted something like shepard's pie, but I didn't want to have to go through of the work of making it so I ended up making something simpler that still had gravy and mashed potatoes.  I see a lot of gravy and mashed potatoes being made at my work and it makes me want to go home and make my vegan version.  But there is no meat in mine of course, I prefer to make mushroom gravy and serve hearty lentils in it.  This time I added in a bit of celery and onions as well, because I love the flavor they give to things.  For the mashed potatoes, I used a blend of sweet potatoes and Yukon gold potatoes because that is what I happened to have on hand and they were delicious together!  Sweet and savory!
 
I served it all with sautéed kale, because I have to get my greens in every day.  This meal might not win any beauty contest, or be the most interesting thing in the world, but it was damn good comfort food and that is what I cared about.  I think this is going to be something I make often as long as the cold weather is here...which it will be for a while since it is Minnesota and the chilly season is just beginning.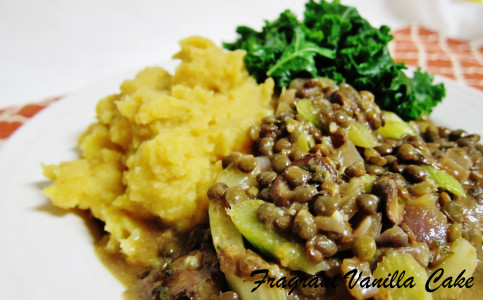 French Lentils in Mushroom Gravy with Mashed Sweet and Gold Potatoes
Serves 3
Lentils:
1 1/3 cups french lentils
filtered water
Potatoes:
1 medium sweet potato, peeled and cut into 2 inch chunks
5 large Yukon gold potatoes, peeled and cut into 2 inch chunks
sea salt to taste
1 Tbsp coconut oil (optional)
1/4 cup coconut milk  (or as needed)
To finish lentils:
Extra virgin olive oil
1 medium onion, diced
2 cloves garlic, minced
2 cups sliced celery
1 tsp dried thyme
2 cups crimini mushrooms, sliced
2 cups flavorful veggie broth (mushroom broth is best)
¼ cup arrowroot starch dissolved in 1/4 cup filtered water
sea salt to taste
To cook the lentils, place in a pot covered with filtered water by a few inches, and bring to a boil.  Lower to a simmer, and cook for about 30 minutes until tender.  Drain, and set aside.
Place both of the potatoes in a large pot of salted water on the stove, and bring to a boil.  Cook until the potatoes are just tender but not too mushy, and drain. Let cool until able to handle the potatoes, and use a ricer to place them into a bowl (or you may just put them in the bowl and mash them by hand instead of the ricer).  Add coconut oil and milk, sea salt to taste, and mash or stir until fluffy and smooth.
Meanwhile, heat the olive oil in a large stockpot, and add the onions, thyme, celery, and cook until they have softened a bit, then add the garlic, mushrooms, and broth and bring to a boil.  Lower to a simmer, and place the lid on the pot.  Let cook until the veggies are tender, about 10 minutes.  Once they are tender, add the arrowroot mixture and sea salt to taste, and let cook a few more minutes while stirring until the mixture is thickened.  Add the lentils, and cook until they are warmed.
Serve the lentils with the mashed potatoes, and some sautéed greens on the side.
(Visited 151 times, 1 visits today)