French Lentil and Kale Salad with Almond Dressing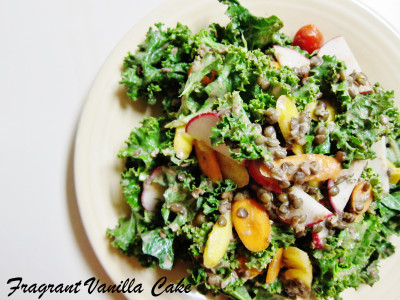 My CSA box is always a source of good meals and inspiration, and this week was no different.  It was overflowing with deliciousness.  I did not have a lot of time one night last week, so I made a quick salad for dinner.  I had a gorgeous bouquet of kale I wanted to use.  I have always loved kale, funny side note, I was once given a bouquet of kale by Eric because he knows I appreciated it way more than flowers.  Then I can make it into dinner or lunch or something delicious rather than just looking at it. Anyways, this kale was going to be my dinner.  I cooked up some French lentils to go in my salad as well because I felt in need of protein, and I included some radishes, carrots, and cherry tomatoes from my box as well. I topped it off with a cumin scented almond dressing that I often keep in the fridge for my salads, and it was hearty and delicious!  Just what the doctor ordered that night for me to feel good and satisfied! Sometimes simple is best.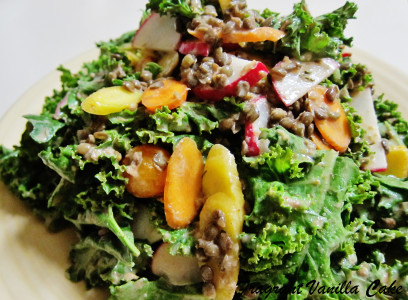 French Lentil and Kale Salad with Almond Dressing
Serves 2-4
1/2 cup French lentils
Dressing:
1/2 cup raw almond butter
1/3 cup filtered water (or as needed)
1/3 cup lemon juice
1 tsp ground cumin seeds
1/4 tsp ground chipotle powder
1 tsp dried thyme
1 garlic clove, minced
½ tsp sea salt
2 bunches kale, washed and torn into bite sized pieces
1 cup cherry tomatoes
2 cups sliced carrots
1 cup sliced radishes
Place the lentils in a medium pot, cover with water by a few inches and bring to a boil.  Lower to a simmer, and cook for about 20 minutes until tender. Let cool.
For the dressing, in a high speed blender, combine all dressing ingredients and puree until smooth.  In a large bowl, combine all remaining ingredients, then pour the dressing over and massage in with your hands until it is well coated. Serve!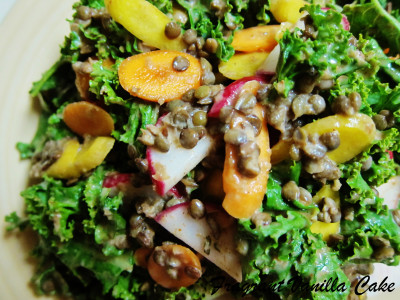 (Visited 5 times, 1 visits today)