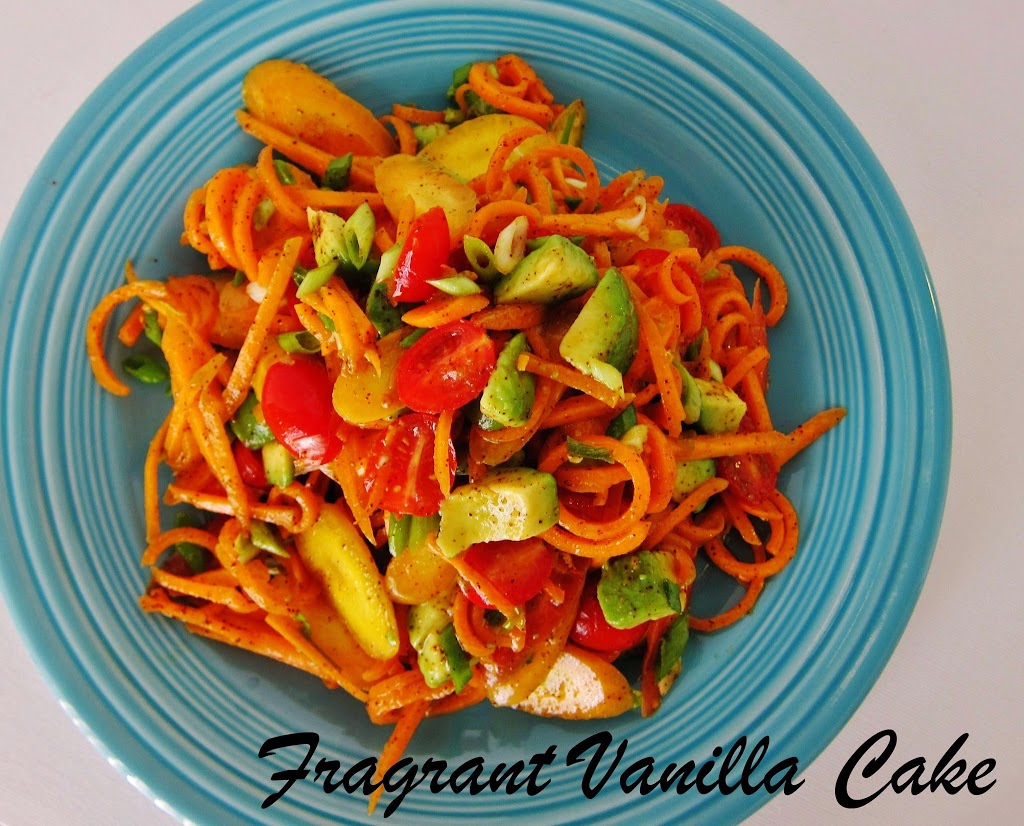 Fiesta Carrot Salad
I was so excited when I found a bunch of rainbow carrots at the store! I had to buy them and make something fun. First, I wanted to make a pasta with them, but then some of them were a little too skinny to use in my sprializer. So...spiralized some. Then I julienned a few, and realized that they had a pretty pattern in the center so I decided to slice some. So I ended up with a bowl of what looked like party decorations. I decided to combine it with southwest ingredients that I had on hand, avocado, tomatoes, and green onions, then toss it in a chili lime vinaigrette.
It was like a fiesta in my mouth, and it looked like one, so I thought it deserved to be named Fiesta Carrot Salad. It was so refreshing and packed with flavor, I glad I hadn't ended up with a bowl full of carrot noodles, because I think I would have gone another direction with flavors on this. Sometimes not knowing what you are doing when you start making something leads to the best meals!
Fiesta Carrot Salad
Serves 4
Dressing:
3 Tbsp lime juice
1 Tbsp lemon juice
2 Tbsp olive oil
1 Tbsp chili powder
1/4 tsp chipotle powder
sea salt to taste
8 medium carrots, preferably rainbow, julienned, sliced, or sprialized (I did all three)
1 bunch scallions, sliced
1 cup cherry tomatoes, halved
1 large avocado, diced
Whisk together all the dressing ingredients. Place all the veggies in a big bowl, and toss with the dressing. Serve at room temperature.
(Visited 39 times, 1 visits today)