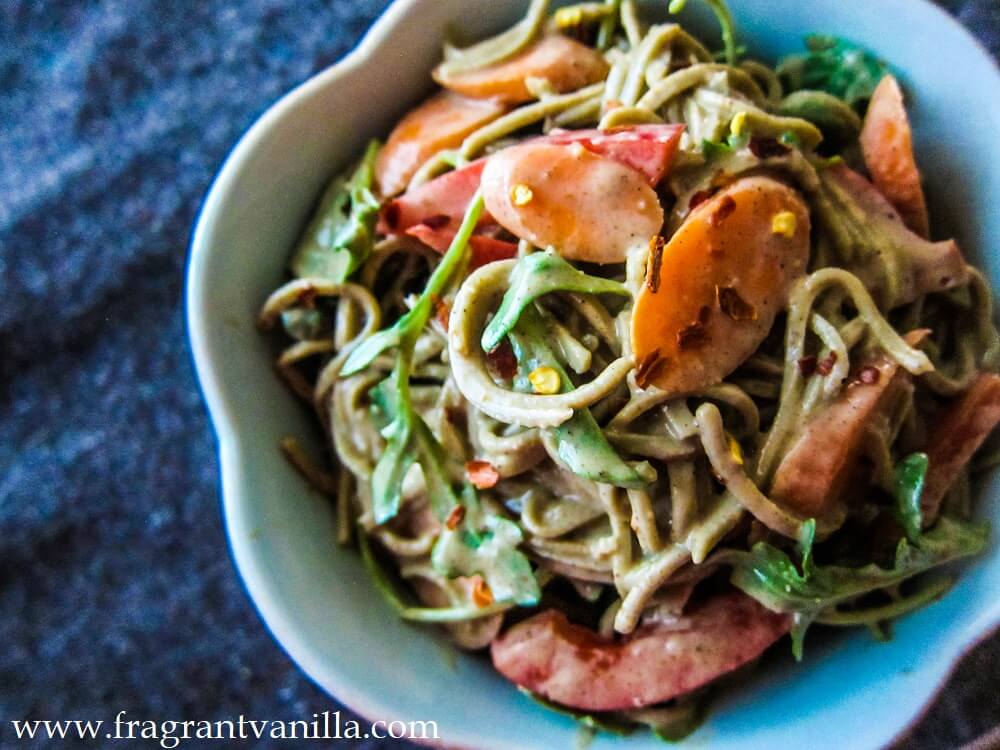 Creamy Garam Masala Noodles
I am a big fan of Thai peanut noodles.  They are simple, savory easy to make comfort food.  We make them at my work and they sell like hotcakes!  But I feel sorry for people who can not experience them because they are allergic to peanut butter.  So, I thought why not create something similar with out the peanuts or nuts?  I had been gifted a jar of Sunbutter, and I thought this would be the perfect opportunity to use it.  Not only are sunflower seeds nut and peanut free, they are rich in healthy fats and vitamin E so you are getting those benefits from eating them as well.  The Sunbutter has a little different flavor than other nut butters, but once you add the spices to it, it tastes delicious.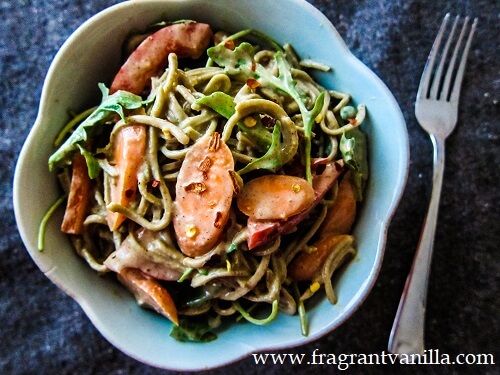 I thought about making these Thai noodles, but I went with curry instead.  It was sort of inspired by an African groundnut stew recipe I used to make from one of the Moosewood cookbooks back in the day.  Or the flavors at least, with the Sunbutter instead of peanut butter.  It contained garam masala spice blend, which is really delicious paired with a silky sauce like nut butter.  I kept it simple for this since garam masala is already so aromatic and flavorful adding just a touch of garlic and red pepper flakes for heat.  This sauce is super easy to make, just whisk together, and toss with the cooked noodles and veggies.  I wasn't sure if it would be as good as Thai peanut sauce, but once I tasted it I knew it would be wonderful combined with the rest of the ingredients.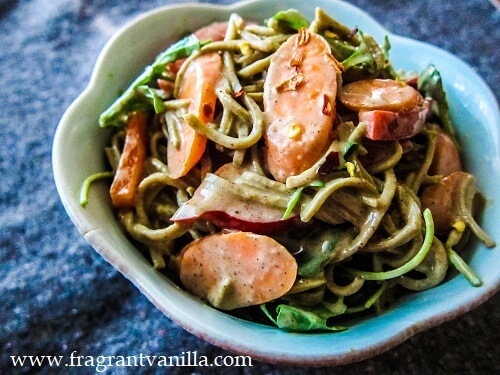 This was a quick and delicious dinner, and it was just as good as the peanut noodles.  Not to bash sunflower seed butter or anything, but using it in an application like this tastes so much better than simply spreading it on toast because it needs a little something if you know what I mean.  But it is awesome in a silky sauce like this.  If you are allergic to peanuts and want something similar to Thai peanut noodles or you just want something other than the usual give this a try!  It is also good cold the next day, so it is good for lunches.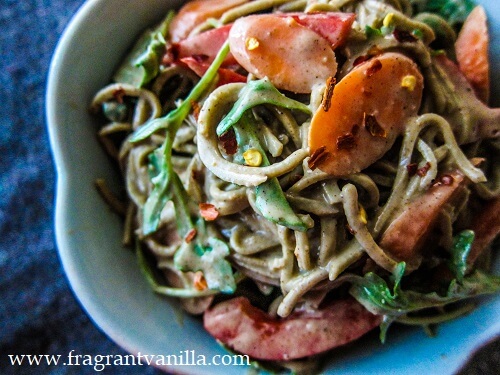 Creamy Garam Masala Noodles
Serves 2
Ingredients:
2 small organic carrots, cut julienne
1 small bell bell pepper, sliced
2 scallions, sliced
1 handful arugula or spinach
Sauce:
1/2 cup Organic Sunbutter (be sure to buy the kind with only sunflower seeds)
3/4 cup filtered water (or as needed)
1 garlic clove, minced
1 Tbsp garam masala
2 tsp cider vinegar
1/4 tsp sea salt or to taste
1/4 tsp red pepper flakes
Instructions:
Cook the pasta according to package directions.
Meanwhile, in a bowl combine the veggies, and when the pasta is done cooking add that as well.
Whisk together the sauce ingredients (if you want it thinner add a little more water), then toss with the pasta and veggies.
Enjoy!
(Visited 454 times, 1 visits today)