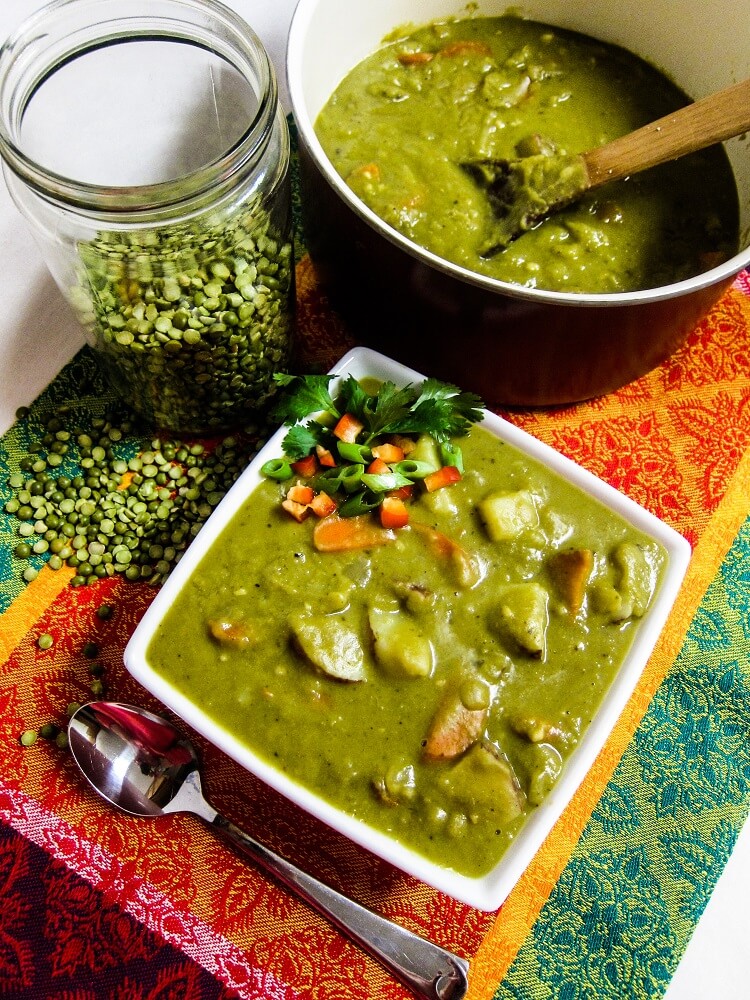 Creamy Coconut Curried Split Pea Soup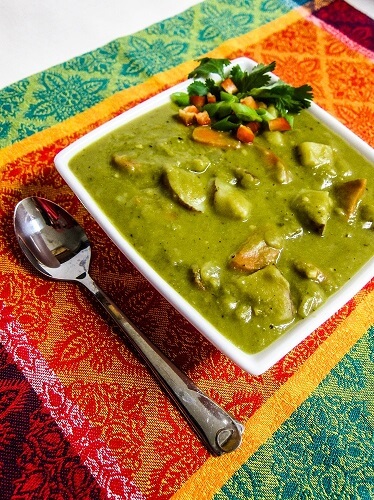 We went from 40F degrees here at the beginning of the week to a cold snap of below zero temps in a matter of one day.  It is kind of a shock to the system, and sometimes I wonder how as a high schooler I spent every day in the Winter practically outside at nordic skiing practice.  Lots of layers I guess and moving around a lot.  But it feels so much colder now for some reason.  I shouldn't complain though, we are having a warmer than average Winter over all and it is supposed to warm up again soon.  Either way, I have been making warming comfort food dishes to take the chill off after being outside.  One of which was a Creamy Coconut Curried Split Pea Soup!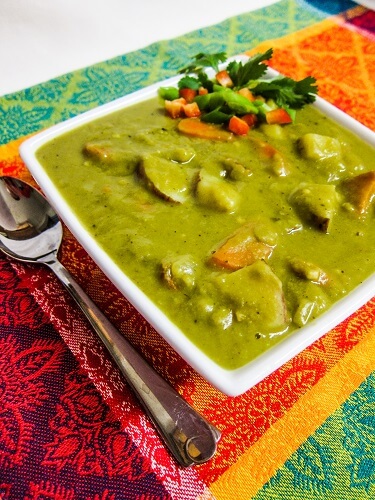 One of my coworkers in the deli I work at had recently made a split pea soup for the customers and I thought it sounded good.  I hadn't made any in a really long time at home, and I had a bunch of split peas in the cupboard ( I bought way to many the last time I bought them) and I knew that use them up soon.  The reason I hadn't made split pea in a while was because the last time I made it was kind of a disaster.  I am one of those people who tries to squeeze in too many things at once to multi task at because I want to get a lot done, and I had the split pea soup cooking on the stove while I did other things and I burned it on the bottom.  That is like the worst feeling in the world, when you have to throw a pot of soup away because it tastes burnt (I hate wasting things).  And, it happens quickly with split pea because it is thick.  So just so you all know, I have kitchen disasters too.  One time someone said to me she imagined me like I had a magic kitchen where everything goes perfect and I had spices dancing around and whatnot, but that is so far from the truth.  It is sometimes a disaster area and it is not usually neat until I am done cooking and clean up.  So never feel bad if you mess up once in a while when you are making things.  Anyways, back to my soup I made this week.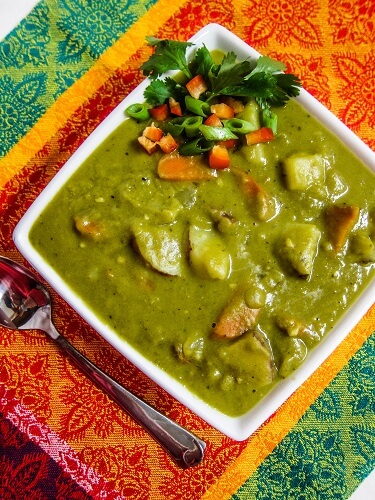 I made it similar to a classic split pea, and included the carrots, onions and celery as well as hearty potatoes.  But for the flavor, I used mild curry powder to give it a nice warming spices quality. It was so good with the split peas!  I wanted to add a little richness too, since this recipe actually isn't made with any oil, so I added in some full fat coconut milk at the end.  It made the texture smooth and silky.  This soup is so good!  Even though split peas take a while to cook, this really doesn't require much hands on time or anything and is pretty simple to make.  So if you are a split pea soup fan or you just want some healthy warming comfort food because it is cold right now where you live too, give this a go!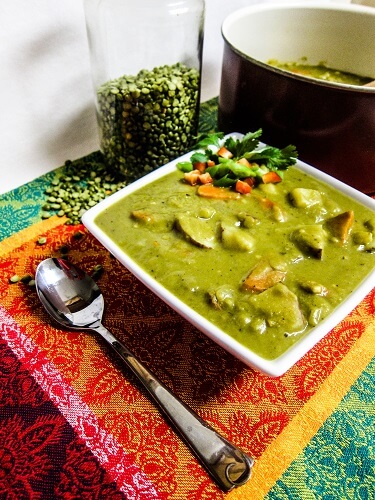 Creamy Coconut Curried Split Pea Soup
Serves 2
Ingredients:
1 small onion, chopped
2 stalks celery, sliced
2 garlic cloves, minced
1 cup dried split peas
3 cups filtered water
1 Tbsp mild curry powder
1/2 tsp red pepper flakes (more or less depending on the spice level you want)
sea salt to taste
2 medium organic carrots, sliced
3 medium organic red potatoes, diced
1/2 cup full fat coconut milk
Instructions:
In a pot, combine all ingredients but the carrots and potatoes, and bring to a boil.
Lower to a simmer, and cook until the split peas are softened, about 40 minutes, then add the carrots and potatoes and cook until they are tender and the split peas are falling apart.
Stir in the coconut milk until well combined and serve!
(Visited 562 times, 1 visits today)