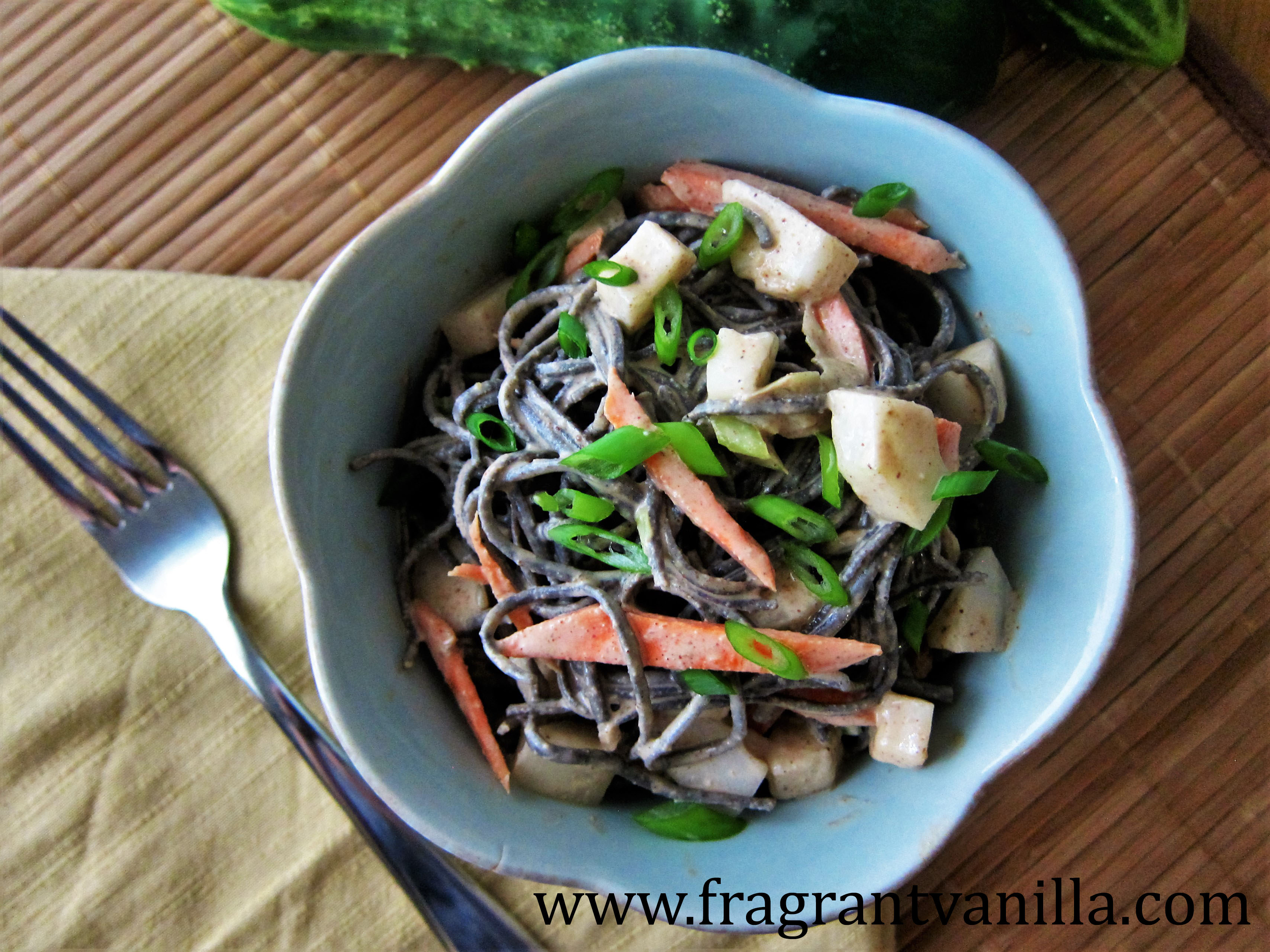 Cooling Cucumber Miso Almond Noodles
My Grandpa grows a garden of just cucumbers and tomatoes every Summer, and he always shares a bunch with me.  I am extremely grateful for that.  They are honestly the best tomatoes and cucumbers I have ever tasted and every time I get one at the store I am disappointed because they don't measure up to these.  I love eating the cucumbers with hummus, but I also love adding them to salads because they are so cooling in the Summer.  I got some black bean noodles recently to try and ended up loving them, so I decided to make a salad with those and the cucumbers.  Black bean noodles may sound weird or different to some, but they are actually really good!  I like them better than regular noodles, and they pack 25 grams of protein per serving!  So, you can get your protein without having to add any extra protein to the noodles.  Who says vegans don't get enough protein?!  I certainly do!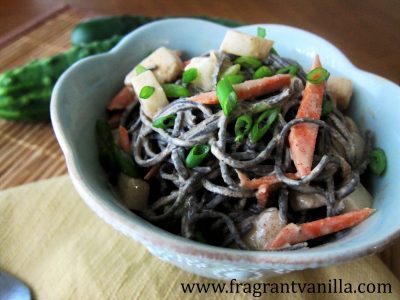 The salad I made was actually really simple, I added carrots and scallions as well for some crunch and color, and a miso almond dressing. To be quite honest, this dressing is a staple in my refrigerator, and I have it on hand at all times.  My favorite use for it is to drizzle it over roasted yams which I also top off with black beans and cabbage for a satisfying meal.  So I knew this dressing would be good on the noodles.  The salad came together fast, which is important for busy nights, and it tasted amazing.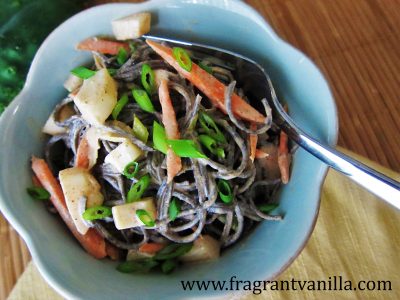 I shared some with my Mom and Eric because I made a bigger batch, and they thought it was really good too!  It may look simple and plain, but once you taste it I guarantee you won't be able to stop eating it until the whole plate is gone. It makes a good lunch for the next day too if you have leftovers since it is served cold.   Another thing about this that is awesome, is it is pretty cheap to make!  So wins all around!
Cooling Cucumber Miso Almond Noodles
Serves 2
Ingredients:
Dressing:
1/2 cup raw almond butter
2/3 cup filtered water (or as needed)
1 Tbsp white miso
1 garlic clove, minced
½ tsp sea salt
Salad:
1 organic cucumber, peeled, seeded and diced
1 large organic carrot, cut julienne
2 scallions, sliced
Directions:
Place all dressing ingredients in a blender and blend until smooth.  Set aside.
Cook noodles according to package directions and cool.
Combine noodles with veggies and dressing in a bowl and toss together until combined.  Serve!
(Visited 44 times, 1 visits today)