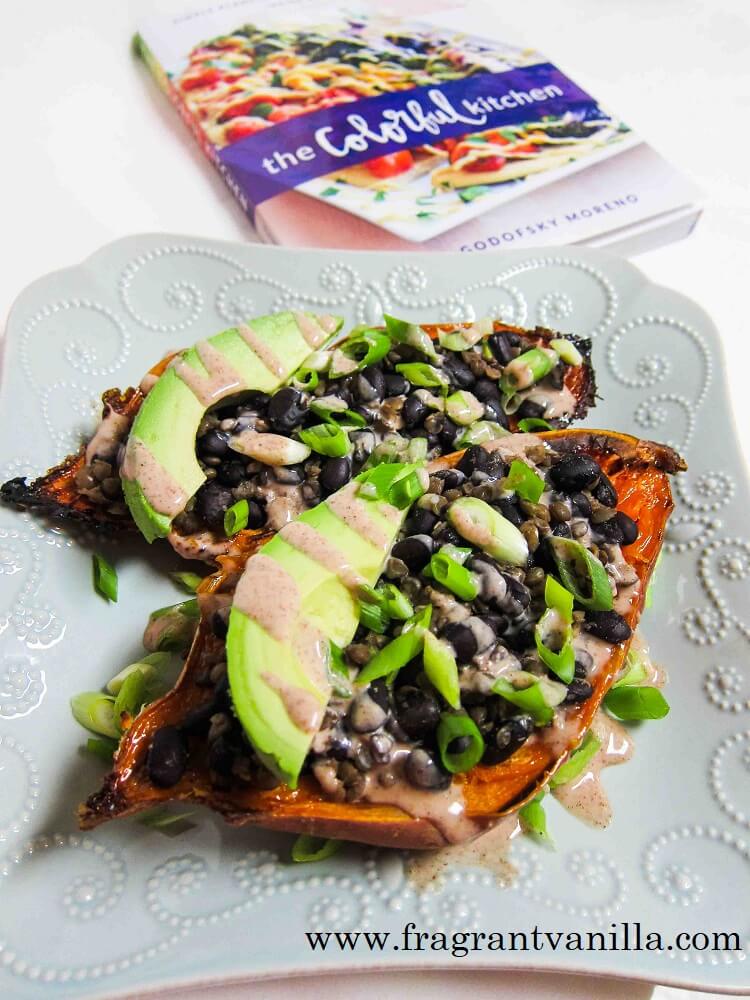 Colorful Kitchen Review and Sweet Potato Skins Recipe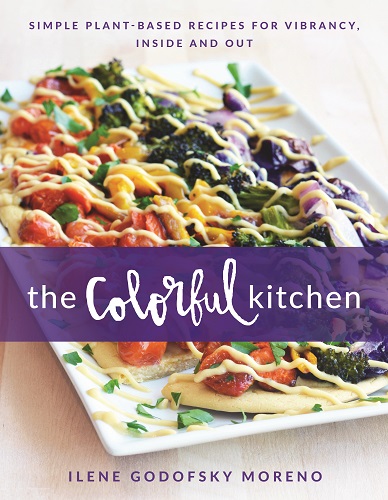 I have been admiring Ilene Godofsky Moreno's recipes from her blog The Colorful Kitchen for a long time, so when she offered to send me a copy of her new book "The Colorful Kitchen" to review I was excited!  I am always admiring her amazing looking sandwiches, bowls full of colorful veggies and decadent looking desserts.  Everything of hers always looks so delicious and vibrant, so I knew this would be a good book.   It has over 100 vegan recipes, almost all of which are gluten free and made without refined sugars.  It includes smoothies breakfast, salads, soups sandwiches, sides, snacks & appetizers, entrees and dessert.  So no matter what you are hungry for chances are you can find something to satisfy your craving in this book.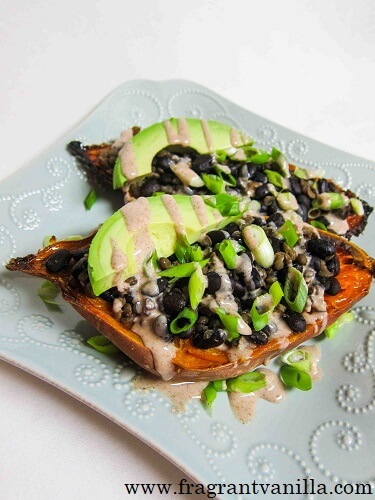 As I paged through it I couldn't help but notice how beautiful the photography was.  This is a big draw for me, a book with lots of photos.  It is almost as important as the recipes as far as I am concerned and this is a book full of food art as much as it is recipes.  She has each one photographed so you know exactly what you are making.  The recipes themselves are very well organized and easy to read and follow. Also they are simple enough to make so that someone who is new to cooking will enjoy them and be able to make them as well as interesting enough that someone who cooks a lot will appreciate them.  So, there is something for everyone here. I should point out that this would be the perfect book for a new vegan who is looking to eat healthy and feel good. Because everything in this book is whole foods plant based and deliciously made breaking that stereotype that vegan food is boring and bland.  She has a list of main ingredients in the book as well explained so you will know exactly what you are using and preparing.  As I paged through the book I saw so many things that I wanted to make!  She has delicious breakfast recipes like Carrot Cake Oatmeal, salads like Crispy Chickpea and Kale Caesar Salad, Snacks like Coconut Crusted Avocado fries, desserts like Chocolate Cookie Sandwiches and main dishes like Sweet Potato Skins, which is the first recipe I made, and the one that she has allowed me to share with you today!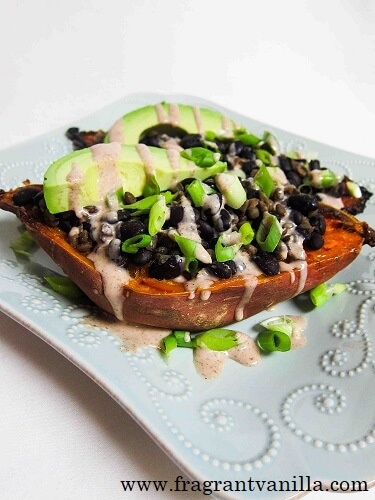 I am a huge fan of sweet potatoes in any form, so this is the thing that caught my eye first.  They were super simple to make, and so good!  Roasted sweet potatoes have so much flavor, and filling them with things is one of my go to meals. Her recipe uses cooked lentils and black beans to stuff them with, and they are topped off with avocado and cashew sour cream.  This is the perfect balanced meal to keep you satisfied and feeling good.  It has it all, protein, fiber, veggies and healthy fats.  All of the recipes in her book are balanced this way, and if you eat this way, you will feel good.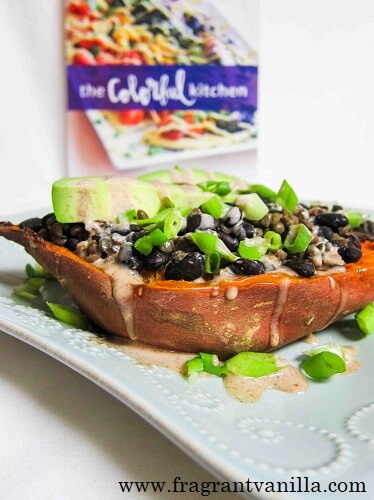 It is not often I come across a cookbook where I want to eat all of the recipes, but this one is that way.  Usually there are things in cook books that I say to myself, well that sounds tough to make, or it has ingredients that are hard to find, or things that I don't think are that healthy but this book fits all of my nutritional needs as well as includes the types of things that I crave.  So you should definitely go check it out HERE!  Also, be sure to check out The Colorful Kitchen on Facebook and Instagram as well, it is definitely worth following! Guess what?! have another surprise for you!  If this book sounds like the sort of thing you will love, you can enter to win a copy of it for yourself!  Just leave a comment on this blog post!  Good luck! Giveaway ends February 9th.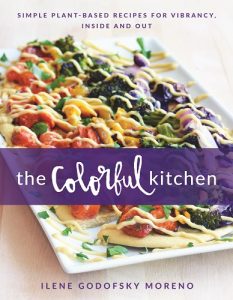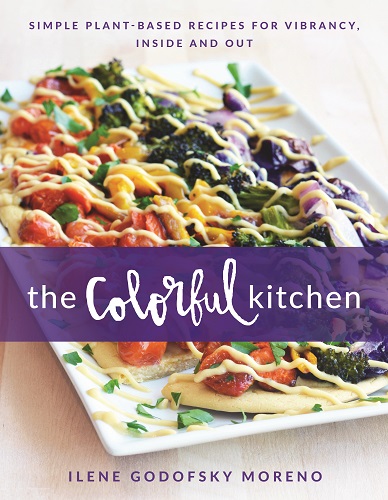 Sweet Potato Skins
Ingredients:
Sweet Potato Base:
4 medium sweet potatoes
1 batch Lentils (see below)
1½ cups cooked black beans (or one 15-ounce can, rinsed and drained)
Salt and black pepper, to taste
Toppings:
1 avocado, sliced
Cashew Sour Cream (see below) or store-bought vegan sour cream
2 tablespoons chopped green onions
Instructions:
To roast the sweet potatoes, preheat the oven to 400°F. Line a baking sheet with parchment paper. Use a knife to poke holes in the sweet potatoes, and place them on the baking sheet. Bake for 45–60 minutes, until tender. Remove the sweet potatoes from the oven, and let them sit until they are cool enough to handle.
While the sweet potatoes cool, combine the Lentils and black beans in a medium saucepan over medium-low heat. Heat them until warm, about 5 minutes. Season them with salt and pepper.
Slice the sweet potatoes in half lengthwise. Use a spoon to scoop out about half of the flesh from each Reserve the scooped-out flesh for another use. Spoon the lentil and black bean mixture into the sweet potatoes.
Top each sweet potato half with an avocado slice. Top with the Cashew Sour Cream and green onions. Add any sauce you like, if desired.
Lentils
3 cups water or vegetable broth
1 cup lentils
Dash of salt
In a medium pot, bring the water or vegetable broth to a boil over high heat. Add the lentils and salt, reduce the heat to low, and simmer uncovered for about 30 minutes, until the water is absorbed. If you are not using the lentils right away, store them in an airtight container in the refrigerator for up to 4 days.
Cashew Sour Cream
1 cup raw cashews, soaked in water at least 4 hours
Juice of ½–1 lemon, to taste*
2 teaspoons apple cider vinegar
1 teaspoon maple syrup
1–3 tablespoons nondairy milk
Salt and black pepper, to taste
Drain and rinse the cashews. Transfer the cashews to a blender and add the lemon juice, apple cider vinegar, and maple syrup.
Starting with 1 tablespoon at a time, add the nondairy milk as needed to blend, and blend until completely smooth. Add the salt and pepper and stir. Transfer to an airtight container and store in the refrigerator for up to 5 days.
NOTE: Use a whole lemon for a tangier sour cream and a half lemon for a more mellow version.
(Visited 161 times, 1 visits today)