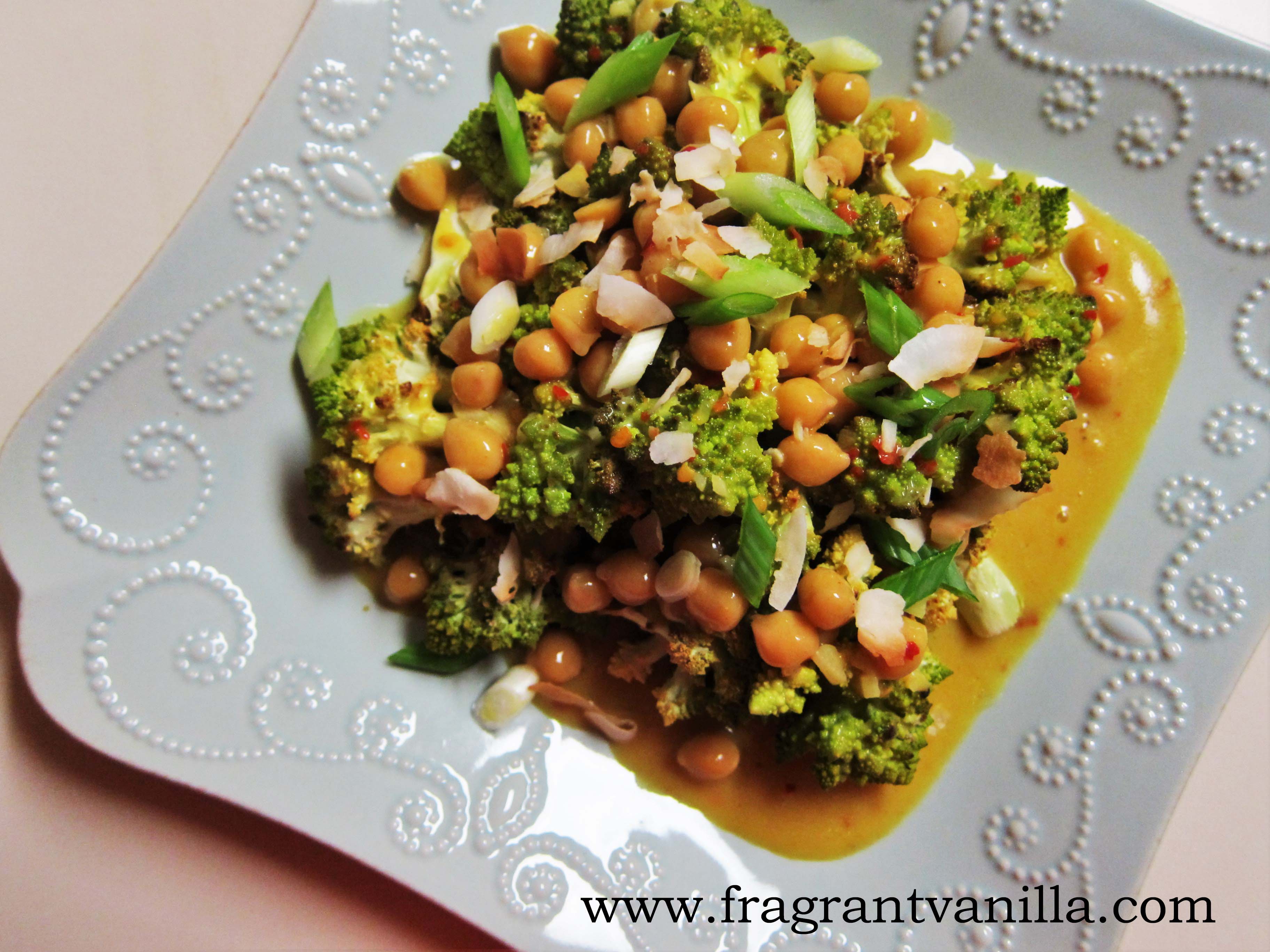 Coconut Curry Roasted Romanesco with Chickpeas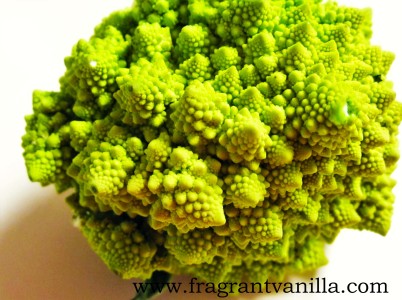 The first time I ever saw a romanesco I thought it looked like a beautiful green alien cauliflower with crazy geometric shapes.  What an awesome veggie!  I had to buy one of course, and it tasted wonderful too.  One of my favorite ways to eat them is actually roasted with a bit of sea salt.  The crispy outside with the tender inside is delicious. No, I am not just trying to educate you about romanesco (although if you never have had one, they are worth seeking out), I made a recipe with one last week that I would love to share!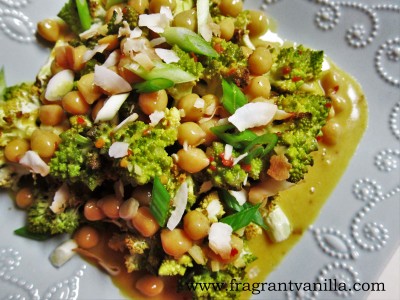 My Mom brought me a romanesco a few days back, and asked me if I could make her something with coconut and curry with it.  What I came up with was pure deliciousness.  I roasted the romanesco like I had in the past, then made a silky coconut curry sauce.  It was pretty simple, just a splash of lime juice to balance it out, and some red pepper flakes for a kick.  I added in some chickpeas for protein since this was to be a main dish.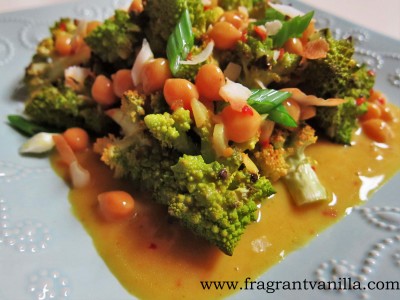 Lastly, I topped it off with crunchy coconut for even more of a textural contrast.  The romanesco was tender but a little crispy, and it tasted wonderful with the sauce and crunchy coconut. If you wanted a more substantial meal, you could serve this with a little quinoa on the side, but my Mom loved it as it was.  She said it was just what she was hoping for.  If you are looking for an easy weeknight meal this comes together quick, so it is perfect!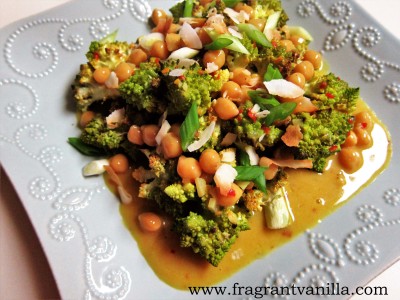 Coconut Curry Roasted Romanesco with Chickpeas
Serves 2
2 larger heads romanesco, broken into pieces
coconut oil
Sauce:
1 15 oz can full fat organic coconut milk
1 tsp mild curry powder
1/4 tsp red pepper flakes
1 garlic clove
sea salt to taste
2 tsp cornstarch dissolved in 2 Tbsp filtered water
2 Tbsp lime juice
1 cup cooked chickpeas
toasted large flake coconut
sliced scallions
Preheat the oven to 400F degrees.  Toss romanesco with just enough coconut oil to coat, and spread out on the sheet pan.  Place in the oven, and roast for about 30 minutes until tender.
Meanwhile, in a saucepan, heat the coconut milk, along with the curry powder, red pepper flakes, garlic, and sea salt and bring to a simmer.  Cook on low for 5 minutes, then add the cornstarch mixture, lime juice and chickpeas.  Cook until thickened, then remove from heat.
Once the romanesco has finished roasting, remove to a plate, and pour the coconut chickpea mixture over it.  Sprinkle with the toasted coconut and scallions, and serve!
(Visited 197 times, 1 visits today)