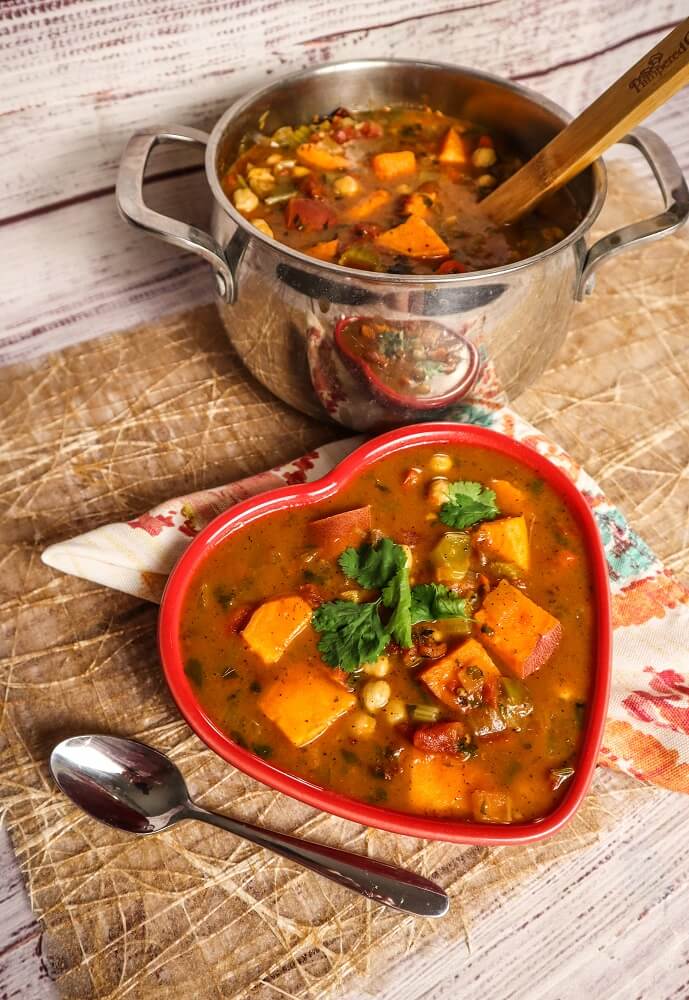 Chipotle Sweet Potato and Chickpea Soup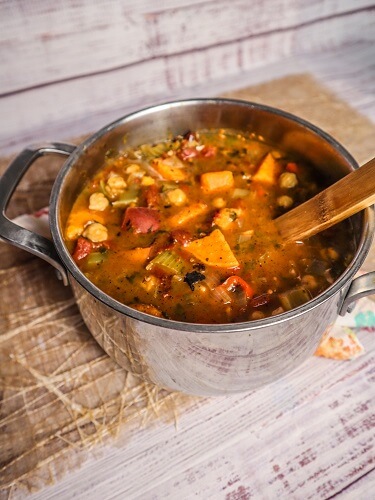 Happy 2022!  I know new years was a few days back, but I am getting around to typing up a post now so Happy New Year!  I decided to take a few weeks off of making recipes over the holidays because it was just too hectic and I wanted to enjoy them.  But now I am ready to get back into new recipes!  It is the time of year when everyone is trying to be more healthy, and although I try to eat healthy all year round, I decided to make something more healthy and savory too to start the year off!  I am a big soup fan in the winter and this Chipotle Sweet Potato and Chickpea Soup that I made last weekend was so delicious I had to share!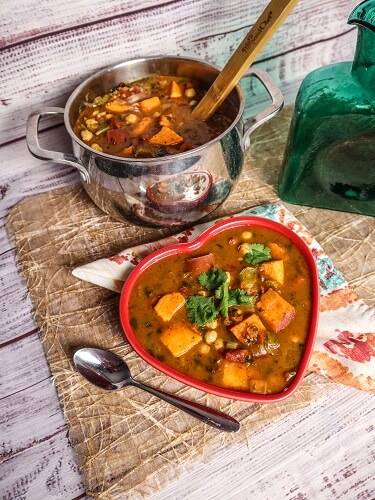 I make huge batches of soup at work, so you would think I wouldn't enjoy making them at home, but actually creating a new one is exciting!  Eric loves anything with chipotle peppers in it, and I thought they would pair well with sweet potatoes in a warming soup.  We definitely need some warmth here right now as it has been pretty chilly in MN.  So I wanted a warming soup to serve with some crusty bread that we could enjoy after being outside.
For the base, I used tomatoes, veggie broth and the chipotle peppers, along with plenty of veggies to give the soup lots of flavor.  I cooked the first part, then added in the sweet potatoes so they did not get too mushy.  At work we actually steam them separately so they don't get mushy, but I find that adding them the last 15 minutes works fine. If you wanted to make this soup in an instant pot, I would suggest cooking it the first half in the pot (up until you add the sweet potatoes chickpeas and coconut milk), then remove it from the pot and cook it on the stove for the sweet potato part. I have done this before.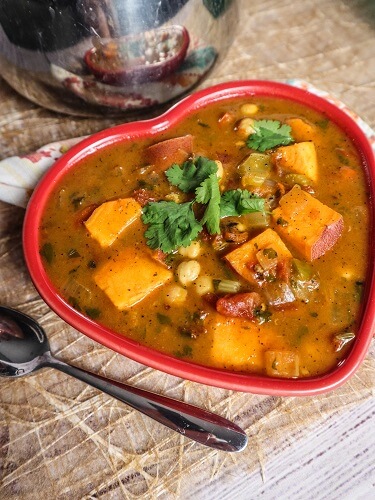 The Chipotle Sweet Potato and Chickpea Soup turned out super delicious!  It is packed with flavor, a little spicy, but just the right amount and the sweet sweet potatoes are the perfect partner for the chipotles!  This is so good served with crusty bread or corn bread!  I hope you all are staying warm this winter!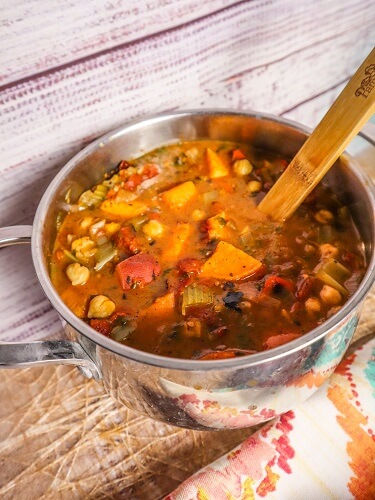 Chipotle Sweet Potato and Chickpea Soup
Serves 3
Ingredients:
1 large onion, diced
2 garlic cloves, minced
1 red bell pepper, diced
2 stalks celery, sliced
1/4 cup fresh cilantro
1 15 oz can fire roasted diced tomatoes
3 Tbsp chopped canned chipotle peppers in adobo
1 tsp ground cumin
1 tsp chili powder
1 1/2 cups veggie broth or filtered water
1 large yam, cut into cubes (about 3 cups)
1 1/2 cups cooked chickpeas (canned and drained well is fine)
1/3 cup coconut cream (not sweetened)
2 Tbsp cornstarch mixed with 1/4 cup filtered water
Instructions:
In a large pot, combine the onions, garlic, bell pepper, celery, cilantro, tomatoes, chipotle peppers, cumin, chili powder and veggie broth and bring to a boil.  Lower to a simmer and cook for 20 minutes.
Add the sweet potatoes and chickpeas and cook until the sweet potatoes are softened, about 15 minutes more.
Add the coconut cream, and cornstarch mixture and cook until the soup has thickened and the coconut cream is mixed in.
Remove from heat, and serve!
(Visited 379 times, 1 visits today)