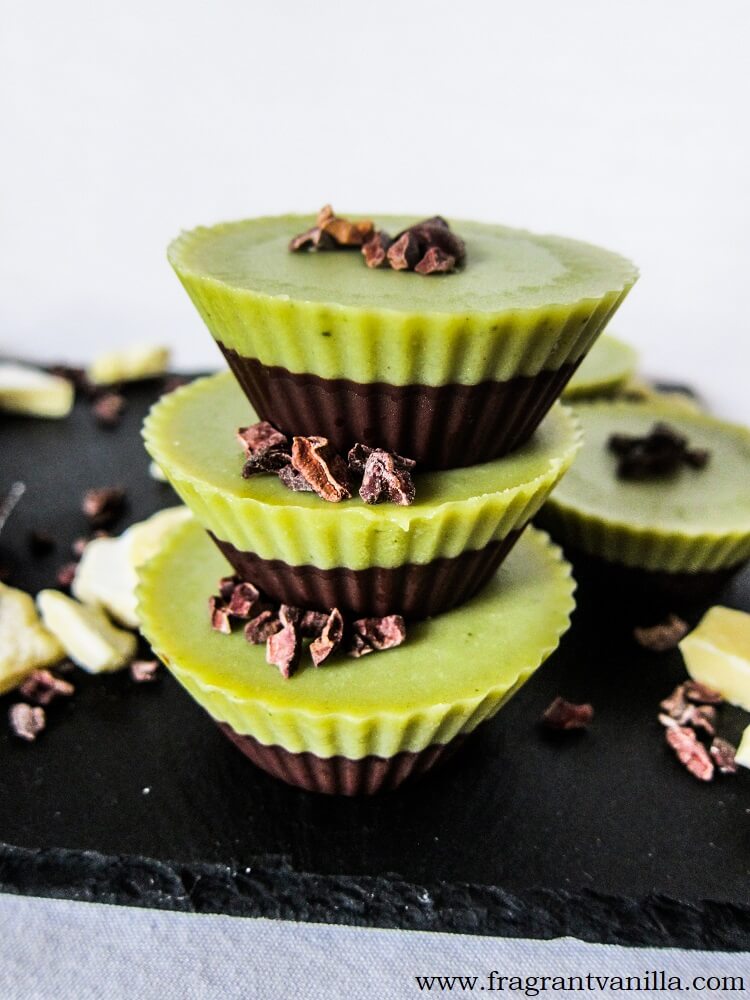 CBD Peppermint Chocolate Cups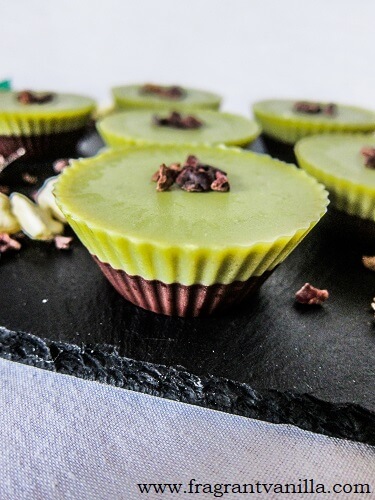 Maybe it is because it is Summer, it is hot, and I need things that are refreshing, but I have been really into peppermint lately.  Peppermint in my drinks, home made peppermint body mist and baths (if you are feeling overheated, just sprinkle a few drops of organic good quality peppermint oil into your bath water, it is super cooling), and of course eating peppermint goodies.  Mint chip ice cream is classic of course, and one of my favorite Summer things but I like to eat other peppermint desserts as well, which is why I was happy when I got my hands on some Rawmio Essentials peppermint dark chocolate bars recently.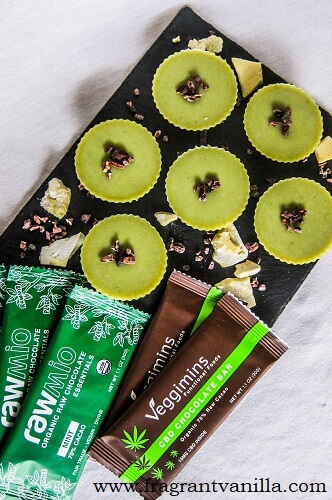 Raw Guru recently sent me a box of goodies including those as well as some Veggimins CBD chocolate bars.  So I decided to make some Vegan Chocolate Mint Cups with them, a layer of their dark chocolate on the bottom, and a layer of sweet vanilla mint white chocolate on the top, also with a touch of CBD in the form of oil, which also happens to be from Veggimins.  It is 300 mg Veggimins organic CBD oil , and I love it.  I have been taking CBD oil before bed and in the morning for a few months now, and it really helps me sleep better and calms my nerves.  CBD is also good for relieving inflammation, which I need help with sometimes since I work out a lot.  If you have never tried this oil, it does not contain THC the psychoactive part of cannabis, so you don't get high, it just helps with things like decreasing anxiety, fighting inflammation, relieving nausea and decreasing depression among other things.  Definitely check it out, it is worth it!  I think it is awesome that they make products besides just the oil too, like the chocolate bars.  Why not get your daily dose of CBD in the form of chocolate?!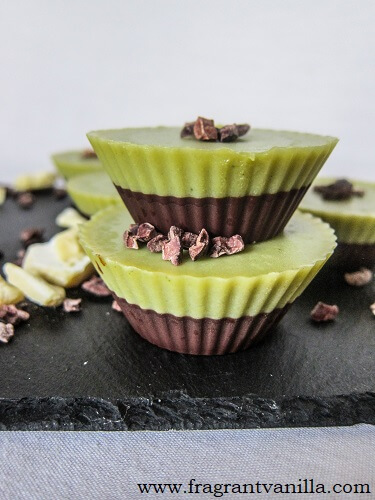 These cups are easy to make and so good!  The mint in them is refreshing, so perfect for Summer, and the dark chocolate against the white chocolate is a heavenly combination.  These remind me of the flavor of Andes mints only better.  They melt in your mouth, and they have just the right amount of sweetness.  If you are in need of a chocolate fix, give these a try!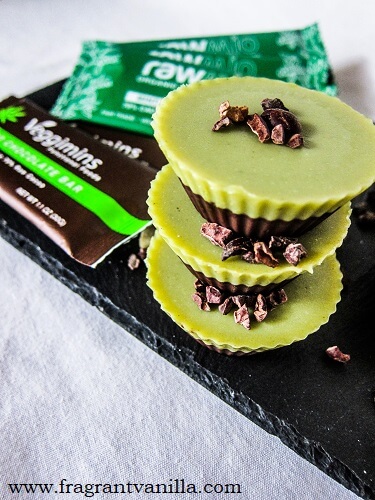 CBD Peppermint Chocolate Cups
Makes 6 large cups
Chocolate:
White Chocolate:
Instructions:
Melt the dark chocolate in the top of a double boiler until smooth.
Spoon a little chocolate into the bottoms of 6 peanut butter cup molds, filling dividing evenly between the cups.  Place in the freezer until hard, about 10 minutes.
Combine cacao butter, cashew butter, vanilla, maple syrup,  and sea salt over a double boiler, and whisk until smooth.  Add the CBD oil and matcha powder and whisk until blended.
Pour the mint white chocolate over the dark chocolate in the cups and place them in the freezer until set, about 20 minutes.
Enjoy! Store any extra in the refrigerator.
(Visited 1,785 times, 1 visits today)