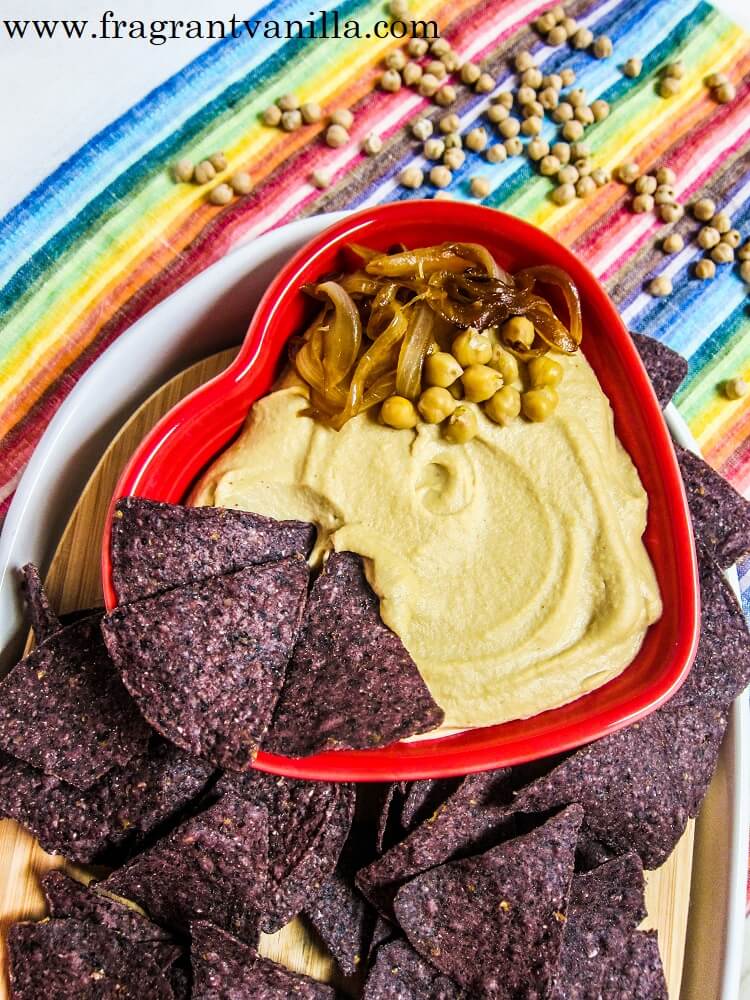 Caramelized Onion Hummus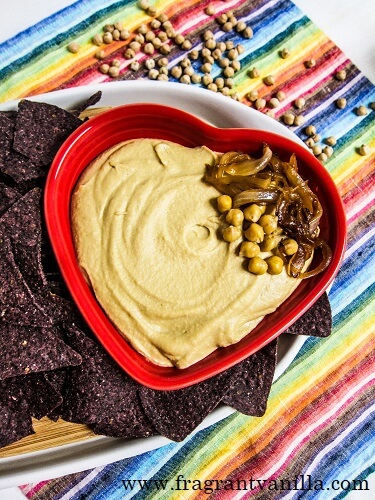 Sadly last weekend my favorite team, the Minnesota Vikings lost their chance at getting to the Super Bowl.  Now, that may not seem like such a big deal to most, but of course we are hosting the Super Bowl here in Minnesota this year, so it would have been cool to have a team finally play in their home stadium for the big game.  Since that has never happened before.  But we had a really rough heartbreaking game and lost our chance.  It's ok though, we still had a really good season, and I am still looking forward to watching the big game taking place in my home stadium.  Not from the stadium of course, because no way I could afford that, but in the comfort of my own home, which is really how I would prefer it.  Because I can be all comfy and make good snacks.  Everyone is in Super Bowl snack mode, and so I thought, what would I like to eat for the big game?  Well, I definitely would want some chips along with delicious things to dip them in.  I would already be making my Roasted Squash Nacho Cheese, and guacamole and salsa of course are a must, but why not something with a little protein and substance too?  Like a savory hummus!  I am a huge hummus fan.  I mean, it goes great with veggies for a snack, or dropped onto the top of a salad, or as a sandwich spread, or with chips of course.  So I figured I could get multiple uses out of it besides just snacking on for the big game.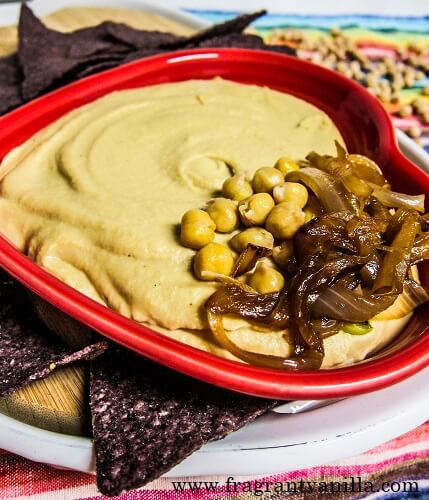 I love classic hummus with plenty of cumin, garlic, lemon and cayenne.  But I wanted something a little different this time.  You know that caramelized onion dip that everyone loves that is packed with onion flavor and loaded with dairy?  Well that was a favorite of mine with chips growing up.  So I thought why not make a hummus with those flavors.  So, I got some onions and garlic caramelizing on the stove and my house smelled like pure savory heaven. Yes, I actually do enjoy the smell of cooking onions, it is so comforting.  Once they were all caramelized browned and happy, I combined them with chickpeas and some cashew butter to make it extra rich and smooth in the blender.  All it needed was a little miso, sea salt and balsamic vinegar and it was sooo good!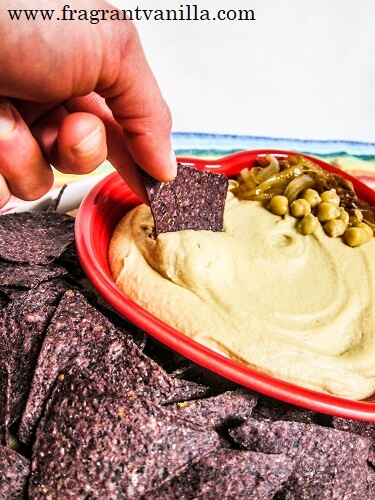 It smelled amazing even before I tasted it, but the flavor was rich and mellow.  It tasted of sweet onions and garlic, not harsh like the raw ones, but a savory flavor that was craveable, kind of like the flavor in the base of a good French onion soup. The balsamic added just a tad of acidity that it needed to cut the sweetness, and the miso a savory note.  All in all it was even better than I imagined it to be.  It is amazing with any kind of chips.  I happened to have corn chips on hand, because they are my favorite, but I have a feeling it would be amazing with ruffled potato chips, the way I used to always eat that onion dip with when I was little.  If you are a hummus lover like me, give this a try!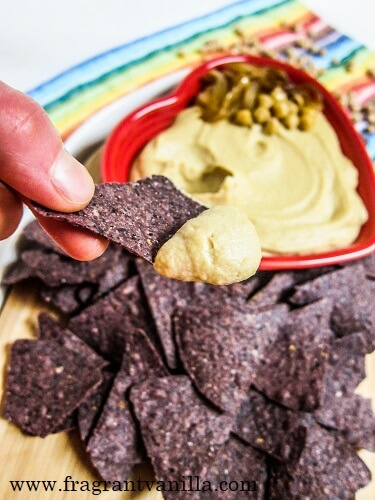 Caramelized Onion Hummus
Makes about 2 cups
Ingredients:
2 medium yellow onions, sliced
8 garlic cloves, sliced
1 Tbsp avocado oil or olive oil
1 1/2 cups cooked chickpeas
1/2 cup raw cashew butter
1 Tbsp white miso
2 tsp balsamic vinegar
1/2 tsp sea salt
1/2 cup filtered water
Instructions:
In a non-stick ceramic pan, combine the onions, garlic, and avocado oil over medium heat.  Cook over medium heat, stirring every few minutes until the onions and garlic are caramelized and nice and golden brown (about 15 minutes).  If at any time they stick a little to the pan, just add a couple of Tbsp filtered water.  Once they are caramelized remove from heat.
Combine the onions, and all other ingredients in a high speed blender or food processor and blend until smooth (adding a little more water if necessary).  Keeps in the refrigerator for 2 weeks in a sealed container.
(Visited 127 times, 1 visits today)